Ana De La Reguera Keeps Action Horror Streak Alive With The Forever Purge - Exclusive Interview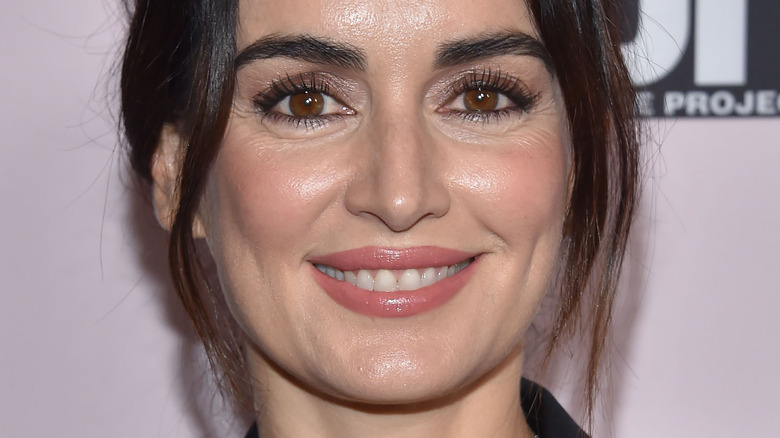 Shutterstock
Minor spoilers for "The Forever Purge" ahead.
She battled hordes of smart zombies in "Army of the Dead," and now she's facing off against a far more sinister opponent — hate-fueled Americans, which is a lot scarier than the undead when you actually think about it. In the fifth entry of the "Purge" saga, this time titled "The Forever Purge," Ana de la Reguera plays Adela, a woman who recently immigrated from Mexico to seek a better life for herself and her husband Juan (Tenoch Huerta).
Adela soon learns that America has its own share of social and political issues that are far deadlier than the Mexican cartel she once stood up against. Living out her American dream becomes a pure nightmare when the annual Purge comes around — the titular ceremony where all crime, including murder, is legal for 12 hours. After surviving her first Purge, she returns to her usual morning work routine, only to find that a group of extremists have started an underground movement to extend the Purge beyond its usual limitation. As mayhem and bloodshed fill the streets, the entire country spirals into utter chaos, leading Canada and Mexico to offer sanctuary to those trying to escape the massacre. Due to their close proximity to Mexico, Adela and her band of survivors choose to embark on a perilous road trip toward the border. 
During an exclusive interview, Looper talked with de la Reguera about her reaction to the screenplay, what it was like playing another gun-toting badass, and whether we'll see Adela again.
This time, Latinos get to save the world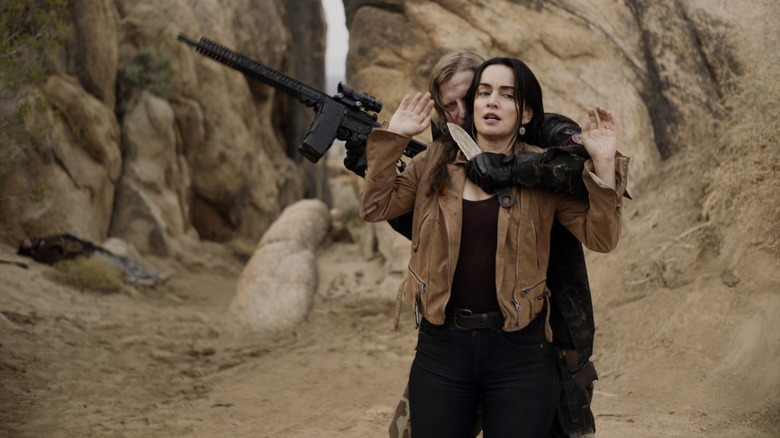 Universal Pictures
When you first read this screenplay for "The Forever Purge," what was one alluring thing that jumped out at you the most?
I just loved the whole situation — that it was backwards, you know what I mean? I just love that in this case, the Latinos were the ones who were kind of like saving the Americans. We are very used to seeing Americans saving the world. So I love the vulnerability in the script. I was very connected and I felt that was a story that I was interested to be part of.
Most of these "Purge" movies are standalone. We see very few returning characters; however, Adela is such a great character. According to Jason Blum, writer James DeMonaco is saying this might be the last one. But do you want to see Adela's story continue?
I don't think it's the last one. I'm pretty sure it's not. It's called "The Forever Purge," so I'm here forever, you guys. So James, what's going on? Is "The Purge" still going? So we're now in Mexico, right? So hire me again.
People come to these movies for the entertainment and thrills, but there's also a message in this one. What's something beneath all the gore and action, perhaps a deeper meaning you hope that audiences take away from this movie?
I think equality in humans and also respect for one another. I just feel like we have to respect whoever, everyone: our backgrounds, our ethnicities, our color, our beliefs, our religions, and work together. That's it — it's always best.
What if a Purge happened in real life?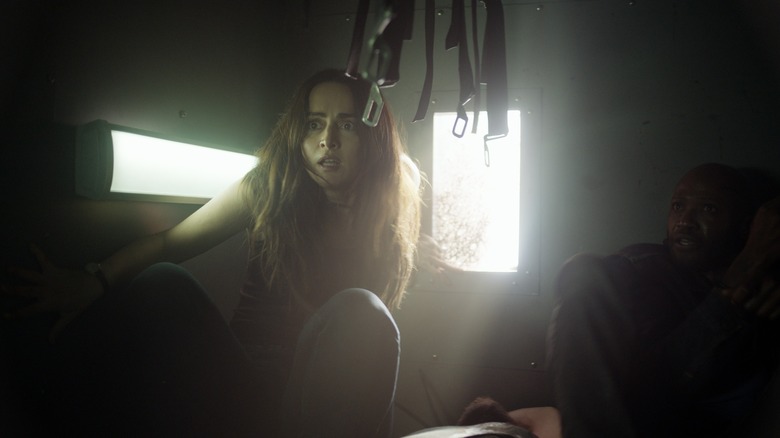 Universal Pictures
You were recently in "Army of the Dead," and now here's "The Forever Purge." Some people say these apocalyptic survival horror films can teach us how to handle a crisis. If a purge incident like this happened in real life, what's your game plan?
I don't have a game plan. I'm the worst. I was talking to my friend the other day — they had a plan if there's an earthquake, they have their things ready, and where are they going to meet if that happens. I've never thought of that. I would've never thought of that. So, I would just be playing it by ear. I would try just to be with people who are stronger than me. Maybe I'll just call a lot of friends that are very tough, and they can protect me. They're like a team of very trained, capable people.
Well, we've seen you in "Army of the Dead," "Narcos," and now in this. How comfortable are you around guns? You come off as very convincing with firearms in your roles.
I'm getting used to them on set, but no, I wouldn't be comfortable with a gun right now, or I wouldn't have a gun. Even though I was in "Army of the Dead" for four months, a week later I started with "The Purge" and I had to handle another machine gun. So each one is different, you actually have to get used to yours. And I had already forgot. Even though it was like a week after, I was like, "What is this again?" But I do now feel very comfortable around a gun. Because I know how to be safe around them. I know how to handle a gun, how to hold it — that I know very much.
"The Forever Purge" is in theaters on Friday, July 2.