Duff's Happy Fun Bake Time Season 2 - What We Know So Far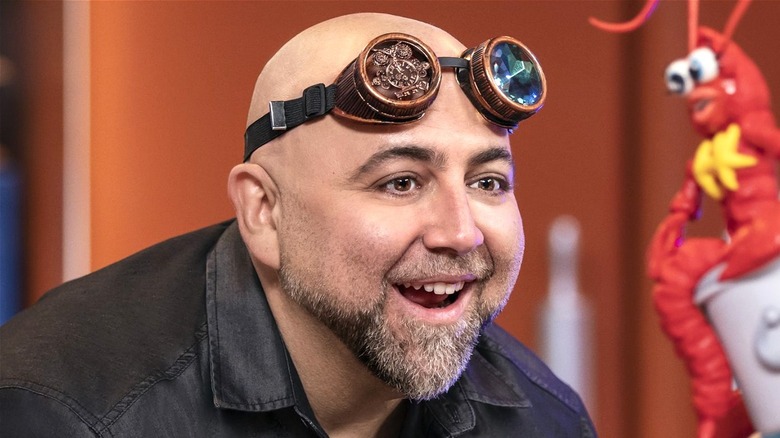 Discovery Networks
"Duff's Happy Fun Bake Time" does what a lot of young, experimental cooks love to do: combine two unusual base ingredients — longtime Food Network staple and cooking show judge Duff Goldman and puppets from the Jim Henson Workshop — and see if they taste good together.
According to the young audience for the Discovery+ exclusive show (it's recommended and directed at young kids who are interested in food and cooking, though the complexity of the recipes posted suggests that they might be best made by kids five and older), it's as natural a combination as animal crackers and applesauce. With its colorful sets and lessons about the science that goes into cooking, kids can have fun both watching Duff and his friends and cooking alongside Duff at home with recipes posted on the Food Network website.
Will there be a second season of "Duff's Happy Fun Bake Time?" If so, who will be in the cast, and what will they get up to? We've got all the info you need.
When will Duff's Happy Fun Bake Time Season 2 be released?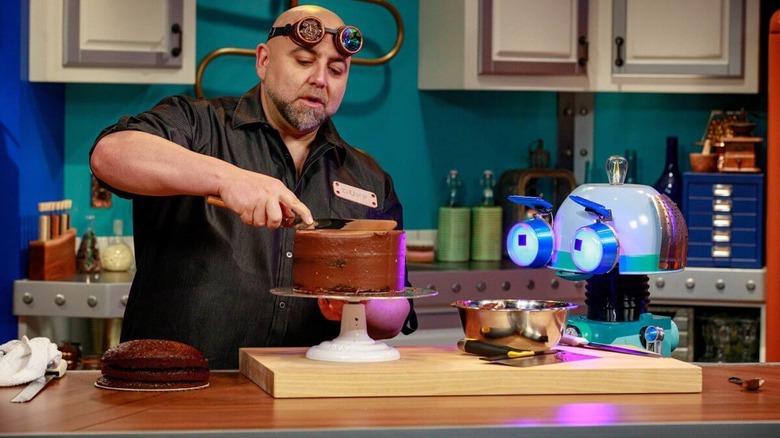 Discovery Networks
Because "Duff's Happy Fun Bake Time" debuted on April 29th, it's not likely that Discovery+ will have solid enough streaming numbers to decide if the show is worth renewing for at least a few more months. As of press time, the show's only been out and streaming for two months, which likely wouldn't be enough for Discovery+ to figure out if the show has enough followers to warrant a renewal. 
Should the show be greenlit for a second season, it's unlikely that it will take more than six months from episode conception to shooting for a new season to air. Food Network shows, in general, have tight filming and airing schedules, which revolve around seasonal programming. Reality shows tend to take less time to script and film, and the show already has an established set and cast of actors and puppets. If "Duff's Happy Fun Bake Time" is renewed tomorrow, you probably won't see more of it until the mid-winter to early spring of 2022. Holiday specials celebrating Hanukkah, Christmas, Thanksgiving or Halloween might be more likely bets.
Which characters will appear in Duff's Happy Fun Bake Time Season 2?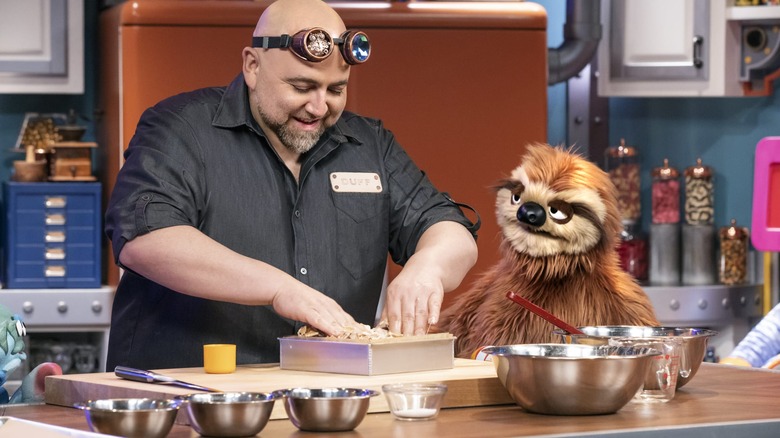 Discovery Networks
Naturally, Duff Goldman would return as the show's primary host should Discovery+ renew "Duff's Happy Fun Bake Time." Presumably, Goldman will return to host the series, with Edgar the Crab, S'later the Sloth, Dizzy the Mixer, Dragon Oven, and Couscous The Robot likely returning with their usual puppeteers as well. Geof Manthorne, who appeared in Goldman's "Ace of Cakes" series for Food Network, will likely return as Geoff, a Singing Grocer who performs musical ditties about produce and baked goods that the characters use. Naturally, the show's producers and behind-the-scenes personnel will return too.
Any additional Puppet friends or human guests would likely be conditional to further episodes being developed. We're already imagining where Henson's company could go as the seasons continue.  Perhaps we might see a talking refrigerator? A puppet shaped like an egg separator would also be kind of cute.
What dishes will we see on Duff's Happy Fun Bake Time Season 2?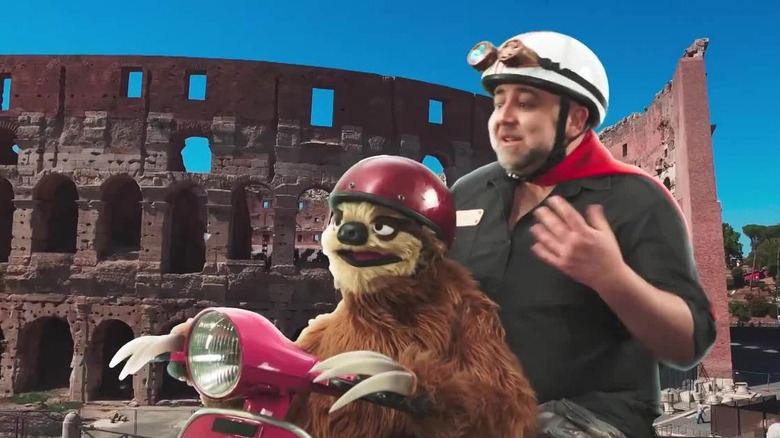 Discovery Networks
"Duff's Happy Fun Bake Time" is a cooking show, so future plot predictions for this one are easy. There will be more things baked, cooked and eaten in celebration of the show's gentle and relatable plot events.
Naturally, there will be more cakes to make, but the first season of the show included pies, cookies, bread, popcorn balls, brownies, ice cream, pasta, muffins, sandwiches and Rice Krispies treats. It wouldn't be surprising to see the show's culinary repertoire expand in all sorts of directions from there — perhaps Duff will teach kids the science of safely cooking with hot oil by making donuts.  He could also introduce funnel cakes for the summer, or potato pancakes in celebration of Hanukkah. Kid-pleasing foodstuffs which can be turned into healthy regular meals, like pizza, seem like they should be a lock for the second season, should it be greenlit.