The Detail That Makes This Criminal Minds Episode Ending So Intense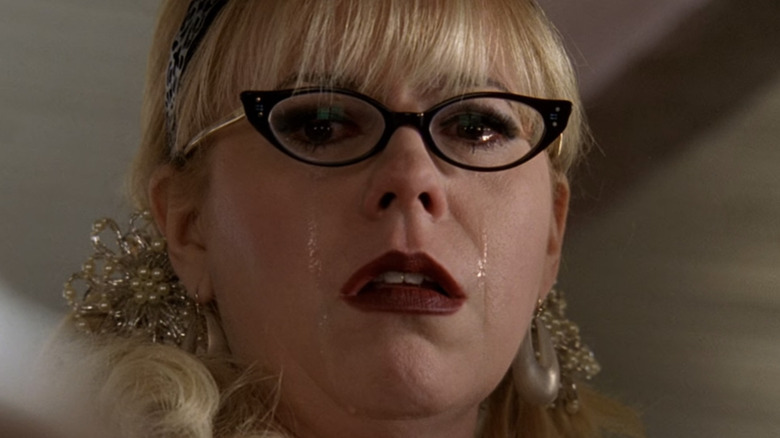 CBS
Chief Aaron "Hotch" Hotchner (Thomas Gibson) from CBS's "Criminal Minds" is no stranger to tragedy. Being the leader of the FBI's Behavioral Analysis Unit certainly comes with its risks, and that's not to mention the daily strain of being in charge of a group of agents who together witness some of the grisliest of assaults and murders. But the ending of the two-part Season 4 finale, "To Hell ... And Back," was uniquely traumatic for Hotch — and, thanks to one special detail, for the audience, as well.
In "To Hell ... And Back," the BAU travels to a small town in Sarnia, Ontario, Canada, to investigate the numerous disappearances of American sex workers, homeless people, and drug users, thought to have been taken across the border, tortured, and killed. It turns out that a man named Mason Turner has enlisted his burly yet easily manipulated brother, Lucas, to run experiments on people who "were useless to society" in hopes of having a breakthrough in stem cell therapy research. It's a disturbing case for the whole BAU, but the ending of the finale — unrelated to these events — steals the show.
A long monologue and a gunshot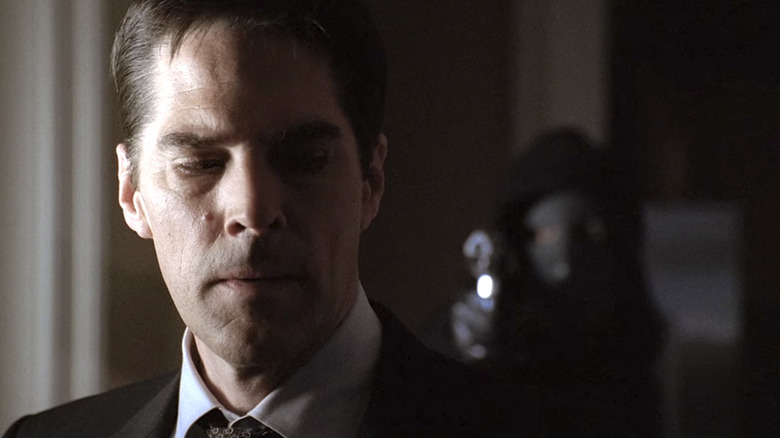 CBS
After an atypically long ending monologue — in which he mourns the loss of Mason and Lucas' 89 victims, the deaths of the two murderers, and the countless lives affected by these tragedies (including those of his team) — Hotch returns home and pours himself a well deserved drink. But something seems off. It's not common for "Criminal Minds" to continue an episode after the ending monologue has wrapped, and viewers, to their horror, soon learn why this episode has taken such an unusual turn.
In a voiceover, Hotch repeats the starting lines of his ending monologue as viewers watch him turn around to face the Reaper (C. Thomas Howell), who has been waiting in his home and now holds a gun to his head: "Like I said, sometimes there are no words, no clever quotes to neatly sum up what's happened that day." The Reaper, a serial killer who had in the past tried to get Hotch to stop hunting him in exchange for him not killing any more people, tells Hotch, "You should have made a deal." The voiceover continues, "Sometimes, the day just ..." and then the screen goes black, viewers hear a gunshot, and Hotch finishes, "... ends."
The final touch: silence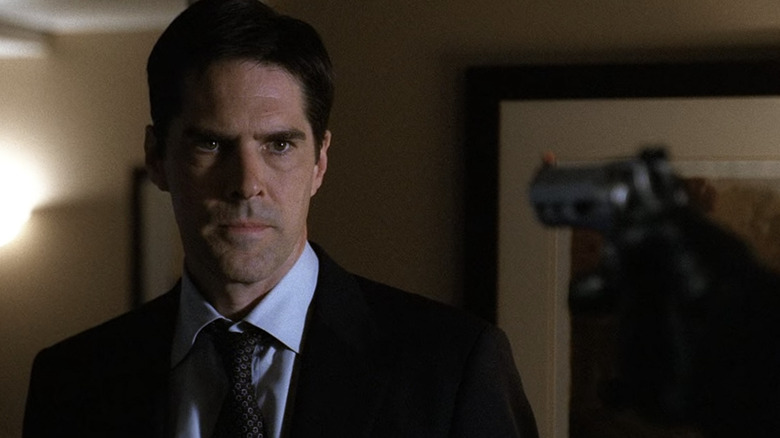 CBS
The final detail that makes the Season 4 finale's ending so intense is that for 10 whole seconds following the gunshot, as the credits begin to roll, there is no music, just silence. "Criminal Minds" always ends episodes with the show's theme music blasting — it's intentionally loud and jarring — so it's super noticeable when, in this case, the music stays paused for so long. Fans can't get enough of this detail, either: One Reddit user writes, "I get chills EVERY time even though I know it's coming."
While Hotch would live to see 8 more seasons on the show — before Thomas Gibson was allegedly fired for violent behavior on set — fans at the time had no idea whether or not he'd make it even to the first episode of Season 5. After all, the cast has changed quite a bit over the years, sometimes abruptly, so you never know. And music — or the lack thereof — was a key component for producing this anxiety in viewers. It's amazing how much 10 seconds of silence can do!