The Devastating Death Of Stuart Damon
Soap opera fans have suffered a terrible loss. Longtime "General Hospital" actor Stuart Damon died on June 29 at the age of 84, after "struggling with renal failure for the last several years," as reported by ABC News 7. Damon was known by most for his portrayal of Dr. Alan Quartermaine on "General Hospital," and the show's executive producer Frank Valentini gave a statement to USA Today on the actor's death: "Stuart Damon played beloved patriarch Alan Quartermaine for 30 years. He was a great actor and even greater man. His legacy lives on through 'GH' and all the lives he touched and all those who loved him. He will be missed."
Damon was nominated for six Daytime Emmy awards for his role on "General Hospital," and won one in 1999 for Outstanding Supporting Actor in a Drama Series (via Variety). Aside from his long-running role on the iconic soap opera, Damon was an accomplished stage actor and also gained recognition for his role in the 1965 version of Rodgers & Hammerstein's "Cinderella" as well as the British espionage series "The Champions."
Stuart Damon's co-stars are leaving touching tributes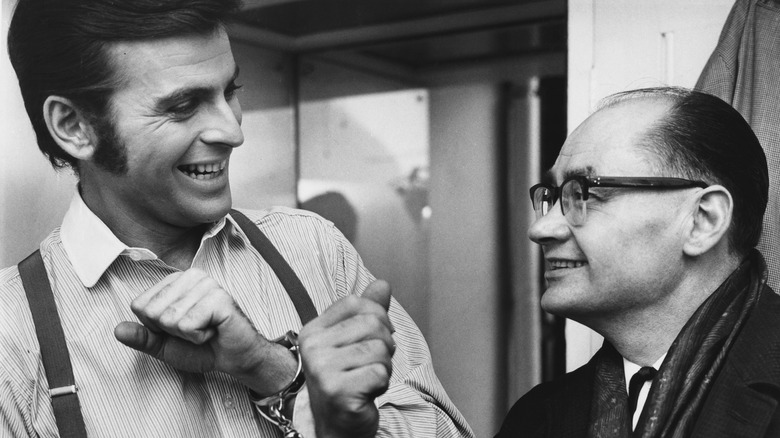 Central Press/Getty Images
Several of Damon's "General Hospital" co-stars have taken to social media to pay their respects to the late actor. Amber Tamblyn, who played Damon's adopted daughter on the show, wrote a touching statement on Twitter: "Broken hearted to hear of the passing of Stuart Damon. He played my adopted dad on General Hospital for 7 years and he was the most kind, wonderful, loving, supportive person. He always made me laugh and made me feel safe on set. I love you, Stewy. Rest well now, my friend."
Other "General Hospital" alumna like Genie Francis, Tristan Rogers, and Nancy Lee Grahn also left their condolences on Twitter, as well as Sean Kanan who played Damon's TV son: "I am saddened to have learned that Stuart Damon has passed," Kanan wrote on Twitter. "Although we had lost touch over the years I will never forget his kind soul, zany sense of humor and talent. RIP Stuey Damone."
Damon left an indelible mark on the television industry, and he will be greatly missed.