World Trigger Season 3 - What We Know So Far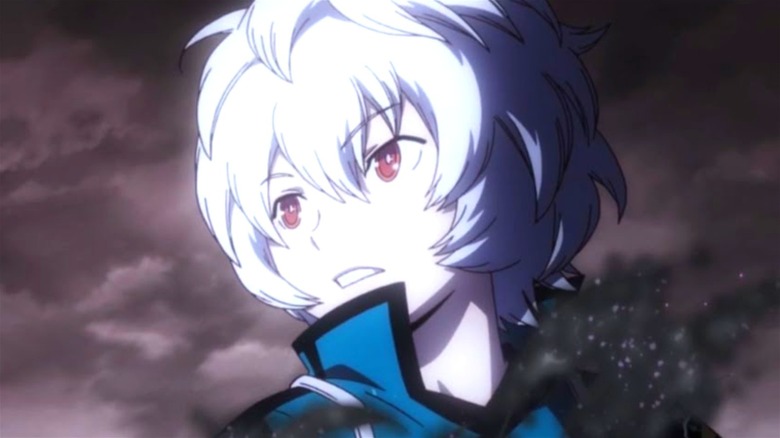 Crunchyroll/Toei Animation
In the science fiction anime "World Trigger," the community of a place known as Mikado City adjusts to life four years after a gate has opened to another world, allowing monsters and human-like people called "Neighbors" to arrive and attack. While they are initially helpless against the threat, a defense force known as the National Defense Agency, or Border, arrives to protect everyone, using Neighbor technology known as "Triggers." Triggers utilize Trion, an energy that originates from inside the body, to strengthen the user and function as a weapon. A new culture develops as Mikado City gets used to the presence of Border and Neighbors, and soon enough many young men and women are vying for a spot at Border to train and fight. 
The original manga series first started publication in 2013, written and illustrated by Daisuke Ashihara. In 2014, Toei Animation produced the first season of an anime adaptation of "World Trigger," which covers around five different story arcs from the manga, consisting of 73 episodes. Some fans of the manga found the 2014 anime lacking, but it redeemed itself in early 2021 when a second season of "World Trigger" was released, consisting of 12 episodes. The rise in quality is obvious and many fans appreciate the new season's attention to detail, with a review on Anime News Network praising how "the largely new staff has revamped the color and design work for the better, along with a quantum leap forward in direction and storyboarding." 
Luckily for fans of the long-awaited "World Trigger" Season 2, a third is on its way, and it will be here sooner than you think. Here's everything we know about "World Trigger" Season 3 so far. 
When is the release date for World Trigger Season 3?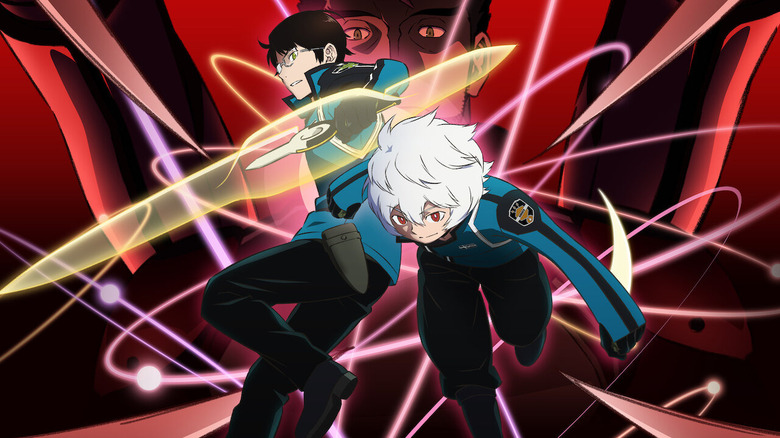 Crunchyroll/Toei Animation
Thankfully, "World Trigger" fans will not have to wait seven years between seasons this time around. The upcoming Season 3 will likely have around the same amount of episodes as Season 2, and will premiere in October 2021 (AnimeJapan 2021 via DualShockers). The new episodes will be broadcast on TV Asahi in Japan, and although it has not been confirmed yet, it's highly likely that Crunchyroll will provide the simulcast service for Season 3, just as it did for Season 2. Crunchyroll is already a popular place to find entertaining anime in a range of genres, with hits like "No Game, No Life" and "Haikyuu!!" available now. 
As of right now, only a few stills of new episodes have been released on the official Twitter account for the anime, but fans should expect to see a full Season 3 trailer and exact release date in the coming weeks. If you prefer dubbed anime to subbed, it is currently unclear when or if there will ever be an English dub of "World Trigger" Season 2, much less Season 3. An English dub of Season 1 is available, but it took quite some time for it to come out. 
What characters will appear in the third season of World Trigger?
Crunchyroll/Toei Animation
"World Trigger" centers around four main characters, Osamu Mikumo, Yūma Kuga, Chika Amatori, and Yūichi Jin. Osamu is a kind and honest high school student who joins Border as a way to protect his friend Chika and others from the Neighbors. He initially isn't very skilled at combat or weapons training, but he is determined, and Osamu eventually becomes Captain of the Tamakoma Second unit of Border. By his side is Chika, who despite Osamu's efforts to protect her, doesn't need any help and is just as capable at fighting off the Neighbors. Although rather timid, Chika is a skilled sniper who aims to rise up the ranks at Border. 
Yūma is a new student at Osamu and Chika's school at the beginning of "World Trigger" Season 1. Short and with shocking white hair, Yūma is actually a Neighbor who comes to Mikado City through the gate, a secret he attempts to keep as long as possible. Yūma soon becomes a highly valuable member of Border, possessing one of the Black Triggers, a special weapon that the organization can use to fight off more vicious Neighbors. Filling out the main cast is also Yūichi, a member of the Tamakoma Branch whose seemingly laidback demeanor hides a clever mind. Despite knowing the danger of Neighbors and experiencing it firsthand, Yūichi is able to understand that not all Neighbors are like that, respecting and helping those like Yūma.
What will happen in the upcoming World Trigger Season 3?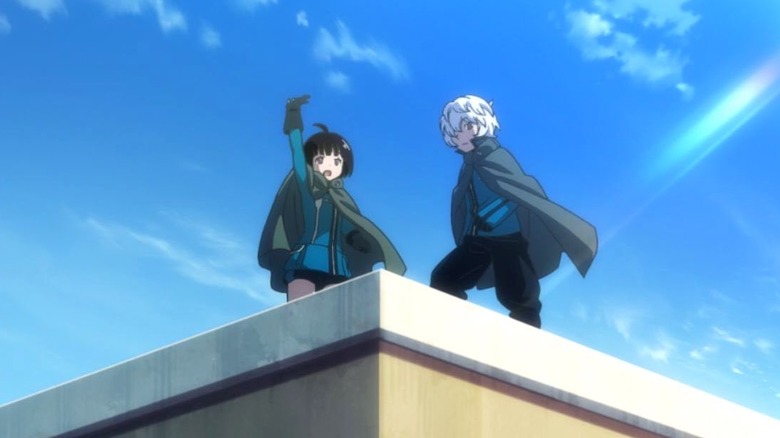 Crunchyroll/Toei Animation
The story of "World Trigger" follows Yūma as he becomes a part of Border, developing a solid group of dependable friends and learning to use his unique skills to help protect Mikado City. Yūma has a particularly difficult past, as his father sacrificed himself to make a Black Trigger for Yūma after the boy fell in battle and almost died. The Trion in the Black Trigger keeps him alive, and Yūma has a technological companion and protector known as Replica that follows him everywhere. 
Osamu, Yūma, and the rest of the Tamakoma Second aim to practice and train to rise to A-rank, with the goal of gaining Border's permission to visit the Neighbor world and take the fight to them, while also looking for a way to bring back Yūma's father, if possible. The beginning of Season 3 will pick up where Season 2 left off, in the middle of the manga's B-Rank Battles Arc, during which Yūma and the rest of Tamakoma Second fight against other Border agents for the chance to move up to A-rank. Throughout his time in Border, Yūma has developed strong relationships with the rest of Tamakoma Second and is intensely loyal to his friends, intent on protecting others against the Neighbors and stopping the fighting altogether. 
With Season 3 of "World Trigger," there is the possibility that the anime may catch up to the manga in terms of story, so many fans wonder if there might be another anime-only story arc coming up as well.