Will There Really Be Another Ocean's Movie? Here's What Don Cheadle Just Said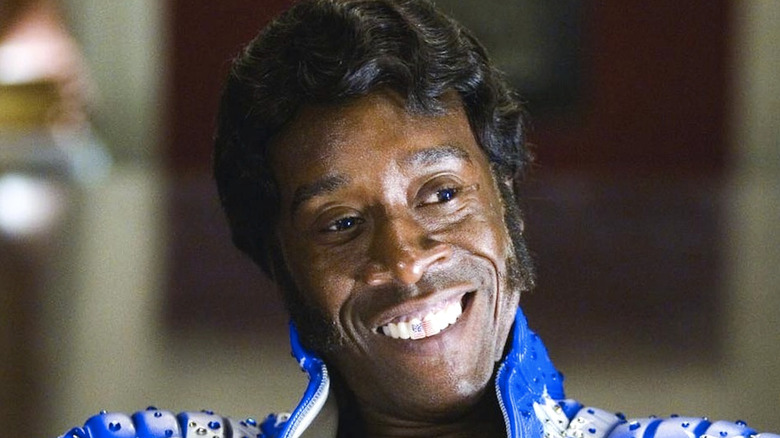 Warner Bros. Pictures
With 2021 the 20th anniversary of the release of the comedy heist film "Ocean's Eleven," it might just be the perfect time for a revival. The movie, which went on to become a trilogy that includes 2004's "Ocean's Twelve" and 2007's "Ocean's Thirteen," has an all-star cast featuring George Clooney, Julia Roberts, Brad Pitt, Matt Damon, and Don Cheadle, among other familiar faces. "Ocean's Eleven" is actually a remake of the 1960s film of the same name, and it's about a group of men led by Danny Ocean (Clooney) and Rusty Ryan (Pitt) who put into action a plan to rob a huge Las Vegas casino out of $160 million. Initially just Danny and Rusty, the duo must recruit a team of particularly skilled individuals, bringing in Livingston Dell (Eddie Jemison), a specialist in electronics and surveillance technology, Yen (Shaobo Qin), a talented acrobat, and Cheadle's Basher Tarr, who knows all there is to know about explosives. 
The "Ocean's" movie franchise was extremely successful, with all the films — including the 2018 spinoff "Ocean's Eight" — making around $565 million altogether at the box office (Box Office Mojo). Critics like the movie series too, considering the high scores for the franchise on Rotten Tomatoes, so what reason is there not to make another one? Speaking with Entertainment Weekly about his new movie "No Sudden Move" directed by Steven Soderbergh, the filmmaker behind the original "Ocean's" trilogy, Cheadle revealed why they never made another "Ocean's" movie with the original cast in the past, and why fans might be able to get their hopes up for a new one now. 
Original director Steven Soderbergh has an idea for a new Ocean's film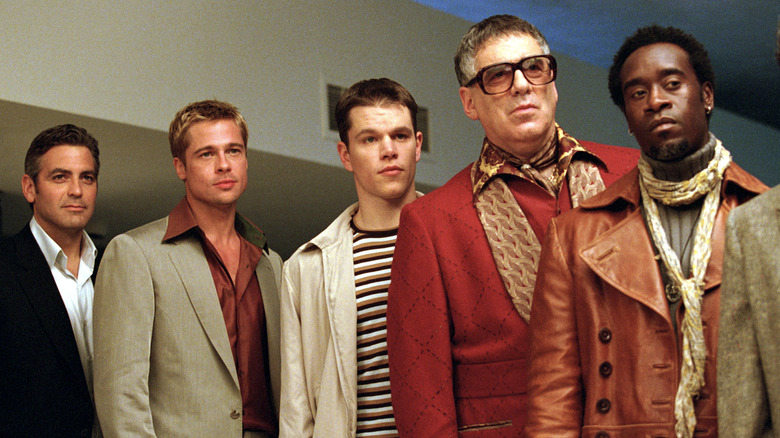 Warner Bros. Pictures
While promoting the 2021 period crime thriller "No Sudden Move," which also stars Benicio del Toro and David Harbour, Cheadle shared that Soderbergh seemed to be throwing around some ideas about another "Ocean's" movie. Recounting an experience on set filming the new movie, Cheadle told EW that Soderbergh said, "I think there may be a way to do ['Ocean's'] again. I'm thinking about it." Cheadle states that this was the extent of his conversation with the director, but the actor appears to support the possibility of another film, saying, "I imagine the main group of us would be in. It would be interesting to see."
As for why there hasn't been a fourth film connected to the original "Ocean's" story already, Cheadle highlighted the deaths of two key cast members — Bernie Mac, who passed away in 2008, and Carl Reiner, who passed away in 2020. The initial response to such heavy losses was to leave the franchise as it is, not wanting to do anything without the whole cast there. But apparently, Soderbergh is coming around to the idea of returning to the action comedy franchise. Although the recent spinoff "Ocean's Eight" did quite well overall, it was directed by Gary Ross, not Soderbergh, and many fans of the "Ocean's" movies feel that it just isn't the same without Danny, Rusty, and their crew. If Soderbergh has an idea for an interesting story, the original cast will likely sign on, so fans should keep their fingers crossed that Soderbergh's small inkling of an idea eventually grows into a full-blown movie.