Everyone's Talking About The Live-Action Clifford The Big Red Dog Movie Trailer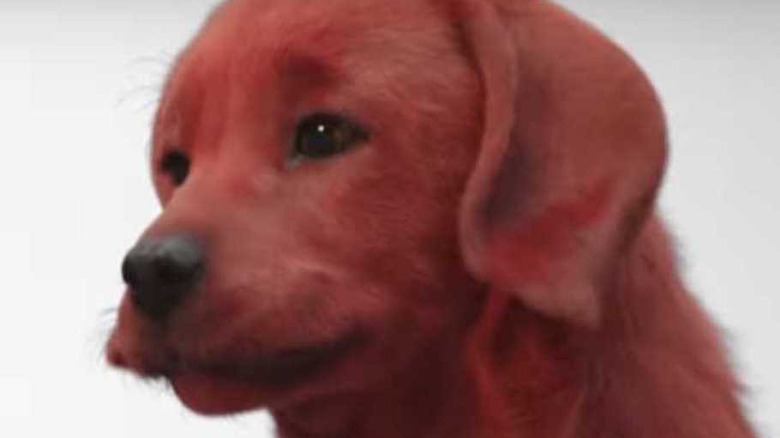 Paramount Pictures
Clifford the Big Red Dog, the beloved children's book and TV character, has been around since 1963, and is just now getting his first live-action movie (the people around him are live-action, that is; he will of course be computer-animated). The movie will be hitting theaters on September 17, and a trailer was just released for the biggest (get it?) family movie of the fall. The trailer has online commenters' tails and tongues a-wagging.
"Clifford the Big Red Dog" stars Darby Camp ("The Christmas Chronicles") as Clifford's owner Emily Elizabeth, a girl from New York City who's in the care of her impulsive uncle Casey (Jack Whitehall) while her mom is away on a business trip. She adopts a peculiar red puppy from a mysterious pet rescuer (John Cleese), who tells her that the more she loves Clifford, the bigger he'll grow. And, well, he grows to be really, really big. So big, that he breaks the vet's scale when he sits on it (the vet is played by Kenan Thompson). So big, that a guy on a bike crashes into a parked car when he sees him because his tiny brain can't process a dog that big and red. So big, that when he's playing with a pug, he swallows it whole and spits it back out.
Viewers are having big red reactions to the big red trailer.
Clifford the Big Red Dog is scaring people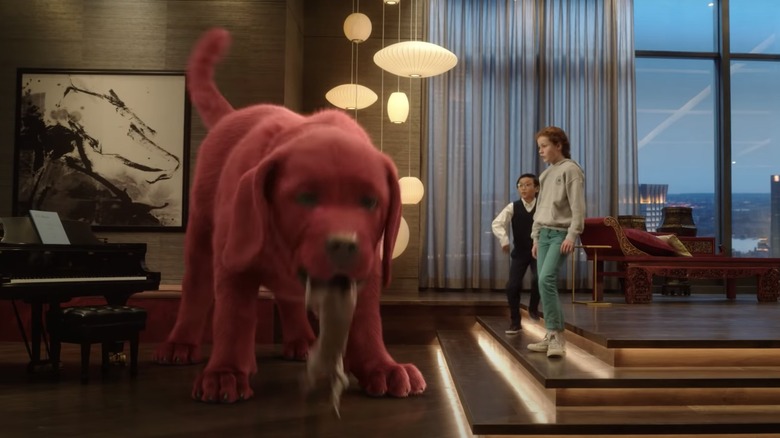 Paramount Pictures
Reactions are mostly split between people who are earnestly excited to see a favorite character from their childhoods in a new way and people who are jokingly scared of a dog that big and red.
Twitter user Delia Harrington was enthusiastic about the trailer. "I loved Clifford sooo much as a kid and it's so much fun passing these stories on to my niece, who is equally obsessed and also gets the animated show," she wrote. "This might actually be too much for her brain."
On the other hand, Twitter user Jen Langliotti deadpanned "absolutely horrified there's a live action clifford the big red dog coming out. where did they find a dog that big."
"Finally a Clifford the Big Red Dog movie about how actually terrifying it would be to see a giant monster hellhound in the park," wrote @Bluvband.
Twitter user fawfulator wasn't sure if Clifford was big enough. "Dog looks big, but is he 'Clifford The Big Red Dog' big?" he wrote. "I expected an absolute unit, this is more of a chunky boy."
But most people agree that Clifford swallowing then barfing the pug is too much. "Clifford the Red Dog tries to eat another dog," io9 editor Beth Elderkin wrote. "what am I supposed to do with this information."
"This movie already gets negative points from me for what he does with that pug," movie critic Alexander Robinson wrote.
The only dissenting opinion about the pug comes from @psychgeekgirl, who wrote "I'm wary, but I did laugh when Clifford accidentally ate the pug (before spitting it out) I had a very big dog who did something just like that too."
"Clifford the Big Red Dog" will descend on theaters on September 17.