Good Omens Fans Just Got The Best News Imaginable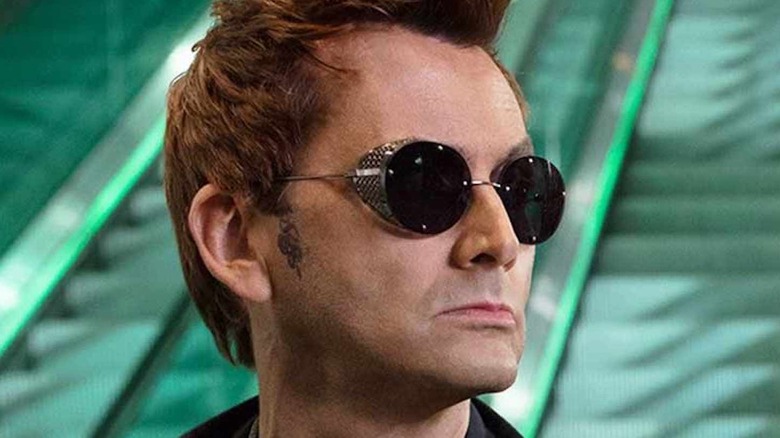 Amazon Studios
When "Good Omens" arrived on Amazon Prime Video back in 2019, audiences were charmed by the wonderful dynamic between David Tennant's sharp-witted demon Crowley and Michael Sheen's hilariously reserved angel Aziraphale as they attempted to stop the apocalypse. It was grand, fun, and expanded the world of the book using plot points authors Neil Gaiman and Terry Pratchett originally planned to put in a sequel, like Jon Hamm's angel Gabriel. But after Crowley and Aziraphale thwarted the apocalypse in Season 1, fans were eager to see what other adventures the two could get into. Of course, there's the tricky problem of raising the stakes. After all, what's a bigger problem than the apocalypse wiping out all life in existence?
Well, that's a task that Gaiman, Tennant, Sheen, and Amazon Studios will now have to tackle, as "Good Omens" Season 2 is officially in the works.
In a press release announcing the news, David Tennant said, "The return of 'Good Omens' is great news for me, personally. As I get to work with Michael again, and I get to say Neil's wonderful words once more." He then quipped, "It's probably less good for the universe as it almost certainly means there will be some fresh existential threat to its existence to deal with, but, you know — swings and roundabouts."
Meanwhile, Tennant's angelic co-star Sheen joked that he was against the idea of Season 2, saying, "Personally I'm against it, but the world isn't going to just save itself, is it? If David and I can manage to not fall out too badly this time it may even have a chance of getting finished."
Thankfully, Gaiman also revealed what's ahead for the pair.
A new mystery in Good Omens Season 2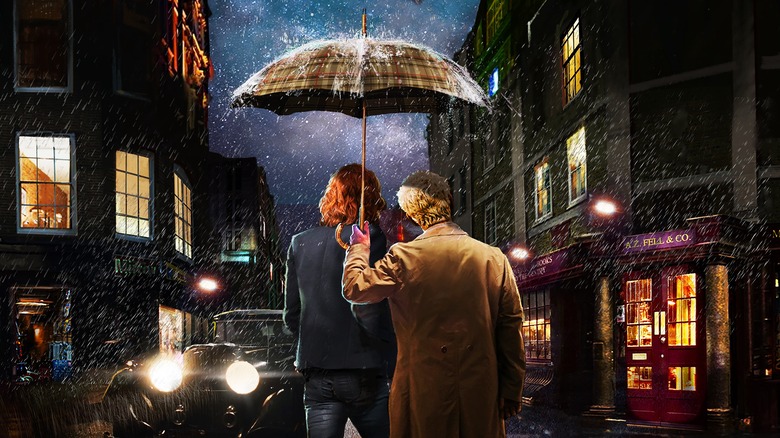 Amazon Studios
The end of "Good Omens" Season 1 saw Aziraphale and Crowley stop the antichrist, 11-year old Adam Young (Sam Taylor Buck), from bringing about the end of the world — but they'll have a new mystery to deal with in Season 2. Neil Gaiman explained that he and the late Terry Pratchett already discussed what a sequel to the book would look like: "Terry's not here any longer, but when he was, we had talked about what we wanted to do with 'Good Omens,' and where the story went next."
So don't worry: "Good Omens" Season 2 won't be the streaming service taking control of the story. Gaiman is an executive producer and co-showrunner on the series alongside Douglas Mackinnon, who also worked on the first season. Gaiman also explained that he knows how desperate fans are to find out what's next for Aziraphale and Crowley, noting in a statement accompanying the news, "There are so many questions people have asked about what happened next (and also, what happened before) to our favorite Angel and Demon." He then revealed how Season 2 starts: "Here are the answers you've been hoping for. We are back in Soho, and all through time and space, solving a mystery, which starts with an angel wandering through Soho, with no memory."
Obviously, that only leaves audiences with more questions. Who is the mysterious angel? Is it someone who already appeared in the first season, like Jon Hamm's Gabriel? Why do they have no memory? Is the war between Heaven and Hell brewing again? Only time will tell. 
"Good Omens" Season 2 is currently without a release date.