Trolls 3 - What We Know So Far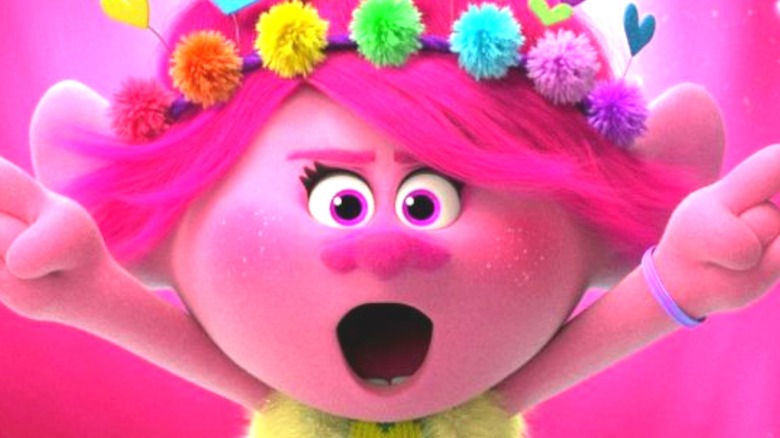 Universal Pictures
We can't stop the feeling that the "Trolls" franchise is going to continue expanding with a third movie — and we have good reason to believe so. The Universal Pictures animated franchise has been rocking our world since 2016 with the release of the simply named "Trolls." Based on the extremely twee, puffy-haired '80s toys of the same name, "Trolls" starred Anna Kendrick as Poppy, an effervescently optimist Troll who loves pop music and must team up with Branch (Justin Timberlake), a curmudgeon with a heart of gold, to save their fellow Pop Troll family. Along the way, Poppy and her friends would break out into song, jamming to familiar hits from the likes of Lionel Richie, Ariana Grande, Earth, Wind & Fire, and more. 
The animated movie was a bonafide hit and went on to score an Academy Award nomination for the highly infectious earworm "Can't Stop the Feeling," also sung by Timberlake. The sequel, "Trolls World Tour," was one of the first (and very few) movies released in theaters domestically in 2020 and thus, one of the few to weather the COVID-19 pandemic. As a result, the second "Trolls" movie received a day-and-date theatrical and PVOD release that paid off handsomely and ensured the movie take one of the top spots as the domestic box office in an otherwise very dismal year for new movie releases. Add to all of the enticing assets the "Trolls" franchise has to offer, from its charming voice performances to lively musical numbers to intriguing animation style, the fact that both movies have grossed more than $500 million combined worldwide to date, and it feels like "Trolls 3" isn't too far off.
Here's what we know so far about "Trolls 3," including the release date, cast, and plot.
Does Trolls 3 have a release date?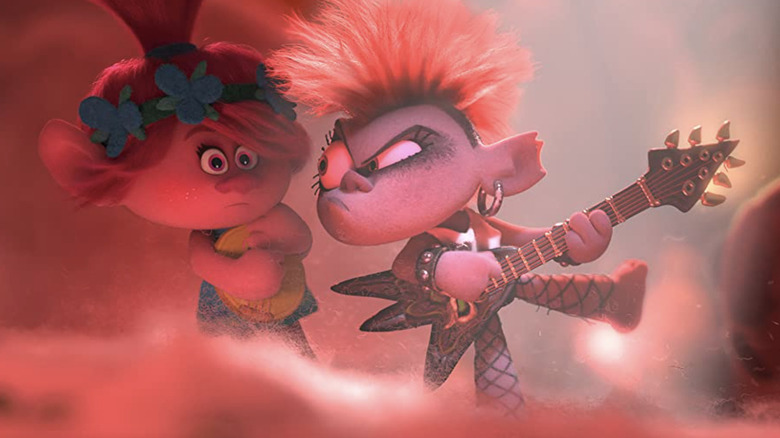 Universal Pictures
Universal Pictures has not set a release date for "Trolls 3," mostly because the studio hasn't confirmed if a third movie will be happening. Even without an official green light from Universal, fans of the "Trolls" movies have reason to hope for another movie to arrive in the near future. The key indicator of a possible third "Trolls" movie is the box office receipts from "Trolls World Tour." The sequel's day-and-date theatrical and PVOD release strategy paid off, with the movie earning nearly $100 million in domestic rental sales in its first three weeks. Per The Numbers, we also know the second "Trolls" movie earned $49.8 million in domestic DVD and Blu-ray sales. Additionally, we know the movie's international gross is $46.8 million (per Box Office Mojo). This means that, to date, "Trolls World Tour" has earned nearly $200 million in worldwide sales to date — and that's probably good enough to warrant a third movie. (It also doesn't hurt that Justin Timberlake is interested in making multiple "Trolls" sequels, according to Billboard's reporting.) 
With box office receipts pointing in a favorable direction and the "Trolls" franchise naturally doing very well with its younger demographic, the question of when a third movie will arrive (rather than if) is on our minds. There was a four-year span between the first two "Trolls" movies; that could totally happen again. If Universal were to greenlight "Trolls 3" by the end of 2021, then it would take at least two years for the animated movie to come together. This means the earliest possible release date for "Trolls 3" would be sometime in 2023. But, more realistically and based on a typical animated movie production schedule, "Trolls 3" could get a 2024 or 2025 release date.
Who is in the cast of Trolls 3?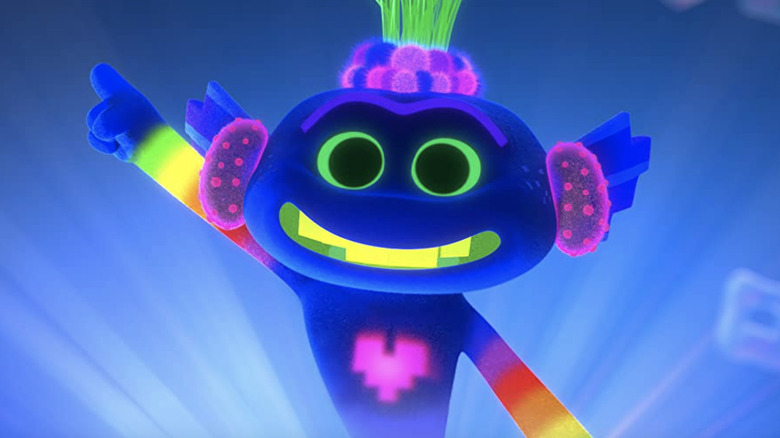 Universal Pictures
With no official green light for "Trolls 3" on the books, we don't know the complete cast for the Universal Pictures threequel. However, considering the success of the first two "Trolls" movies and the fact that it's often standard practice for actors to sign multi-year contracts with big potential franchises like "Trolls," we can make some safe, educated guesses on which actors will return. 
For starters, chances are very good that Anna Kendrick and Justin Timberlake will reprise their roles as Poppy and Branch, respectively. It's also likely that fellow Trolls Guy Diamond (Kunal Nayyar), Cooper (Ron Funches), and Biggie (James Corden) will return following their appearance in the first two "Trolls" movies. From here, though, it's hard to say who exactly will appear in "Trolls 3," in part because "Trolls World Tour" greatly the cast of characters in this universe. This means there are plenty of options when it comes to choosing which characters will appear in a third movie. 
Among the fun new troll characters introduced in "Trolls World Tour" were Barb (Rachel Bloom), Queen of the Hard Rock Trolls; Delta Dawn (Kelly Clarkson), mayor of the Country Trolls; Hickory (Sam Rockwell), a Yodel Troll; King Trollex (Anthony Ramos), King of the Techno Trolls; Chaz (Jamie Dornan), a Smooth Jazz Troll; Essence (Mary J. Blige), Queen of the Funk Trolls. With so many new characters featured in "Trolls World Tour," it's very possible that at least one of these characters will pop up — or, even better, play a key role — in "Trolls 3."
What is the plot of Trolls 3?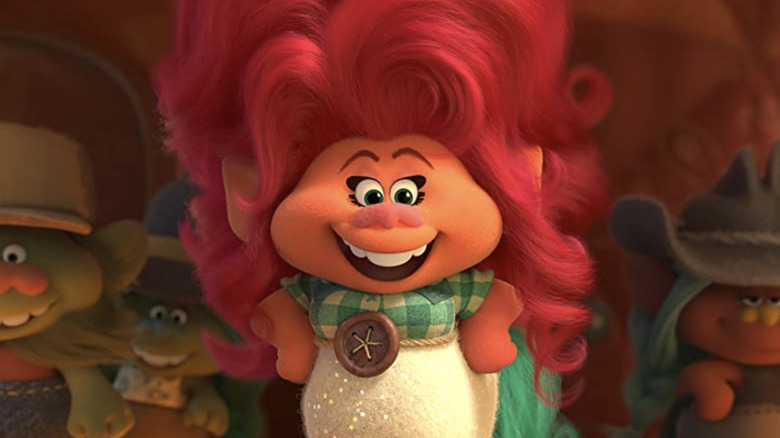 Universal Pictures
No plot details on "Trolls 3" are available, but we do know that a third "Trolls" installment could take this world and these characters to some exciting places, narratively speaking, going forward. "Trolls World Tour" expanded the story beyond the world of the Pop Trolls, home to Poppy and Branch. In the second movie, we followed this heroic Pop Troll duo as they tried to stop Barb, Queen of the Hard Rock Trolls, from taking all six magical lyre strings (each representing a different tribe of Trolls) and using them to turn all of the trolls in the world into mindless beings who loved rock music. Along the way, Poppy and Branch met the members of the different Troll tribes scattered across five territories and learned how important it was to celebrate different kinds of Trolls and their music.
With Barb no longer the enemy of Poppy and Branch (or the rest of the Troll tribes, for that matter) and the world restored to its status quo, it's about time a new adventure for Poppy and Co. cropped up. This means that the door is open for a new villain to arrive on the scene or for a new, potentially world-changing event to occur which will force the Trolls to once again unite in song to save the day.