How Music Played A Critical Role In Trolls World Tour - Exclusive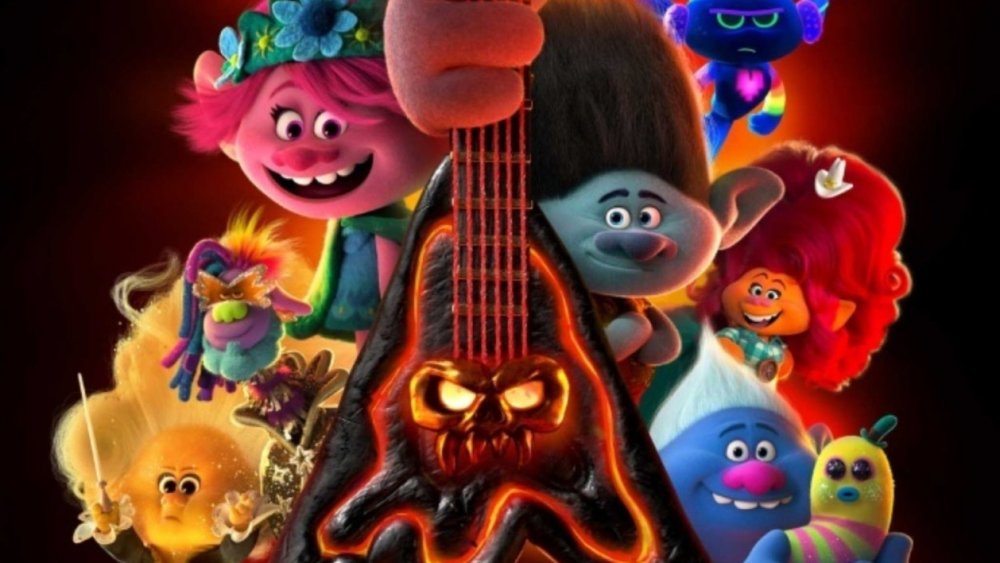 DreamWorks Animation/Universal Pictures
Trolls World Tour isn't like the first Trolls movie. This time, the music takes center stage. Sure, Trolls had its fair share of toe-tapping musical numbers, but Trolls World Tour ups its game by making music key to the movie's plot. In the film, Poppy (Anna Kendrick) and Branch (Justin Timberlake) must travel across the six different Troll kingdoms — each of which represents a different musical genre — in order to save them from Barb (Rachel Bloom), the Troll queen of rock and roll.
It's a bigger adventure than the one featured in Trolls, which director Walt Dohrn says is by design. "That's what got us excited when we had the opportunity to make another one," Dohrn says during an exclusive talk with Looper. "We all felt like, 'Man, we just scratched the surface on this. There could be such a vast world here that we haven't even seen.'"
Basing the larger Trolls universe on music seemed like an obvious choice. Not only were the musical interludes some of Trolls' most memorable moments, but animation and music also go hand-in-hand. "I'm a huge fan of Fantasia," Dohrn reveals, invoking Walt Disney's iconic animated film. "There are also those great films of the '40s. There are Disney packaged films, like Make Mine Music, Melody Time, The Three Caballeros. I love them."
Like music, Dohrn explains, animation is all about timing, making the two natural partners. Not that it was easy to decide which types of music each of the Troll kingdoms would embody, of course. Dorhn knew that they needed to focus on six different genres — Trolls World Tour's villain plans to unify the world by playing the ultimate power chord, and guitars have six strings — but coming up with the final list proved tricky. "We can only have so much music in the film," Dohrn admits.
Early in production, Dohrn and the rest of the Trolls World Tour team consulted with a musicologist at the University of California, Los Angeles. "We talked to her a lot about how one genre led to another," he says. "We talked a little bit about cultural appropriation, which is in the film, versus inspiration, because one genre will be inspired by one and grow out of another."
That helped the Trolls World Tour crew come up with six types of music that — hopefully — covered the widest base possible. "We felt like the six main genres were a representation of music around the world," Dohrn says. "I feel like a lot of sub-genres shoot off of those six main genres." (Hip-hop is in the film, for example, but it's performed by a member of the Funk Kingdom.)
Genres that are less easy to classify made it into Trolls World Tour by way of some comedic bounty hunters. "In the end, it's a film about diversity, so we wanted as much representation as we could get," the director notes. "So, we started squeezing in some other genres, like K-pop and reggaeton and smooth jazz and yodeling." 
The end result is a smorgasbord of different musical genres. You may not enjoy all of Trolls World Tour's music, but odds are, there's going to be something in there that you like.
How Trolls World Tour brings the concert experience home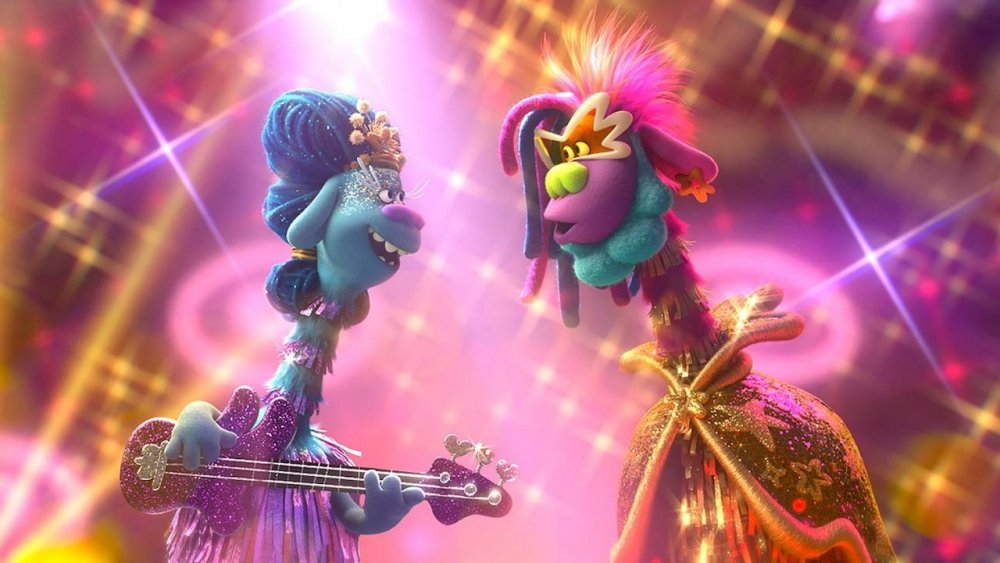 DreamWorks Animation/Universal Pictures
Trolls World Tour's musical focus didn't just affect the soundtrack or the film's McGuffin; it also inspired the structure of the story, particularly its raucous climax. "For me, a lot of third acts in films become these relentless chase sequences," Dohrn says. "It just happens, and people really like that stuff, but I wanted to avoid that."
The alternative? "I wanted to take the audience to a concert at the end of the movie," the director reveals. "I think every element, from the music to the crowds department to the production design, everything feels like you are attending a concert at the end of the film. And really, just visually, the team blew us away."
The effect works no matter where you're watching Trolls World Tour, which speaks to one of the things that's made the film so unique. Trolls World Tour debuted when theaters were closed because of the COVID-19 pandemic, skipping its traditional theatrical release in America and going straight to video-on-demand. Even if you wanted to attend a concert, you couldn't. Venues aren't open, and big tours are canceled.
According to Dohrn himself, that's what makes Trolls World Tour the perfect movie for the current moment. Trolls World Tour has all of the high-energy spectacle of a real concert, but it's also something that you can enjoy from your living room. "Regardless of the platform, that's the experience the audience takes away," Dohrn says.
If you're itching to get out and see a show, try the Trolls movies instead. No, they aren't exactly the same as seeing a band live, but given the circumstances, it's a pretty awesome second option.
Trolls World Tour is available now on all major VOD platforms.