The TV Series That Almost Made Chris Hemsworth Lose Out On His Thor Role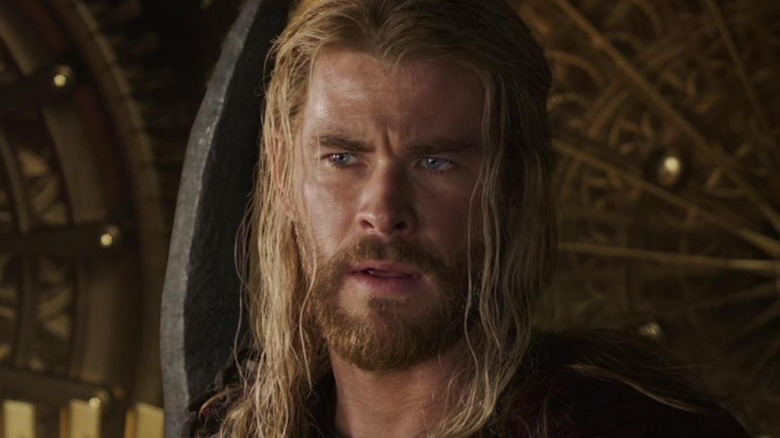 Walt Disney Studios Motion Pictures
Chris Hemsworth has portrayed Thor, the golden-haired Norse God of Thunder, in eight Marvel Cinematic Universe films, with the ninth, "Thor: Love and Thunder," set to arrive in 2022. The Australian actor has become almost synonymous with the character, which makes it all the more ironic that he nearly missed out on the part. Back before he was a massive movie star, Hemsworth was a TV actor down under and it was one of his gigs in his home country that almost cost him the role of a lifetime.
During a recent interview with PopCulture.com, Derek Hough spilled a little "Dancing With the Stars" tea. The ballroom pro said, "Chris Hemsworth almost lost his role as Thor because he was on 'Dancing With the Stars' in Australia ... they literally cast him — or they were gonna cast him — and I think people called and said, 'Yo have you seen him dancing the Samba? This cannot be our Thor.'"
Hemsworth was indeed on the fifth season of the Aussie version of the celebrity dance competition. At the time, he was best known for his role on the Australian soap "Home and Away." The actor ended up coming in fifth place and he did dance the Samba during week five of the show.
While it may come as a surprise that something as silly as dancing on a TV show almost cost Hemsworth what has gone on to become one of the signature roles of his career, it won't be a shock to hear that he was far from the only actor who was up for the role of Thor.
The other actors who almost played Thor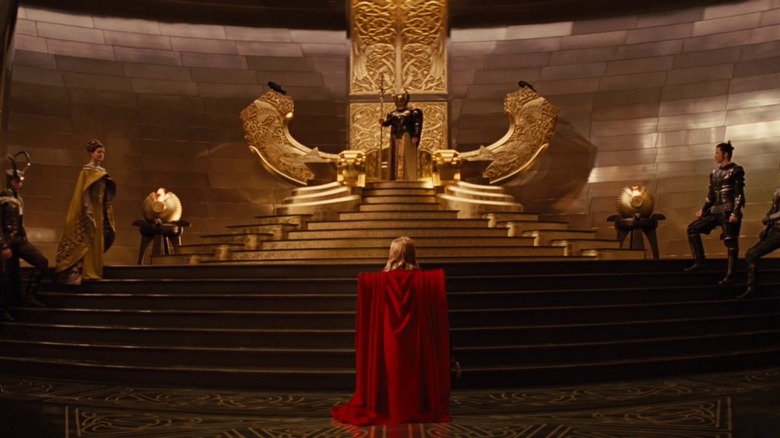 Walt Disney Studios Motion Pictures
According to a 2009 report by Deadline, before he eventually landed the lead in "Thor," Hemsworth had been rejected from the casting process altogether after doing an initial reading for the part. We should say Chris Hemsworth was, because his brother Liam screen-tested for the role, but was ultimately passed on, as well. Allegedly, after testing several potential actors, including Alexandar Skarsgard, Joel Kinnaman, Charlie Hunnam, and Tom Hiddleston, who famously went on to play Loki, Marvel gave Chris Hemsworth another shot and the rest is history.
There were also several other names in consideration at various parts of the process. Deadline reported that Kevin McKidd aka Dr. Owen Hunt from "Grey's Anatomy" and WWE legend Triple-H were both potential options. Daniel Craig was offered the role at one point, an interesting tidbit that hints at the fact that the filmmakers were possibly considering a more mature version of the character. Ultimately, though, Craig turned down the role (via Slash Film).
To go back even further, there's a world in the multiverse wherein "Thor" wasn't a blockbuster film series, but rather a TV movie. After the success of the "X-Men" movies in the early 2000s, rumors swirled that "Thor" would be one of the next Marvel properties to receive a live-action adaptation. At the time, Tyler Mane, who would later go on to play Michael Myers in Rob Zombie's "Halloween" remake, was being considered to hold the hammer (via Mania).
Even though there were some strong choices in consideration, we're ultimately glad that his stint on "Dancing With the Stars" didn't end up costing Chris Hemsworth his role in "Thor."