The Wardrobe Malfunction That Evan Peters Suffered On AHS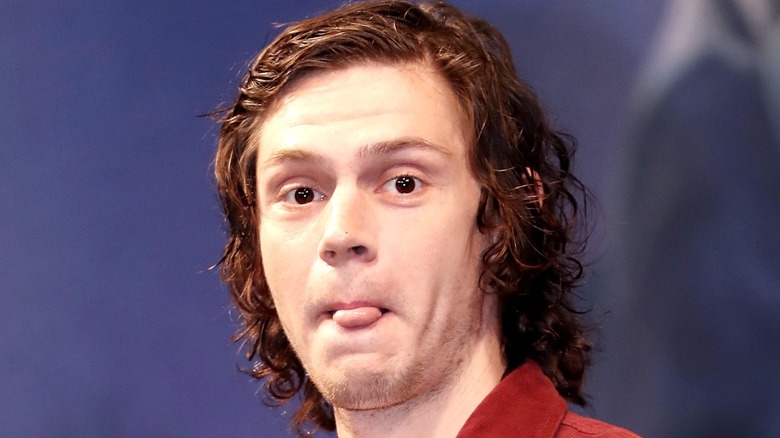 JTBC PLUS/Imazins via Getty Images
"American Horror Story" has its fair share of R-rated moments. Many of them are gory, disturbing, or spooky — it is a horror series, after all. But with characters like Season 5's Countess running around, quite a few of them are adult-oriented for entirely different reasons. Indeed, the show isn't afraid to indulge its raunchier nature, treating audiences to some truly controversial scenes.
One of the best things about "American Horror Story" as a whole is its many cast members, who play a vast variety of different parts over the course of the show. Many of these stars have recurring roles, like Sarah Paulson, Jessica Lange, and Evan Peters. It's fascinating to see how these talented actors capture different positions, demeanors, and moralities from season to season. 
Cast your mind back to Season 2, a.k.a. "Asylum." Evan Peters' character, Kit Walker, is at the mercy of Jessica Lange's Sister Jude at Briarcliff Manor. In addition to running Briarcliff, Sister Jude is in charge of discipline — meaning she punishes the patients if they cause trouble for the nuns or the medical staff. Unfortunately for Evan Peters, he had an embarrassing wardrobe malfunction when filming one of these scenes.
Evan Peters learns a valuable lesson in modesty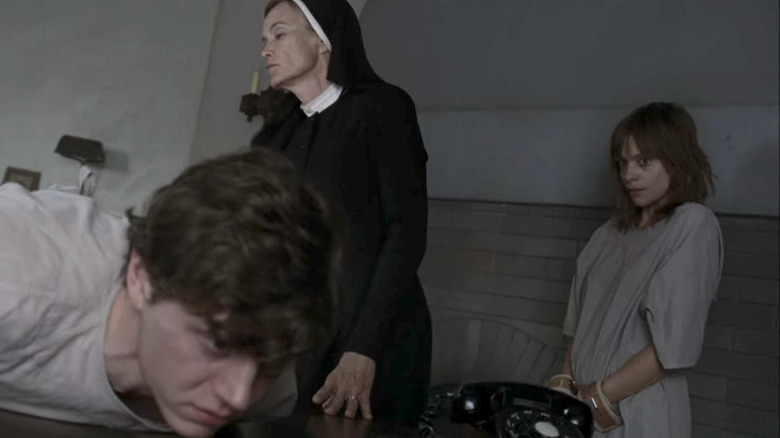 FX
In "Tricks and Treats," Episode 2 of "Asylum," Kit and Grace Bertrand (Lizzie Brocheré) are being punished by Sister Jude, who canes them while Lana Winters is forced to watch. Ouch. While filming the scene, Evan Peters had a bit of an issue with a protective sock, which was worn to, shall we say, preserve his dignity. 
As Peters explained to Conan O'Brien, he filmed the scene wearing the modesty-preserving sock. "We did the scene, and afterwards, Sarah comes up to me, kisses me on the cheek, and is like, 'Aw, Sweetheart, it's okay.' And I was like, 'What, was I that bad?'"
You can see where this is going, can't you? It turns out, the sock wasn't covering everything it was supposed to. "I look over," Peters recalled, "and Ms. Lange is telling the uh, the PA that apparently my balls were in her face the whole shot." Well, that's awkward. However, an important lesson was learned in properly concealing one's sensitive regions. Peters even demonstrated his newfound knowledge to O'Brien with a drawing O'Brien admitted could not be shown to the audience.
That's one heck of a wardrobe malfunction — but at least it's one Evan Peters will be able to avoid in the future!