The Forgotten Jack Black Sports Comedy You Can Catch On Netflix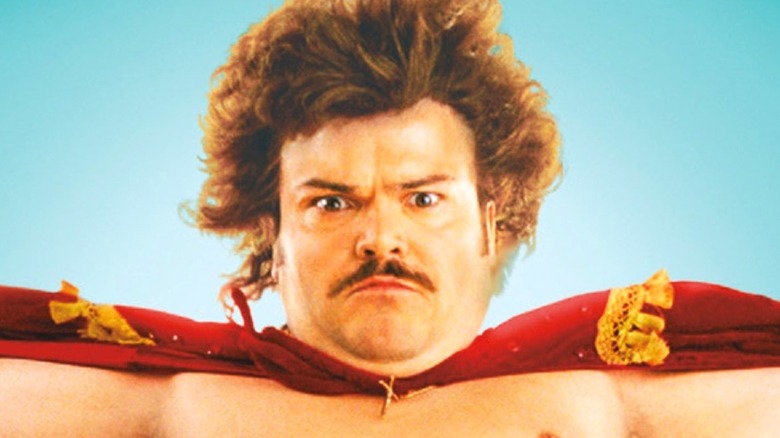 Paramount Pictures
Jack Black is one of the most iconic funnymen of our time, and in the 2000s, you likely saw his face everywhere. With hits like "School of Rock," "Orange County," "Be Kind Rewind," "Tenacious D in the Pick of Destiny," "The Holiday," and "Tropic Thunder," the talented actor is beloved by millennials (and everyone else) for his comedic timing and charming relatability.
There's one film of Jack Black's that may not have the same fanfare, but is certainly worth a watch. "Nacho Libre," which hit theaters in 2006, is a hilarious tale of a Catholic monk, Ignácio, who secretly moonlights as a Mexican wrestler to earn money for the orphanage where he works. Ignácio faces more conflict when he falls in love with a nun, Sister Encarnación (Ana de la Reguera), making him question his pledge of celibacy. The film is loosely based on the story of Fray Tormenta ("Friar Storm", a.k.a. Rev. Sergio Gutiérrez Benítez), a real-life Mexican Catholic priest who had a 23-year career as a masked luchador and competed to support the orphanage he directed.
"Nacho Libre" was not well-received by critics, holding just a 40% rating on Rotten Tomatoes. However, for fans of the unique genre of comedy found in the 2000s, "Nacho Libre" will be an enjoyable watch.
A silly, slapstick comedy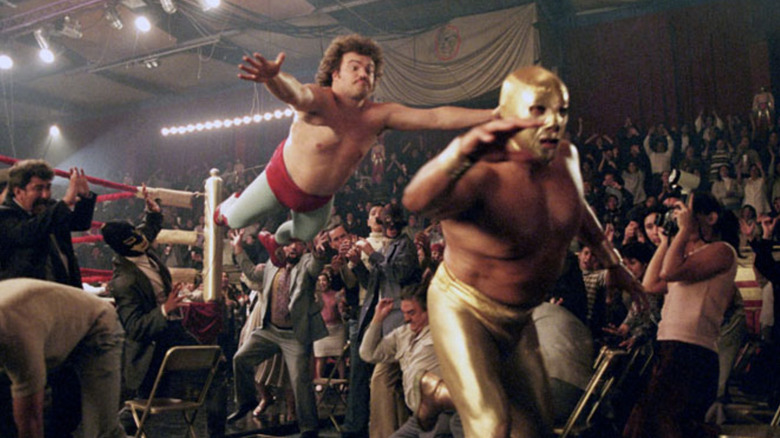 Paramount Pictures
"Nacho Libre" was written by husband-and-wife duo Jared and Jeshua Hess, and directed by Jared. The pair are best known for their work on 2004 cult classic "Napoleon Dynamite." The deadpan humor, slapstick comedy, and bizarre jokes present in that film are also found in "Nacho Libre," and are sure to entertain audiences.
Nonetheless, the film has garnered criticism for its stereotypical portrayal of Mexican culture, emboldened by the very American Jack Black playing a Mexican. ("Mexico in the movie seems to be a country where English is the language and Spanish is a hobby," says Roger Ebert.) Much of the film, too, is centered around Black's appearance, with "fat man in tights" being a recurring joke, as pointed out by Amy Biancolli at the Houston Chronicle.
However, as Claudia Puig at USA Today puts it, any offensiveness present in the movie is balanced out by the comedic talents of Black and his co-stars. "What is missing in plot and character development is made up for in silly fun ... Not only is the story oddly endearing, but the setting is distinctive and picturesque." 
You'll have to decide for yourself if the movie is simply fun or simply offensive. But if you're looking for an easy comedy full of bright colors and slapstick humor, you can't go wrong with "Nacho Libre," now streaming on Netflix.