Where Is Ashley Bratcher From My 600-Lb Life Now?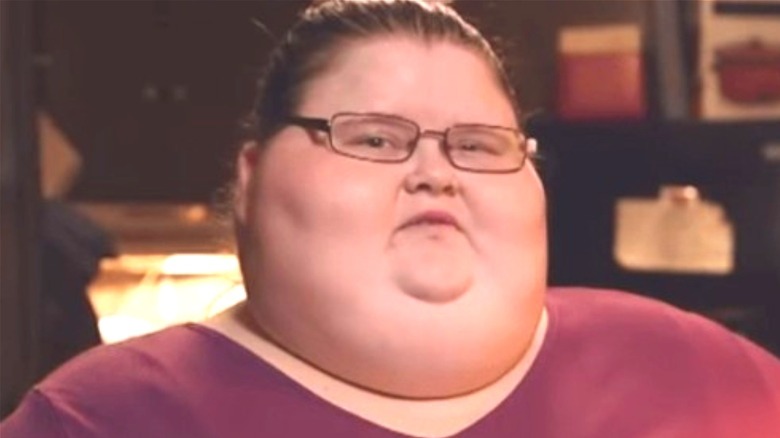 TLC
While every patient featured on TLC's medical reality series "My 600-lb Life" has a unique background, the dozens of morbidly obese individuals seeking Dr. Younan Nowzaradan's help often have several significant commonalities. For most, the weight gain began in their childhood, usually after a traumatic event. They all tend to have enablers in their lives who, despite their best intentions, are actually doing more harm than good. And most have become entirely reliant on others for the most basic tasks.
When viewers met Ashley Dunn Bratcher, the 27-year-old was one of the heaviest patients in the series' fourth season. Her initial weigh-in revealed she was just over 725 pounds. Her weight severely restricted her mobility, and she was relying on her then six-year-old son to help her with household chores while her husband earned a living as a truck driver. With her body in constant pain, Ashley spent most of her days waiting for the next meal. Food was her only comfort, and as viewers would quickly learn, had been from an early age. So, after Dr. Now's interventions, where is Ashley Bratcher from "My 600-lb Life" now?
Ashley's horrific childhood triggered her addiction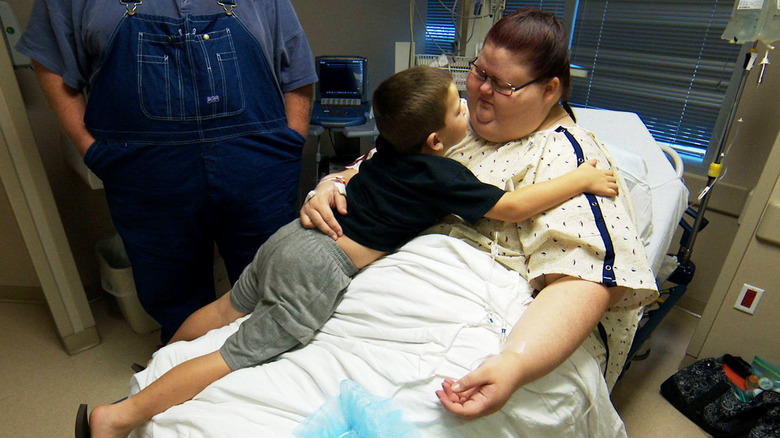 TLC
In the retrospective that starts each episode of "My 600-lb Life," Ashley revealed that when she was 6 years old, her mother, a drug addict, essentially abandoned her and her siblings. Atop that emotional pain, Ashley was also being sexually abused by her babysitter's husband. Thankfully, Ashley's father intervened, gained custody, and moved her and her siblings into his home. Unfortunately, the trauma of her early adolescence had already damaged her mental and emotional health. Ashley continued to gain weight, reaching 400 pounds by the time she graduated high school (via The Cinemaholic).
There were glimmers of hope after Ashley and her husband Jacob celebrated the birth of their son, Patrick. Having experienced her mother's abandonment, and knowing that her own weight would likely kill her, Ashley lost 95 pounds on her own following Patrick's birth (via Twitter). However, in time, Ashley fell back into her old routines, and her weight loss quickly became weight gain. Eventually, she reached out to Dr. Now.
Ashley faced setbacks but fought hard
Within the first month of participating in Dr. Now's calorie-restricted weight loss program, Ashley lost a whopping 123 pounds, bringing her weight down to 602. While the numbers were impressive, Dr. Now cautioned Ashley against trading extreme overeating for extreme undereating, which deprived her body of much-needed nutrients. Ashley moderated her approach to the program and was approved for gastric bypass surgery (via Starcasm). By the end of her "My 600-lb Life" episode, Ashley had lost 255 pounds. The journey, however, was not without a few detours. Ashley spent several weeks in the hospital after requiring one surgery to remove an ulcer and another to remove her gallbladder (via Starcasm). 
The last official update on Ashley's progress was in a 2018 episode of "Where Are They Now?" During the episode, Ashley underwent surgery to remove the excess skin on her abdomen, which was greatly impeding her movement and self-confidence. By the end of the update episode, Ashley was proud to be under 300 pounds and treated herself to some new, better-fitting outfits. In a recent Facebook post, Ashley announced that she and her husband celebrated their 12th anniversary. The most recent picture on Ashley's Instagram suggests that she is continuing to live a much healthier life.