Here's Where You Can Watch Why Did I Get Married?
Lionsgate
Tyler Perry's "Why Did I Get Married?" is an examination of marriage and friendship in all of its messy glory (and a definite departure from his "Madea" series). While the movie received mixed reviews (it has a 48% score on Rotten Tomatoes), viewers responded positively to the film's message. Released in 2007, the comedy earned an impressive $55 million at the box office, and as a result, a sequel entitled "Why Did I Get Married Too?" hit theaters in 2010.
"Why Did I Get Married?" follows eight now married college friends who meet at a Colorado cabin for a reunion each year. The friends say the reunion is to catch up on each other's lives, but it doubles as a free therapy session as they all discuss their various marital woes with one another. Among the couples are lawyer Dianne (Sharon Leal) and her pediatrician husband Terry (Perry), salon owner Angela (Tasha Smith) and football player Marcus (Michael Jai White), housewife Sheila (Jill Scott) and business owner Mike (Richard T. Jones), and finally, psychologist Patricia (Janet Jackson) and architect Gavin (Malik Yoba). Also along for the ride is Trina (Denise Boutte), a single woman who is having an affair with Troy.
Over the course of the week, the couples share all of their secrets, which leads to at least one of the marriages coming to an end. But while the movie is in part about just how hard it can be for marriages to go the distance, "Why Did I Get Married?" is at its best when it focuses on the tight knit group of friends and all the ways they support each other through difficult times.
If you're looking for a comedy with a dramatic edge, then "Why Did I Get Married?" is a perfect pick for your next movie night. And luckily, it's fairly easy to watch thanks to its streaming presence.
Where can you stream Why Did I Get Married?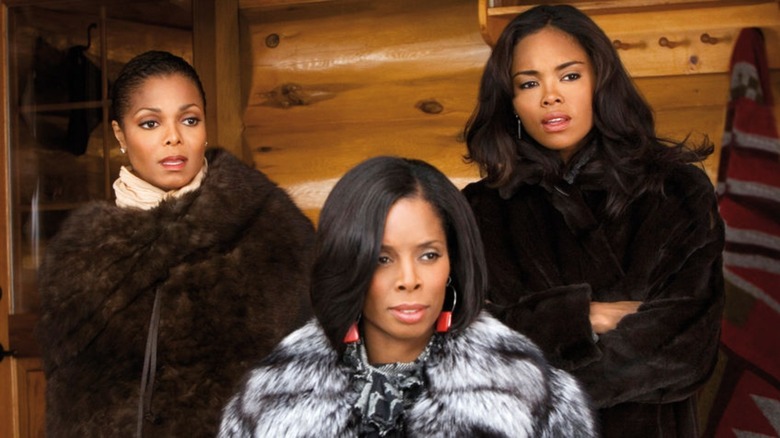 Lionsgate
"Why Did I Get Married?" is one of those movies that tends to bounce around the various streaming services quite a bit, but on the upside that means it's pretty much always available somewhere. Currently the Tyler Perry-directed dramedy is available to stream on the Showtime app, which requires a $10.99 monthly subscription fee.
If you're already a Showtime subscriber, you can watch the film via your cable provider, directly through the app, or on Hulu or Amazon Prime if you're subscribed to Showtime through one of those services. Not sure if you're ready to sign up for yet another streaming service? Showtime generally has a seven-day free trial for new members, so it's easy to check out what the service offers without committing to a full month of streaming.
And if all else fails, "Why Did I Get Married?" is also available to rent via Apple, Google Play, and Amazon for $3.99 — so go ahead and treat yourself by watching this funny and heartfelt film that shows what Perry can do beyond the world of Madea.