The Real Reason Conan O'Brien Left His Late-Night TV Show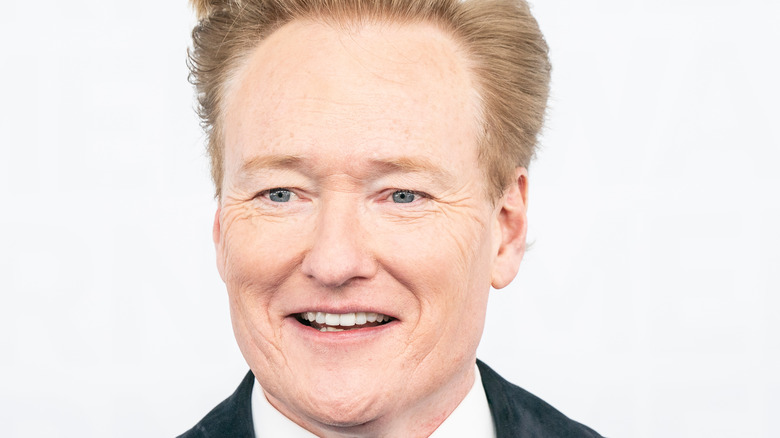 Shutterstock
On Thursday, June 24, beloved talk show host Conan O'Brien aired the final episode of his TBS talk show, "Conan." The end of "Conan" is also the end of a talk show hosting career that began 28 years ago on "Late Night with Conan O'Brien" and continued with his short-lived run on "The Tonight Show," before he finally landed on TBS a decade ago. Altogether, Conan O'Brien has hosted 4,368 talk show episodes (via The Wall Street Journal). That's thousands and thousands of sketches, Conan's celebrity interviews, and replays of that "Mac and Me" clip courtesy of Paul Rudd.
O'Brien isn't just a talk show host, he's a comedy institution. After starting his career as a writer on "Saturday Night Live" and "The Simpsons," O'Brien became an unlikely talk show host who never seemed quite suited for the job. But O'Brien's awkwardness brought a unique energy, and that combined with his signature absurdist humor endeared him to a generation of fans.
Both O'Brien and his eponymous show still have their fans, and he isn't done entertaining us — he's hosting an upcoming variety show on HBO Max, and he will continue his "Conan Without Borders" travel specials (via Deadline). So it might seem curious that O'Brien would step away from his show. But if you take a quick look at his ratings, as well as the overall state of the talk show scene, the decision makes a lot more sense.
Conan's departure comes in the middle of a massive ratings drop
Conan O'Brien is ending "Conan" in the middle of an overall decline in late-night talk show ratings across the industry, both on network television and on cable. Comparing the 2018-2019 and 2020-2021 TV seasons, Jimmy Fallon's numbers are down 21%, while Stephen Colbert's are down 16% and Jimmy Kimmel's are down 9%, according to The Wrap). In November 2020, Conan O'Brien's own executive producer, Jeff Ross, called the nightly talk show format a "dinosaur" (via Deadline).
But even amid an overall decline in viewership, "Conan's" ratings have dropped more than most. In that same period, the ratings for O'Brien's show dropped 29%. In terms of actual audience size, that's a decline from about 399,000 total viewers per episode to about 282,000. O'Brien has been hosting a talk show for 28 years, but it's not as if the format has remained unchanged in that time. In 2019, "Conan" was trimmed down to a half-hour format, a move that was intended to boost ratings. Obviously, the format change didn't help and given the state of late-night talk shows in general, it's unlikely that any format change would have been enough to save "Conan."
But the market for late-night talk shows on cable is drying up, too
It's important to remember just how groundbreaking "Conan" was as a TV show. For decades, network shows have dominated the nightly late-night talk show genre, and they still do today–shows like "The Late Show with Stephen Colbert" or "The Tonight Show Starring Jimmy Fallon" can still command 3-4 million viewers per night. "Conan" was one of the rare cable shows that attempted to compete with the major networks on a nightly basis. It wasn't the first nightly late-night talk show on cable to attempt this — "The Daily Show" is the most prominent example — but "Conan" arguably had the best shot to take some of the network shows' audiences, since O'Brien is an established star.
But as many cable channels have found out, competing with the network talk shows every night is difficult. As reported by Deadline, most of the other nightly cable talk shows in recent years, like "Busy Tonight" or "Up Late with David Spade," have already been canceled. When "Conan" ended, it left just one remaining program that exists in this category: "The Daily Show with Trevor Noah," a show that launched in 1996 and has withstood multiple host changes.
But late-night cable talk shows that air weekly are a different story. Shows like "Full Frontal with Samantha Bee" or "Last Week Tonight with John Oliver" are still going strong. O'Brien's upcoming HBO variety show and occasional travel specials are much more in line with shows like those than "Conan" was. Bottom line, when it comes to late-night talk shows on cable these days, less is generally more. Like the dinosaurs, O'Brien really had two choices: adapt or go extinct.