Why Claire From Jurassic World Looks So Familiar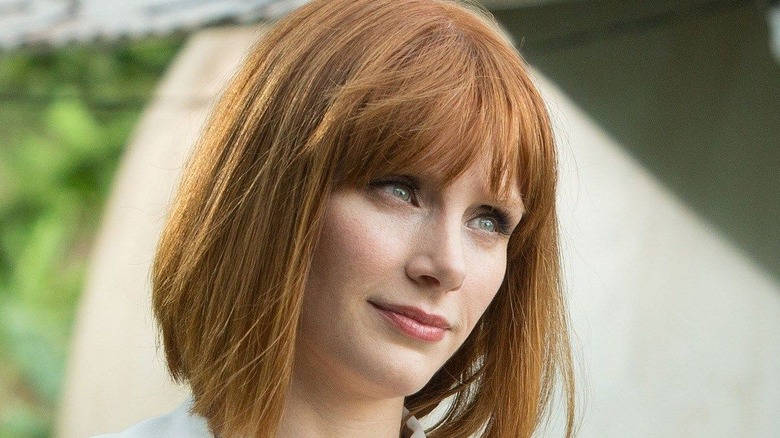 Universal Pictures
The 2015 film "Jurassic World" made a major splash upon its release, setting an opening weekend global box office record of $524.4 million (via Deadline). This meant that the newest entry in the "Jurassic Park" franchise handily beat out the previous record, which was set by "Harry Potter and the Deathly Hallows Part 2" in 2011, when the latter film raked in $483.2 million in its opening weekend. Along the way, "Jurassic World" also became the first movie ever to cross $500 million on its opening weekend.
The film's stars saw their profiles heavily raised as a result of the massive popularity it displayed, but neither of the film's leads were newcomers to the industry. In fact, many viewers left the film wondering why and from where they recognized the performer behind the character of Claire Dearing, the film's female lead. The role of Claire was played by someone who probably looked very familiar to audiences who watched "Jurassic World."
Bryce Dallas Howard got her start in an M. Night Shyamalan film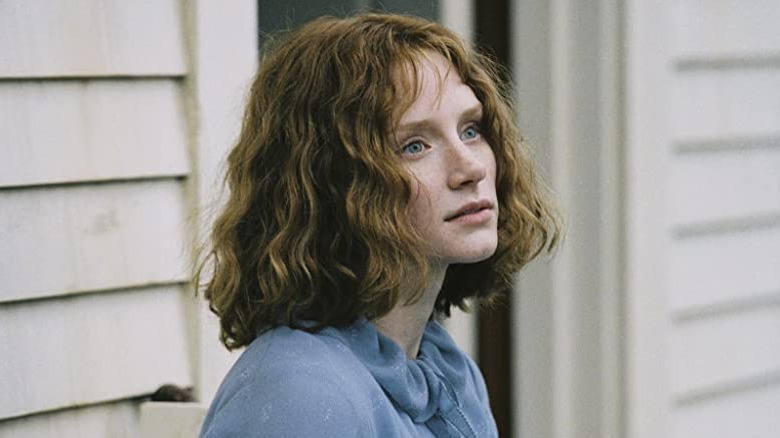 Buena Vista Pictures
Bryce Dallas Howard officially got her start playing minor roles in her father Ron Howard's movies, appearing in uncredited roles in "Apollo 13" and "A Beautiful Mind," as well as getting an official credited role playing a nameless Who in 2000's "How The Grinch Stole Christmas."
However, 2004 was the real breakout for her career, as she landed the lead role in "The Village," M. Night Shyamalan's follow-up to "Signs." In "The Village," Howard plays Ivy Walker, a blind woman who lives in the village of Covington, which appears to be in the past. The village is surrounded by woods that the residents are told not to enter because of dangerous creatures that dwell there. Ivy gets engaged to Lucius, who ends up being stabbed by Noah, a developmentally disabled member of the village who harbors feelings for Ivy. Edward, Ivy's father, reveals to her that the creatures do not actually exist, but are made up by the village elders.
Armed with this knowledge, Ivy sets out to get medical supplies for Lucius, but encounters what seems to be a real creature, tricking it into a pit. She eventually reaches a wall, and it's revealed that beyond the wall lies the modern world. A friendly park ranger gets Ivy the medicine she needs to help Lucius, and it's revealed that the creature in the woods was Noah. Ivy returns to Covington still unaware of what truly lies beyond the walls.
She played an iconic comic book character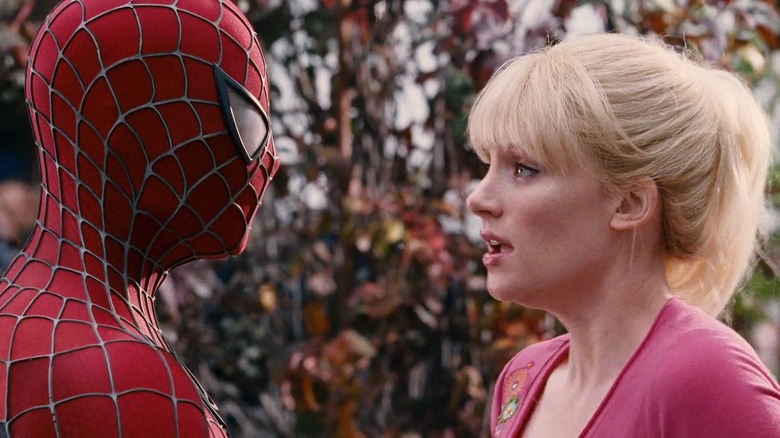 Sony Pictures Entertainment
Howard's star continued to rise in subsequent years, as she next worked with Lars Von Trier in the 2005 film "Manderlay," taking on the role of Grace Margaret Sullivan, which was previously played by Nicole Kidman in Von Trier's previous film "Dogville." She followed that up by re-teaming with Shyamalan for the 2006 film "Lady In The Water," in which she portrayed a magical creature named Story, and later worked with Kenneth Branagh for the Shakespeare adaptation "As You Like It," in which she played Rosalind.
However, it was in 2007 that she made a foray into superhero films, showing up in Sam Raimi's "Spider-Man 3" as Gwen Stacy. A major character in the comics, this was Stacy's first appearance in live action. In the film, Gwen Stacy is Peter Parker's lab partner, and a woman whose life Spider-Man saves. In a festival honoring him, Spider-Man kisses Gwen, to the dismay of his girlfriend, Mary Jane Watson. Overtaken by a symbiote, Peter asks Gwen out on a date after Mary Jane breaks up with him. The two end up, unbeknownst to Gwen, at a jazz club where Mary Jane is working, where Peter dances with Gwen to get a jealous rise out of her. Upon realizing his intent, Gwen apologizes to Mary Jane and leaves the club without Peter.
Howard continued her work in major franchises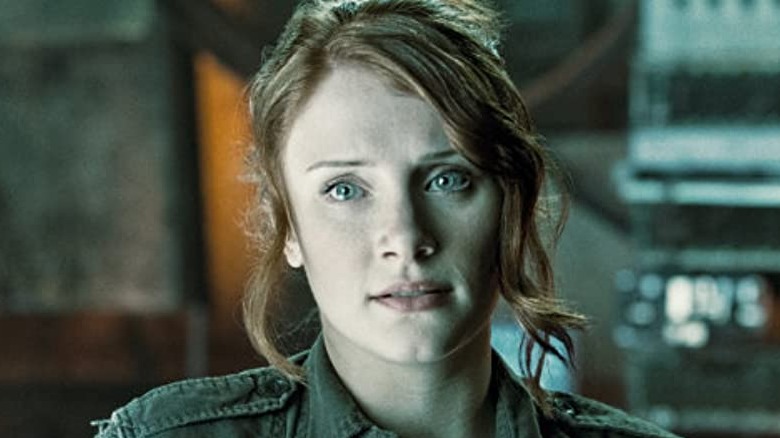 Warner Bros.
Howard followed up this role with two more franchise entries, first appearing in the 2009 film "Terminator Salvation," the fourth entry in the "Terminator" franchise. In the film, Howard plays Katherine Brewster Connor, wife to resistance leader John Connor, who goes by Kate and was played by Claire Danes in "Terminator 3: Rise of the Machines." A qualified physician herself, Kate is also a key part of the resistance, and initially tries to treat Marcus Wright, a Skynet prisoner the resistance rescues and initially tries to help before discovering he's a cyborg. Kate and John both agree that Marcus has been sent to infiltrate the resistance and kill John, but John and Marcus form an easy alliance when Marcus saves John's life from other Skynet robots.
Howard jumped to a different blockbuster franchise in 2010, making an appearance in "The Twilight Saga: Eclipse." The film was the third entry in the "Twilight" franchise and saw Howard take on the role of Victoria, a character who had been portrayed by Rachelle Lefevre in the first two instalments. Victoria is the chief antagonist of the film, targeting Bella for revenge after thinking Edward, Bella's partner, killed her beau, James, in the prior films. To this end, Victoria creates an army of newborn vampires to attack, causing the vampire Edward and the werewolf Jacob, both of whom are in love with Bella, to put aside their differences and team up against Victoria and her army. Victoria's quest for revenge ends when Edward kills her.
She took a role in a critically acclaimed drama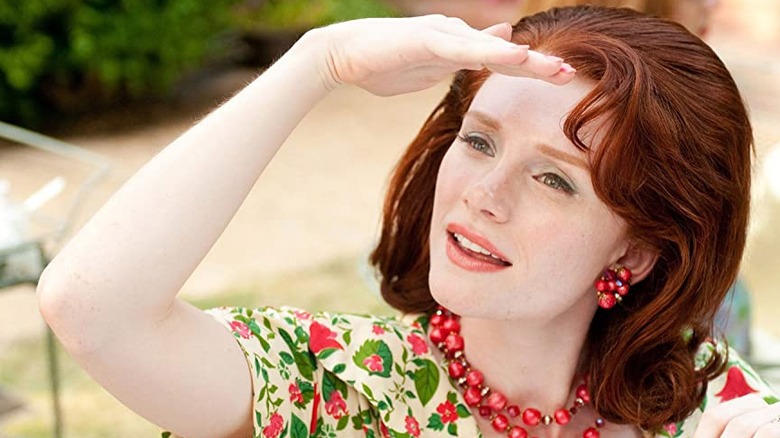 Touchstone Pictures
It was her work in the 2011 period drama "The Help" that brought Howard a new level of prominence after the film was nominated for an Academy Award for Best Picture. Adapted from a bestselling novel, the film was written and directed by Tate Taylor, and saw Howard play Hillary Walters Holbrook, who goes by Hilly. Hilly is the leader of a socialite group in 1963 Mississippi who insists on separate bathrooms for the Black people her family employs as the help. Hilly subsequently fires her maid, Minny, for sing the guest bathroom, and slanders her name around town, making it difficult for Minny to find work.
Hilly later refuses to advance money to her new maid, Yule May, causing Yule May to pawn a ring she found lost under the sofa. Hilly has Yule May arrested, and Minny reveals that she had fed Hilly pie into which Minny had baked her own excrement. When the story is published in a book, Hilly crusades against the book and threatens to sue the author, Skeeter, who points out a lawsuit would mean Hilly would have to admit the story was about her. When Hilly tries to have her friend fire another maid, Aibileen, for her participation in the book, Aibileen stands up to Hilly, revealing that her hold on the help has been broken, and they're no longer afraid of her.
Howard has stepped behind the camera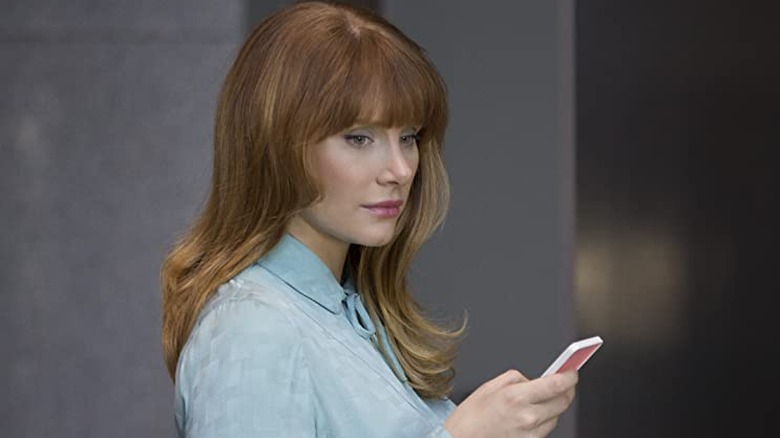 Netflix
Howard also worked with another acclaimed director in 2010, as she starred in the film "Hereafter," directed by Clint Eastwood, where Howard played Melanie opposite Matt Damon. She also had another supporting role in 2011 in the Jonathan Levine film "50/50," alongside Joseph Gordon-Levitt, Seth Rogen, and Anna Kendrick, with whom she had previously worked in "The Twilight Saga: Eclipse."
2015 brought another franchise role for Howard, this time in the lead, as she signed on to play Claire Dearing in the Colin Trevorrow film "Jurassic World." The film was the fourth one in the "Jurassic Park" franchise, and the first entry in the series since 2001. The film also kicked off the "Jurassic World" trilogy, and saw Howard play Claire Dearing, operations manager of a new dinosaur theme park, who jumps in to save people when the dinosaurs begin to break free. Howard reprised the role in the 2018 sequel "Jurassic World: Fallen Kingdom" and will once again play Claire in 2022's "Jurassic World: Dominion."
Howard's career has only continued to grow, as she made a memorable appearance in an episode of the science fiction anthology TV series "Black Mirror," in the episode "Nosedive," directed by Joe Wright. She has also taken on directorial duties herself, helming two episodes of the Disney+ " series "The Mandalorian," "Chapter 4: Sanctuary," and "Chapter 11: The Heiress." Howard's star remains on the rise, with no signs of slowing down.