The Real Reason Harley Quinn's Face Tattoo Is Missing In The Suicide Squad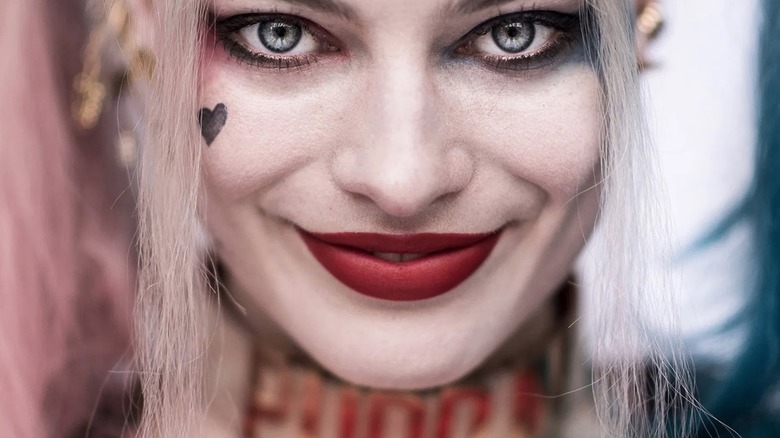 Warner Bros. Pictures/DC Entertianment
Since making her live-action debut via David Ayer's divisive "Suicide Squad," Harley Quinn has become one of the most popular characters in the entirety of the DCEU. That has a lot to do with Margot Robbie, who positively burned up the screen as the ever-unpredictable Harley Quinn. To that point, even as many critics and fans argued that "Suicide Squad" mostly squandered a promising setup and a stellar cast, just as many pointed to Robbie's endearingly unhinged turn as the reason to see the movie.
Such as it was, the popularity of the character quickly prompted Warner Bros. brass to greenlight Harley's very own spinoff movie, with "Birds of Prey" delighting moviegoers to the tune of more than $200 million in worldwide ticket sales back in 2019, via Box Office Mojo. Not surprisingly, Robbie is indeed set to reprise her most famous role in James Gunn's hotly-anticipated "Suicide Squad" followup "The Suicide Squad." And judging from that film's trailers, Gunn had himself a great time writing the character in his own distinctive way.
As a few sharp-eyed viewers have noticed in "The Suicide Squad" trailers, however, his Harley is appearing in the film sans one of her most noticeable features — the tattoo prominently displayed on her jawline in prior films. Here's why Harley Quinn's "ROTTEN" tattoo is missing in "The Suicide Squad." 
Seems neither Gunn nor Robbie were fans of that "ROTTEN" tattoo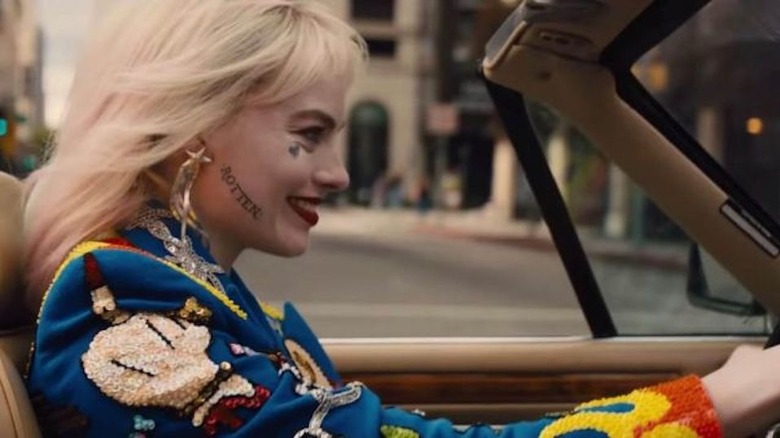 Warner Bros. Pictures/DC Entertianment
The mystery of Harley Quinn's disappearing ink in "The Suicide Squad" was actually cleared up by James Gunn himself in an Instagram Q&A. The director regularly answers fan inquiries via the social platform, and sure enough, one of them asked why Harley's "ROTTEN" tattoo had suddenly disappeared. Gunn didn't hesitate to spill the beans, answering bluntly, "Margot didn't like it and found out I also didn't like [it], so we decided just to remove it." Gunn promptly added he had no intention of addressing its absence in "The Suicide Squad."
So it seems there's no grand drama about Harley's missing tattoo, and it was removed purely because neither actor nor director particularly cared for it. As Robbie herself apparently didn't dig it, it is sort of odd that the ink is only disappearing now instead of in "Birds of Prey," as the actor was a key creative force behind that film, even producing the project herself. Nonetheless, the tattoo will clearly not be missed by Robbie this time around. As it is, there are likely a few Harley fans out there who also feel that it sort of felt like overkill, much like the "Damaged" tattoo Jared Leto's Joker sported in "Suicide Squad."
Tattoo or not, fans will no doubt be overjoyed to see Margot Robbie back in action as Harley Quinn when "The Suicide Squad" hits theaters and HBO Max on August 6.