What's The Song From The New The Harder They Fall Trailer?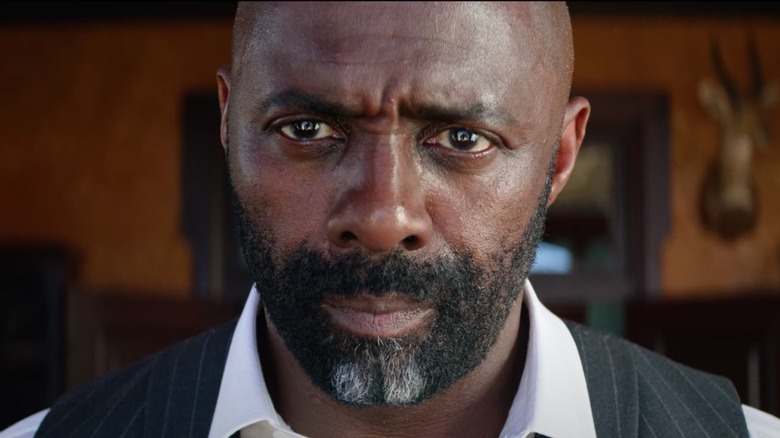 Netflix
By most showbiz standards, Netflix has already had a banner year in regards to its original productions. We're only halfway through 2021 though, and the streaming giant has more than a few heavy-hitters still in the release pipeline. One of the most eagerly-anticipated of those flicks is a Western rabble-rouser by the name of "The Harder They Fall," which brings together the likes of Regina King, Idris Elba, Jonathan Majors, Lakeith Stanfield, Zazie Beetz, and more as members of rival factions in an action-packed tale of Old West vengeance.
From the looks of the blistering first trailer for "The Harder They Fall," director Jeymes Samuel has come out of the gate guns blazing. Shoot-outs, fist-fights, and swagger galore are on deck here, in service of a neo-Western mashup with loads of style and wit. The movie's all-star cast is put front and center in the trailer to do their thing against a kick-ass backing track. 
As it is, we're betting some of you are dying to know who the artist is behind the fully funkified number propelling the action in the teaser trailer for "The Harder They Fall." We're happy to say we've got the answer.
Let's Start is a funky beat from Afrobeat icon Fela Kuti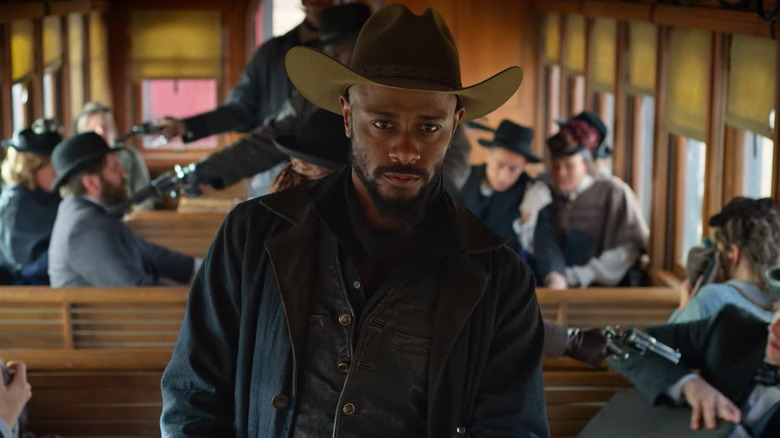 Netflix
The track in question is "Let's Start" by the one and only Mr. Fela Kuti.  Hopefully you recognize Fela Kuti's name: He's one of the most important artists to emerge from Africa in the 1970s. If you don't know his name, do a little Googling, as Kuti was a fascinating, fiercely political, and occasionally very controversial figure. If you know nothing else about him, know that Kuti essentially invented the musical style we now know as Afrobeat. That particular genre fuses elements of jazz, funk, and psych rock with more traditional African rhythms, motifs, and styles.
As you can probably gather from the trailer for "The Harder They Fall," that blend produced a sound unlike anything out there during the 1970s, or, really, any era since. If you want to hear "Let's Start" in all its horn-and-bass-heavy glory, the seven-minute-plus jam made its lone (but stand-out) appearance on "Live!," Fela Kuti's 1971 live album. Subsequent reissues credit Fela Ransome-Kuti and his band, the Africa 70, with Ginger Baker.
If you're wondering, yes, the Ginger Baker on the album is indeed the former drummer and co-founder of classic rock band Cream, a musical icon if ever there was one. He plays drums on "Live!," though Kuti and his hard-jamming outfit are undoubtedly the stars of the show. For the record, if you're looking to acquaint yourself with that outfit, "Live!" is as good a place to start as any.