The Intimate Scene Taron Egerton Refused To Do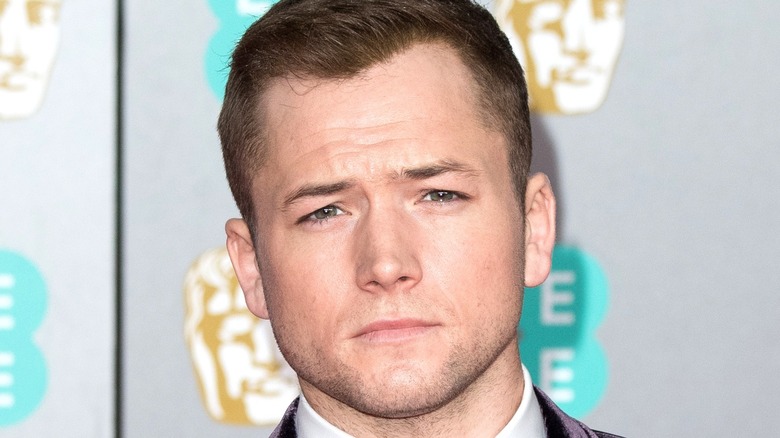 Jeff Spicer/Getty Images
When it debuted back in 2014, the "Kingsman" film franchise made a name for itself for its cheeky charm, its chaotic violence, and that stunningly bloody church fight. So when a sequel, subtitled "The Golden Circle," entered development, many fans were excited to see what was next in store for Eggsy (Taron Egerton) and Merlin (Mark Strong). 2017's "The Golden Circle" wound up falling into typical sequel pitfalls, and unfortunately proved that going bigger doesn't always mean being better. The sequel's story saw Eggsy and Merlin as the last surviving Kingsman members following an attack from drug lord Poppy Adams (Julianne Moore), who then held the world at ransom using a toxin that affected only drug-users.
The script from Jane Goldman and director Matthew Vaughn also called for something quite steamy, and star Taron Egerton felt pretty uncomfortable with filming the scene. For anyone who's seen "Kingsman: The Golden Circle," it's probably already clear which scene we're talking about: Cheeky chappy Eggsy and his new teammate Whiskey (Pedro Pascal) have to put a tracker in Clara (Poppy Delevigne), the ex-girlfriend of one of Poppy's henchmen, all so they can find one of the villain's factories. Sounds like a typical Thursday, really.
A hands-off approach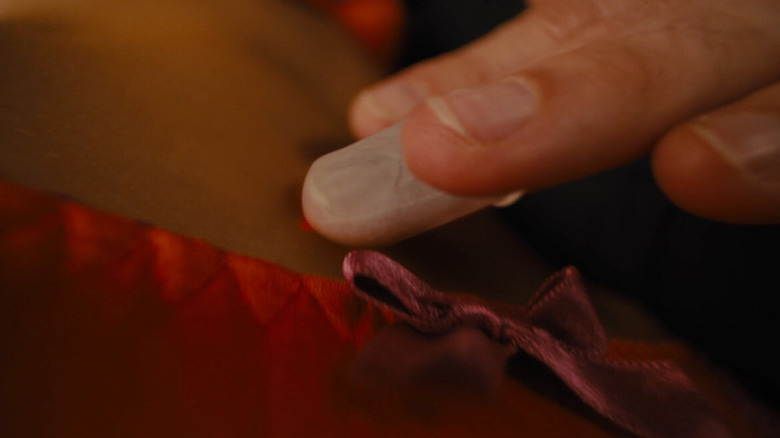 20th Century Studios
The two spies both try to seduce Poppy at Glastonbury Festival in order to complete the tracker assignment, because the device has to be stuck to a "mucus membrane" — right, okay then! Eggsy experiences emotional unease involving this mission since he's in a committed relationship, but it doesn't make the scene any less unsettling. 
Taron Egerton understandably felt very uneasy shooting the scene, telling Screen Rant how he initially reacted when he read the script for the first time. "It was a day that I was anxious about," he said. "The way it was described in the script, it was like, 'I'm going to do what?' ... I said to [director] Matthew [Vaughn] 'I'm not comfortable doing this.'"
Luckily,  Vaughn understood Egerton's concerns, and they worked around the scene to still make it look like Eggsy's hand was, ahem, installing the tracker. The star told Screen Rant, "So, it's not my hand — it's Poppy [Delevingne]'s husband's hand. He saved the world." How nice of him.
The controversial "Golden Circle" scene stirred up a fuss online, with many calling it invasive and inappropriate (via body+soul). But Vaughn defended his choice to include the tracker scene in the movie, telling Uproxx, "Some people laugh and cheer. Other people are like, 'Oh my God.' Some people are disgusted about it. But nobody doesn't notice it — and, afterwards, they'll talk about it. And that's what I want to do with films: I want people to discuss it afterwards. I don't want to make bland movies." 
To be fair, the scene did get everyone talking, but it's understandable why Egerton wanted a hands-off approach when filming it.