Transformers: Rise Of The Beasts Director Has Big Plans For The Franchise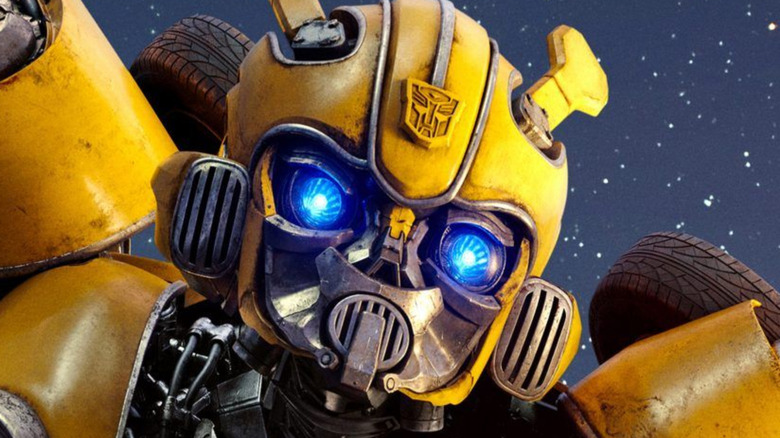 Paramount Pictures
The Autobots have been through so much since they made their big-budget blockbuster debut in 2007's "Transformers." They waged their battle to defeat the evil forces of the Decepticons in the first movie and either avenged or suffered the vengeance of the Fallen in the sequels, all while maintaining a staunch policy of being more than meets the eye, provided that the eye failed to notice that they were robots that turned into cars.
Now, the franchise is set to continue with "Transformers: Rise of the Beasts," the first entry in the Cybertronian saga since 2018's "Bumblebee." The sequel puts a fresh face behind the camera, with Steven Caple Jr. of "Creed II" taking over directorial duties. According to Slashfilm, the 33-year old filmmaker wasn't just picked thanks to his eye for cinematic beat-downs. The way that "Transformers: Rise of the Beasts'" producers see it, Caple Jr. is practically part Transformer himself, having grown up on the original animated movie and the CGI "Beast Wars" cartoon of the late '90s.
What does that mean for Optimus et al. moving forward? If fellow franchise newcomer and breakout "In the Heights" star Anthony Ramos has a good read on things, it's an overdue return to "Transformers" stories with an emotional core.
Transformers is about to get more emotional
"It was so direct," Anthony Ramos, who will play Noah in "Rise of the Beasts," said when asked about the upcoming "Transformers" sequel's focus on stories with a human element. "And it immediately made me want to bring heart to this character. The number one priority for me was humans. Why are they there? Because if not, then you can just make a movie about robots. That's the goal, right? This character, Noah specifically, his journey, we need that guy. There is no movie without that character. And the same goes for [Dominique Fishback] as Elena. We need her. We need Elena."
It makes sense that the "Transformers" films will become more personal in the future. Despite making enough money to buy Greece, none of the franchise's four main-series sequels has managed to top a 35% critical approval rating on Rotten Tomatoes. It wasn't until 2018's "Bumblebee," a relatively quiet boy-and-his-dog story where the boy is actually a young woman and the dog is really a sentient Volkswagen, that a series entry received a Certified Fresh rating. If Steven Caple Jr. can figure out a way to turn "Rise of the Beasts" into a thoughtful treatise on the nature of man's duality, critics and audiences might finally come together and, with their collective mouths stuffed with popcorn, mutter "badass" while watching  a bunch of robots punch each other.
"Transformers: Rise of the Beasts" is set for release on June 24, 2022.