Why Dennis From Good On Paper Looks So Familiar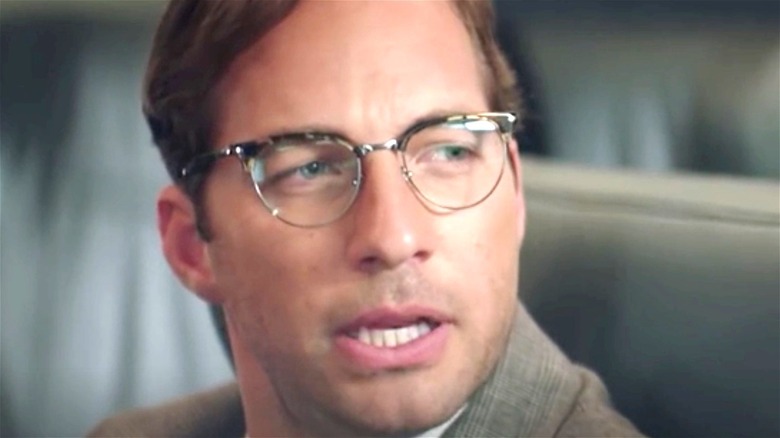 Netflix
Netflix has a new romantic comedy taking over the streaming network, and that's "Good on Paper." Written by comedian Iliza Shlesinger and directed by Kimmy Gatewood, "Good on Paper" stars Shlesinger as a popular comedian named Andrea who meets a man on a plane named Dennis (Ryan Hansen), and together they begin a romance that seems too good to be true, and it might be. Dennis appears to have everything — a great job, money, Ivy League education, and anything else you could want. But when Andrea's friends start to question whether Dennis is telling the truth, Andrea becomes determined to find out what he's hiding. 
For many viewers, the male love interest, Dennis, might seem a bit familiar. The actor behind the role, Hansen, has been in the entertainment industry for twenty years, so you're sure to have seen him in something. As you can see in "Good on Paper," Hansen has a lot of talent for comedy. Overall, he's generally stuck to television series, though there have been a few movie roles here and there throughout his career. 
Can't quite place the face? Here are Hansen's biggest roles of his career so far.
Ryan Hansen played Dick Casablancas in Veronica Mars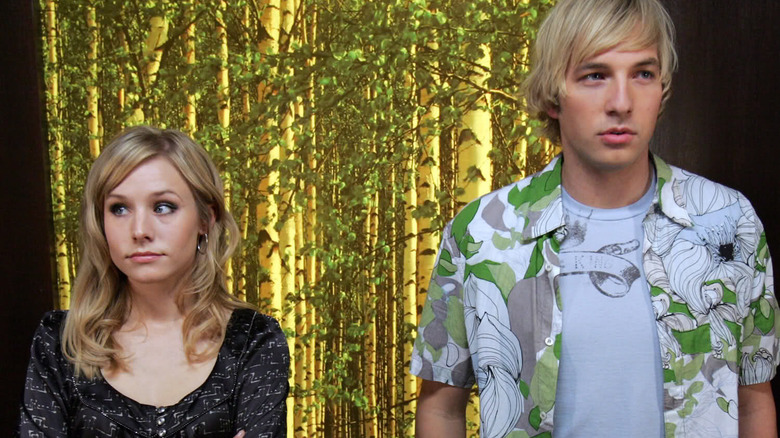 The CW/The WB
Probably what Hansen is most known for is his role in the teen drama "Veronica Mars," which started all the way back in 2004. Starring Kristen Bell as the title character, "Veronica Mars" focuses on Veronica's investigation into the death of her best friend, played in flashbacks by Amanda Seyfried. While Season 1 is centered around this mystery, the series has two more seasons that feature a young Veronica working as a private investigator on both small and big cases. Hansen stars in the series as the character Dick Casablancas, the womanizer best friend of Veronica's main love interest, Logan Echolls (Jason Dohring). While Dick is quite the bully in Season 1, he definitely learns and grows as a person over the seasons. 
After "Veronica Mars" initially ended in 2007, the fans continued to push for more seasons or a movie. Soon enough, they got their wish, with original series creator Rob Thomas starting a Kickstarter campaign to help fund the movie — and it was successful. In 2014, the "Veronica Mars" film came out, featuring an older Veronica investigating the death of a former high school classmate who people think was murdered by her ex-boyfriend, Logan. Hansen appears in the film, and just when he thought he was done with Dick, the television series was brought back again for a fourth season on Hulu in 2019. The streamer unfortunately did not renew "Veronica Mars" for a fifth season. 
The actor appeared in Party Down as Kyle Bradway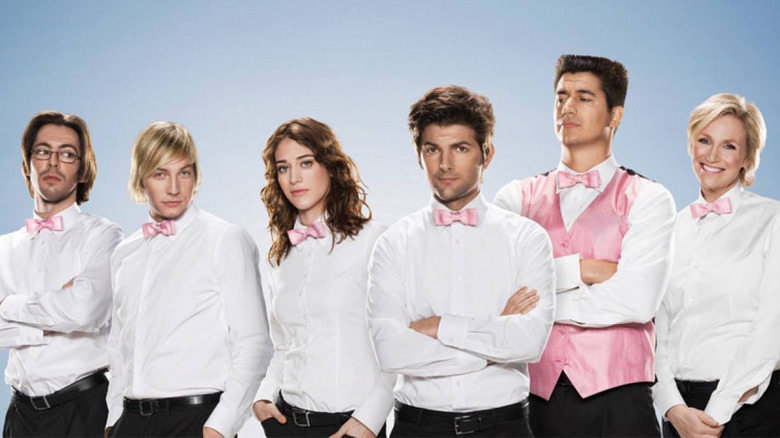 Starz
Soon after "Veronica Mars" ended (the first time), Hansen booked the role of Kyle Bradway in "Party Down." Another comedy series getting a reboot soon, "Party Down" initially aired for two seasons in 2009 and 2010, focusing on a group of wannabe actors in Los Angeles who end up working as caterers instead. Hansen's character, Kyle, is a self-obsessed actor and model who generally gets by on his looks. Kyle believes that he's layered, sensitive, and extremely talented — the perfect package — but his colleagues don't seem to agree. "Party Down" features a few fellow "Veronica Mars" actors, including Ken Marino, Martin Starr, Enrico Colantoni, and of course, Veronica herself, Bell. The series also stars Adam Scott, Lizzy Caplan, Megan Mullally, Jane Lynch, and many other familiar faces.
The show has a majorly stacked cast and is very funny, which is why fans of the series were very surprised when it got cancelled. It's highly likely that Starz, the home of "Party Down," decided to cancel the series in part because Scott left the show for "Parks and Recreation," while Lynch went to "Glee." Luckily for longtime fans of the cult classic sitcom, Starz announced in March 2021 that a "Party Down" revival is officially in the works (Deadline). As of right now, there are no further details as to what cast members will be returning and what exactly the story will be about. Because of the lack of information, it's unclear whether Hansen will reprise his role as Kyle, but considering his multiple returns to the "Veronica Mars" franchise, it seems likely that he would come back to "Party Down" given the opportunity.  
Hansen starred as a version of himself in Play It Again, Dick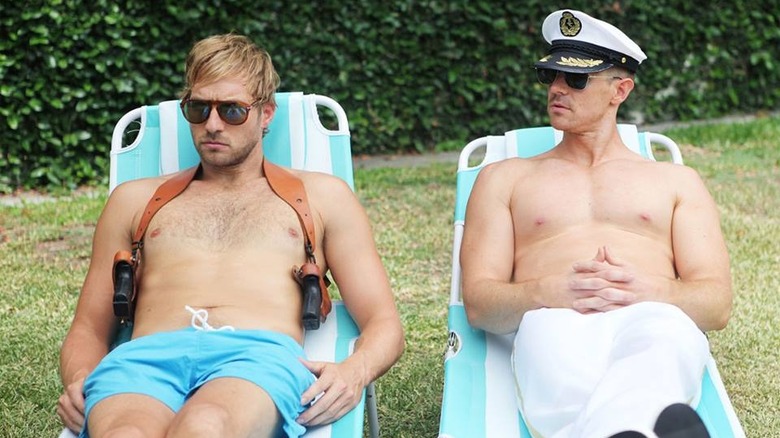 The CW
After both "Veronica Mars" and "Party Down" were cancelled, Hansen ventured into other mediums and got the opportunity to make a web series. While the "Veronica Mars" film was in production, Hansen and many of the film's cast members also starred in a meta-comedy called "Play It Again, Dick," starring Hansen as himself. The digital division of Warner Bros. wanted to make the series at the same time as the film and release it on the CW Seed digital platform. The premise is that Hansen is pitching a "Veronica Mars" spin-off about Hansen's character Dick becoming a private investigator. In the short series, Hansen plays an amplified version of himself as he jokes around with cast members. 
In an interview about the spin-off web series, Hansen shared that "Dick is so fun to play and even an enhanced version of myself is more fun to play than playing yourself. I guess there's parts of me who are like Dick" (Variety). "Play It Again, Dick" is all about a fictional depiction of Hansen as he tries to convince Thomas, Bell, the Warner Bros. team, and more that this Dick-centric spin-off show is a good idea. 
Hansen played himself (again) in Ryan Hansen Solves Crimes on Television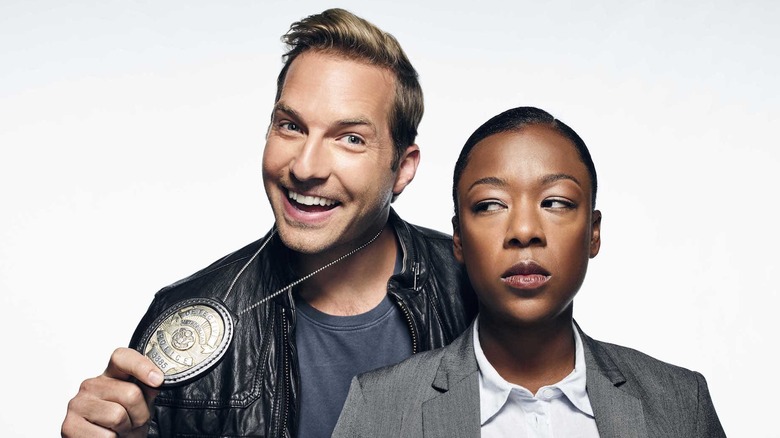 YouTube Premium
Shortly before the "Veronica Mars" reboot in 2019, Hansen made another web series in which he plays himself. Airing for two seasons on YouTube Premium, then known as YouTube Red, "Ryan Hansen Solves Crimes on Television" is an action comedy show set in a universe that looks a lot like ours, except for some reason people think it's a good idea to partner celebrities with homicide detectives to solve crimes. Hansen clearly loves meta shows and playing himself, and he's a perfect fit for this series. By Hansen's side as Jessica Mathers, the police detective he's partnered with, is none other than Emmy winner Samira Wiley. The cast also includes a handful of other recognizable celebrities playing themselves, including Jon Cryer, Joel McHale, Eric Christian Olsen, Donald Faison, and once again, Bell. 
Hansen's career is evidence that the "Veronica Mars" cast obviously loves and supports each other, repeatedly crossing over to work on each other's projects. While "Ryan Hansen Solves Crimes on Television" was an underrated comedy that was almost ahead of its time, it was lucky enough to get two seasons, and was likely cancelled in part because of YouTube's effort to move away from original programming. For fans of Hansen, enjoy "Good on Paper," and keep your fingers crossed that he will be returning to "Party Down" for the revival.