The Truth About Salma Hayek's Failed Audition For The Matrix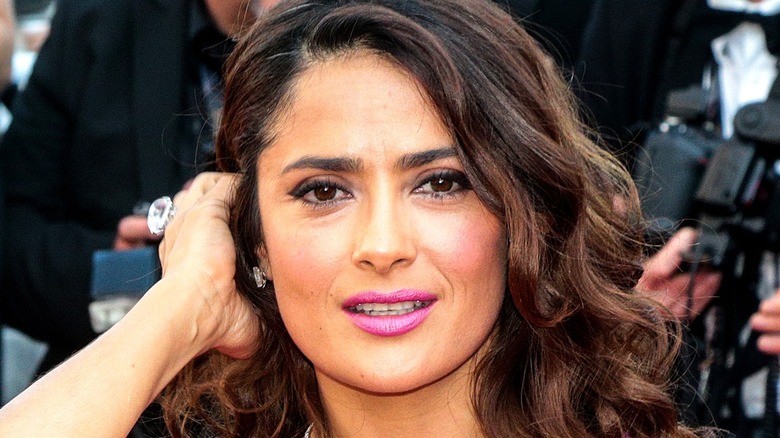 Salma Hayek has been making waves in Hollywood since the 1990s. The Mexican-born actress broke into American cinema with Robert Rodriguez's vampire Horror flick "From Dusk Til Dawn" and has continued to find incredible success since. She'll even be making her debut in one of today's biggest franchises — the Marvel Cinematic Universe — later this year, starring as Ajak in Marvel's hotly-anticipated "The Eternals." However, even such a celebrated actress is bound to face some career hurdles. In an interview with Jada Pinkett-Smith on her Facebook "Red Table Talk" show, Hayek revealed her audition for another big-time film didn't quite go as she had hoped. 
The two stars were both finalists for the role of Trinity in "The Matrix," which ultimately went to Carrie-Ann Moss. Hayek shared that even though her acting talents made her a suitable fit, she didn't quite have the athletic prowess to handle such an intense action film. The actress dished on exactly what went down at her audition.
Salma Hayek "couldn't even go around the room once" for her Matrix audition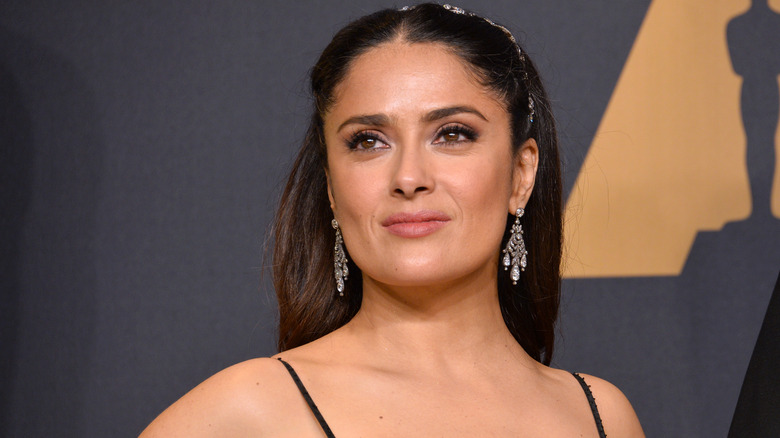 Shutterstock
Salma Hayek shared with Jada Pinkett-Smith that she didn't stand a chance at snagging the role of Trinity. "We'd jumped through many hurdles, screen testing, and many auditions," Hayek reminisced (via IndieWire), saying how difficult the audition process was. However, the physical test was the real challenge for the actress. "I'm flexible and agile, but I'm lazy. I never really went to the gym, they said, 'You have to run!' I go, 'To where?' I couldn't even go around the room once." Hayek also shared how intimidated she was by Pinkett-Smith. "Here comes Jada, a mean, lean, sexy machine!" said Hayek, sharing her thoughts upon seeing the fellow actress at the audition. "She was so fit, she was so focused, she was so disciplined...And I just looked at this woman and I thought to myself, 'That's who I want to be when I grow up.'"
Pinkett-Smith, of course, didn't land role of Trinity, but did make an impression — she would go on to star as Niobe in "The Matrix Reloaded" and "The Matrix Revolutions," and will be reprising her role in the upcoming fourth "Matrix" film. 
While missing out on the role was likely a disappointment for Hayek, she certainly was able to find success elsewhere, including starring in "Frida," for which she earned an Oscar nomination. We can't wait to see the talented performer take the MCU later this year, and we're sure even more impressive roles lay ahead for the star.