Fatherhood's Anthony Carrigan Says It 'Was A Dream' Starring In Bill & Ted Face The Music - Exclusive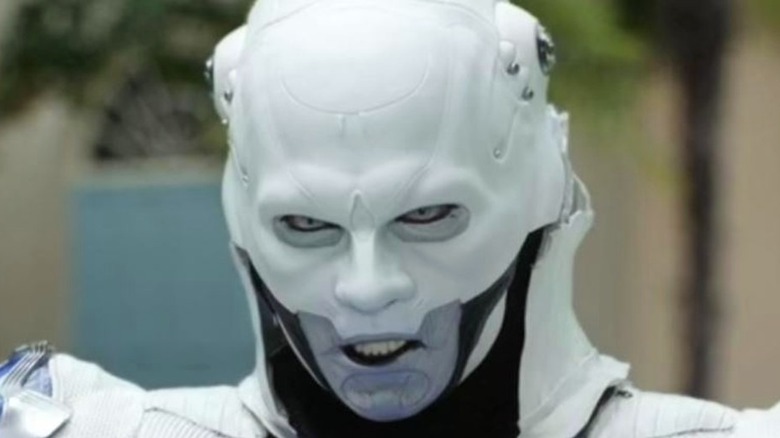 Orion Pictures
"Fatherhood" star Anthony Carrigan has played a wide assortment of bad guys over the years, including Victor Zsasz on the Batman origin series "Gotham," and the hilariously polite mobster NoHo Hank in the crime comedy "Barry." Last year, though, the Emmy-nominated actor took on perhaps his most unique villain role yet, and like NoHo Hank, there is quite a bit of humor involved.
The character Carrigan gleefully brought to life is Dennis Caleb McCoy, the hopelessly insecure robot sent by the Great Leader (Holland Taylor) to kill Bill (Alex Winter) and Ted (Keanu Reeves) in the 2020 time travel adventure "Bill & Ted Face the Music." The film, of course, marked a monumental comeback for the comedy franchise, which began with 1989's "Bill & Ted's Excellent Adventure," and continued with "Bill & Ted's Bogus Journey" in 1991.
In an exclusive interview with Looper, Carrigan said that starring in a "Bill & Ted" film was something he never imagined happening. 
"Oh, it was a dream. It was an absolute dream. I mean, I was a huge fan of the franchise growing up and I mean, I watched 'Excellent Adventure' on VHS. I was huge fan," Carrigan shared with Looper. "And then to be there acting opposite of them [...] It was unreal."
Perhaps the most interesting thing for Carrigan playing Dennis in "Bill & Ted Face the Music" was the amount of leeway he was given to help create the futuristic character, and the actor made the most of it. "I didn't know what I was going to do with that character at first," Carrigan recalled. "They just kind of offered it to me and then I was like, 'Okay, I got to figure something out with this.' So, I took a big swing, but I think it worked out."
Carrigan's latest film is also about close friends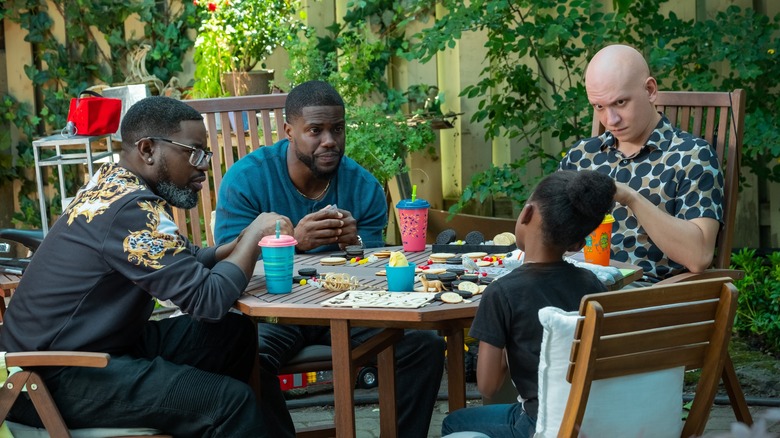 Philippe Bosse/Netflix © 2021
"Bill & Ted Face the Music" is not the only tale of close buds Carrigan has taken part in recently. In "Fatherhood," Carrigan plays Oscar, who along with Jordan (Lil Rel Howery) are the best friends of Matt (Kevin Hart), a man tasked with raising his new baby girl by himself after his wife dies a day after giving birth.
Carrigan told Looper that a big part of the reason he wanted work on "Fatherhood" was the way the story focused on the strong bonds of friendship. "I think that's something that everyone can relate to is, you can't figure something out and you don't have your partner to call or whoever it may be. It's like, who do you reach out to? You reach out to your buds; you reach out to your friends," Carrigan observed. "You're like, 'Hey, how do I do this?' I think it's a really beautiful message that when you have people like that show up in support, it might be hilarious and it might not get done immediately, but you can make it happen."
The big bonus for Carrigan, of course, was that his friends in "Fatherhood" were being played by Hart and Howery.
"Just the idea of getting to work with Kevin Hart and Lil Rel Howrey [...] I mean, I was sold instantly," Carrigan said. "I couldn't wait to get on set with them and start playing around."
"Fatherhood" is streaming exclusively on Netflix.