Fans Mourn As Another Star Trek Actor Dies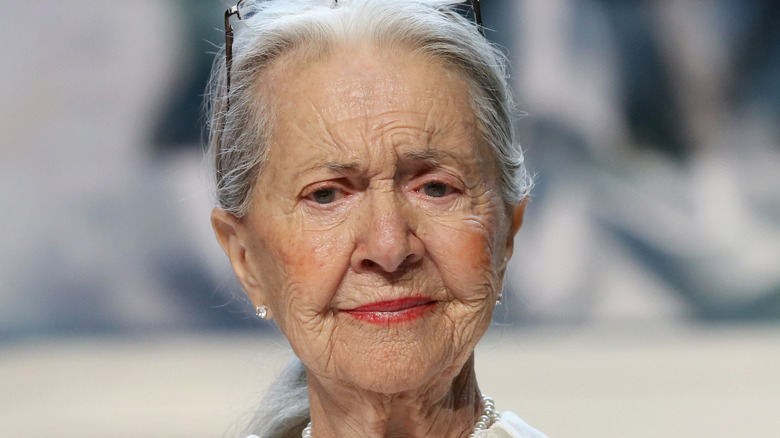 Gabe Ginsberg/Getty Images
Fans of the groundbreaking sci-fi franchise "Star Trek" have already been in mourning following the death of "Star Trek: Deep Space Nine" guest star Lisa Banes and that has unfortunately continued. Joanne Linville, who made a memorable appearance on "Star Trek: The Original Series," died of an undisclosed cause on June 20, 2021, at the age of 93, according to Deadline.
Although Linville left behind a robust resume that includes roles on "The Twilight Zone," "Hawaii Five-O," and "Charlie's Angels," most Trekkies know her as the composed and calculating Romulan Commander from the "Star Trek" episode "The Enterprise Incident." The episode, which sees Captain Kirk (William Shatner) and Spock (Leonard Nimoy) infiltrating a Romulan ship to steal their cloaking technology, is frequently cited as one of the best of the entire franchise. The Hollywood Reporter ranked the episode in the 33rd spot on their list of the 100 Greatest Episodes of any "Star Trek" series. The article quotes "Star Trek Beyond" director Justin Lin as saying that the interplay between Spock and the Romulan Commander "[steals] the show."
Linville only guest-starred on one episode of the series, although her daughter Amy Rydell would later appear as the character on the unaffiliated fan series "Star Trek: Continues." However, that one appearance cemented her place as one of the great supporting characters in the "Star Trek" canon. When news of her death reached Twitter, fans shared their fond memories and adoration for the late Joanne Linville.
Twitter reacts to the death of Joanne Linville
NBC
All across Twitter, "Star Trek" fans have been coming together to celebrate the life and work of Joanne Linville. Replying to a tweet announcing Linville's passing from @startrektour, user @brentrenaud wrote, "What sad news. R.I.P. Joanne. I just watched this episode last night and the chemistry she had with her stoic counterpart Spock was magical."
User @mosaiccanyon replied to the same tweet and said, "My favorite guest star. I'd hoped her character would show up again somehow ..." Meanwhile, @GaryHeron2 opined, "Very sad news, her portrayal of the Romulan commander in Star Trek made that character one of the most memorable in the series. RIP."
Linville's work was also lauded by several well-known fans. Actor Mark Ruffalo tweeted, "The greatest actress I have ever known and the greatest teacher and mentor I could have ever hoped for. I will love you forever, Joanne. Thank you for all. RIP, great one."
Writer and "ENGAGE: The Official Star Trek Podcast" host Jordan Hoffman provided some perspective on Linville's contributions to the series. "RIP to the Romulan Commander, Joanne Linville," he wrote in a tweet, "Top 5 single appearance character in all of Trek, whose outstanding look has inspired convention-goers 50+ years later."
If you need a refresher on Linville's work, you can stream "Star Trek: The Original Series" on both Netflix and Hulu.