The American Horror Story Season That Was The Hardest For Sarah Paulson To Shoot
FX
Sarah Paulson and Ryan Murphy go together like serial killers and The Cecil Hotel. Murphy has a habit of creating shows with intriguing characters that give Paulson a chance to show off what an incredible actress she is. In addition to starring in eight out of the nine "American Horror Story" seasons that have come out so far, she's also been a fixture in other Murphy-led series, such as "Nip/Tuck," "The People v. O.J. Simpson," and "Ratched." The collaboration has no signs of slowing down any time soon as Paulson has confirmed she'll make an appearance in the upcoming "American Horror Story: Double Feature."
One would assume Paulson would jump at the chance to do anything Murphy wanted her to do, but there are ups and downs, as is the case with any partnership. The legendary actress recently sat down with The Hollywood Reporter's Awards Chatter podcast to discuss her career at length. The episode includes plenty of intriguing tidbits that fans of Paulson's work will want to sink their teeth into, including the one season of "American Horror Story" the actress feels "underwhelmed" toward.
Sarah Paulson wishes she could've sat "American Horror Story: Roanoke" out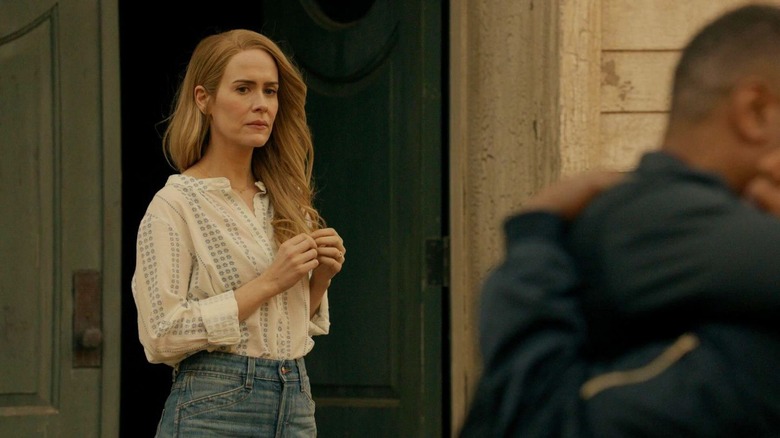 FX
The sixth season of the horror anthology series, "Roanoke," takes place in a remote house in North Carolina. The home's new residents soon discover the building's history with the Lost Colony of the 16th century, and it's not long until supernatural occurrences begin taking place. The season's noteworthy for completely changing the series format, taking on a found footage aesthetic halfway through the season. While "Roanoke" received praise from critics, one person who doesn't care for it too much is Sarah Paulson.
She played Shelby Miller in the season and even reprised her role as Lana Winters from "American Horror Story: Asylum" in the finale. Still, she went into filming "Roanoke" feeling like it wasn't a challenge for her anymore. During the Awards Chatter podcast, she brings up how she went into production right after portraying Marcia Clark in "The People v. O.J. Simpson," and the role didn't speak to her like ones from the past. She mentioned, "I was so underwhelmed by the whole experience because I felt like I had entered into a new place inside of myself in terms of what I thought possible, in terms of what I might be willing to see if I can do."
The reason she had to star in it all came down to contract negotiations: "As much as ["American Horror Story" is] my home and I've loved it always, it was the first time I felt like I wish I could have gone to Ryan and said, 'Please let me sit this one out. You know, let me out.'" After sitting out "1984," Paulson's back in the saddle with her frequent collaborator, and hopefully, "American Horror Story: Double Feature" makes good use of her talents.