Did Rami Malek Really Sing In Bohemian Rhapsody?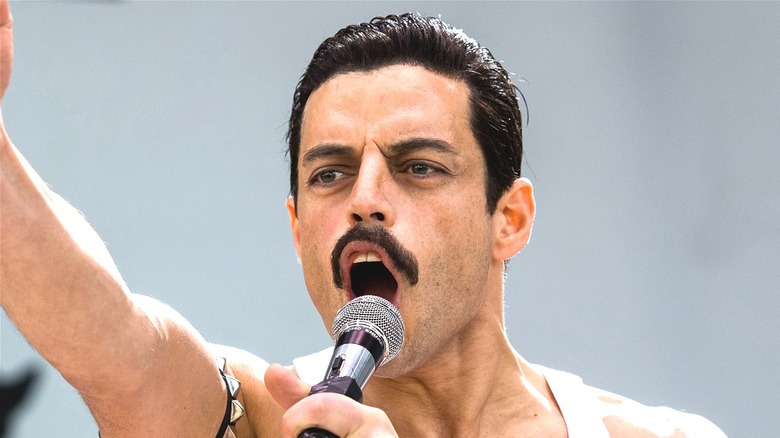 20th Century Studios
Playing an iconic role in a biopic is obviously extremely intimidating, and few people in popular music history have been as singular as Queen frontman Freddie Mercury. Therefore it's hard to imagine how it felt when actor Rami Malek learned he was cast as Mercury in the 2018 movie "Bohemian Rhapsody." Malek may have had plenty of experience with iconoclastic characters thanks to "Mr. Robot" and "Buster's Mal Heart," but it must have still been difficult to capture the singer's energy and charisma in front of the camera.
Yet despite criticism of the movie's accuracy and content, Malek was often praised for his performance. Owen Gleiberman of Variety wrote that "Rami Malek does a commanding job of channeling Freddie Mercury's flamboyant rock-god bravura." Ultimately "Rhapsody" grossed nearly $1 billion worldwide (via Box Office Mojo), and Malek won an Oscar for his efforts.
One thing Queen fans were curious about though, especially considering Mercury's range and singing abilities: does Rami Malek sing anywhere in "Bohemian Rhapsody"?
Here's how the vocals in the Academy Award-winning movie worked.
Bohemian Rhapsody mixed vocals together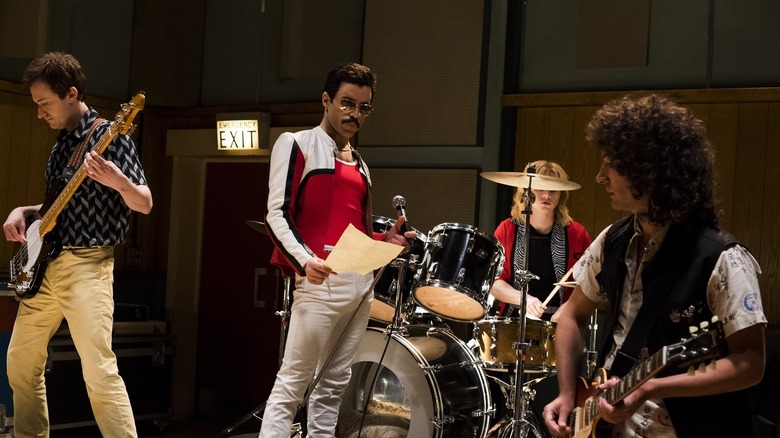 20th Century Studios
Rami Malek's vocals are in the film, but they're part of an assortment of different voices. The voice we hear as Freddie Mercury's in "Bohemian Rhapsody" is a mix of Malek and Mercury's vocals alongside those of Marc Martel, a singer famed for his impressive covers of Queen songs (via Metro). The result sounds exactly like the Queen frontman's enormous voice, and it's no surprise the film won an Oscar for Best Sound Editing along with Best Actor.
Still, Malek didn't rest on his laurels. He did have to sing in front of two Queen members and eventually had to undergo training to speak just like Mercury did. It was a difficult task for anybody to get the singer right, and Malek nailed it by the time the cameras were rolling.
If you want to see Malek's efforts for yourself, "Bohemian Rhapsody" is currently available to stream on fuboTV.