Twilight Fans Just Got The Best Netflix News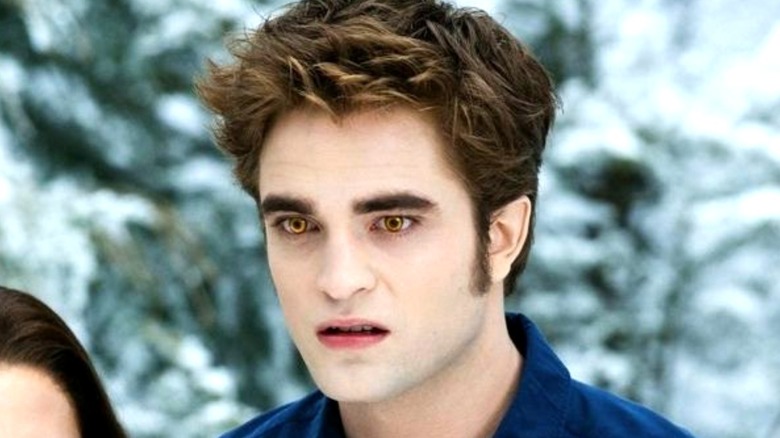 Summit Entertainment
When you hear the word vampire, several images may come to mind. Some might think of blood-sucking monsters, others may simply picture fangs, and even more people will likely picture sparkly-skinned hotties that never age. If you were a teen around 2008, you very well may fit in the latter group, as the cult favorite "Twilight" series was just taking the world by storm. The teen vampire series focused on an awkward teenage girl named Bella Swan (Kristen Stewart), who moves from her sunny home in Arizona to live with her father in the rainy city of Forks, Washington. At her new school, Bella meets the mysterious Edward Cullen (Robert Pattinson) and immediately feels drawn to him, though she soon learns there's a lot more to his brooding demeanor than meets the eye.
Like it or not, "Twilight" is a huge part of the media landscape, and can be thanked for the resurgence of vampire/werewolf popularity throughout the early 2010s. If you consider yourself a Twihard, it's quite likely you own a copy of the "Twilight" movies already. But even if you don't, you'll soon have a chance to stream the action-packed films from the comfort of your home.
Twilight is coming to Netflix
Netflix users in the U.S. will finally be able to stream all of the "Twilight" movies this summer. The official Netflix account recently tweeted, "You don't know how long I've waited for you ... to know that all five films in The Twilight Saga are coming to Netflix (in The US) on July 16!" along with some screencaps from the iconic films. While the movies have been available to watch on Netflix at different times over the years, this will be the first time that the entire "Twilight" film franchise will be on the popular streaming platform at once. You'll be able to stream "Twilight," "The Twilight Saga: New Moon," "The Twilight Saga: Eclipse," and both parts of "The Twilight Saga: Breaking Dawn" in mid-July.
Fans are reacting to the Twitter announcement with an expected mix of emotions. While there are, of course, the "Twilight" naysayers, there are plenty of others who are excited for the saga to join Netflix's catalog. User @MatthewTwihard wrote, "This is the best news ever!!!!! After all, #TheTwilightSaga / The @Twilight Saga is Perfection," while another fan, @jjkdeIight, replied, "THIS IS THE BEST THING YALL HAVE EVER DONE THANK YOU!!!!!!!"
Clear your schedules for July 16 and prepare to rewatch the "Twilight" saga in all its shimmering glory.