12 Movies Like Twilight That Every Fan Should Watch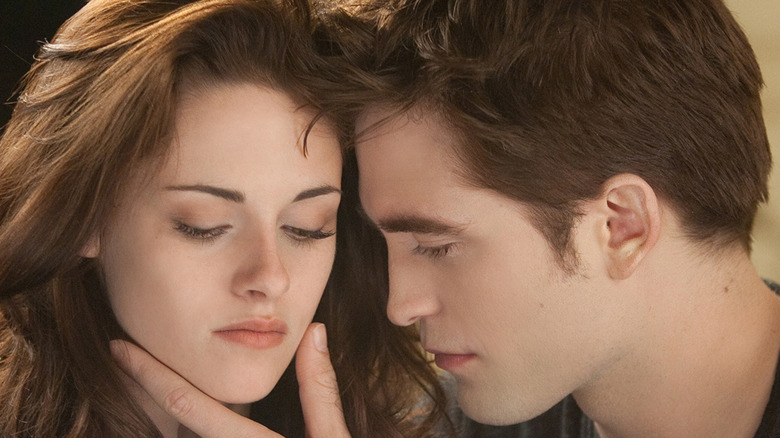 Summit Entertainment
In 2008, a lion fell in love with a lamb and the world fell in love with their story. "Twilight," based on the 2005 best-selling novel by Stephanie Meyer, features the forbidden romance between human Bella Swan (Kristen Stewart) and vampire Edward Cullen (Robert Pattinson). Seventeen-year-old Bella returns to Forks, Washington, and her world is turned upside down when she meets Edward and the rest of the Cullen family, beautiful and mysterious classmates at Forks High School hiding the truth about their vampiric natures. Edward fights his intense attraction to Bella's blood, and the two fall in love despite their opposing worlds.
Bella and Edward's love is put to the test throughout "New Moon," "Eclipse," and "Breaking Dawn: Parts One and Two." Bella's heart is torn in two directions when she develops feelings for werewolf Jacob Black (Taylor Lautner), resulting in a love triangle that arguably inspired the success of shows such as "The Vampire Diaries." A new take on the vampire genre, "Twilight" enjoyed a level of success that encouraged a generation of "Twi-hards" who were dazzled by Bella and Edward's paranormal romance, as well as the rich fantasy world of vampires, Volturi and werewolves. If you enjoyed "Twilight" and its timeless story of star-crossed lovers, then the following movies are a must-see.
Red Riding Hood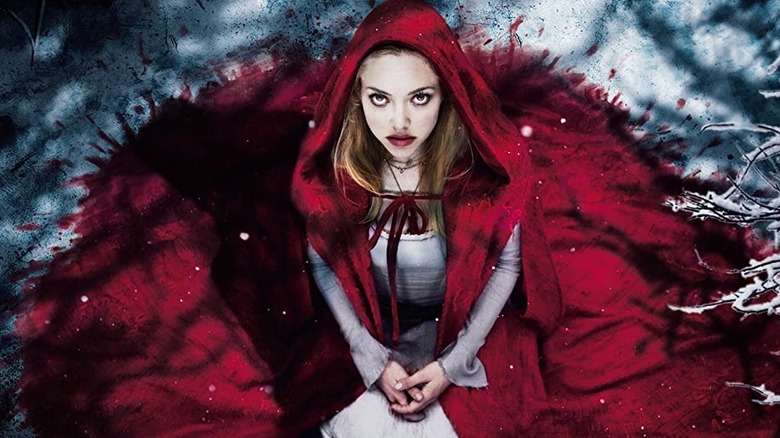 Warner Bros. Pictures
"Red Riding Hood" will likely feel familiar to fans of "Twilight" upon first watch, in part thanks to its dark romantic themes and in part due to it being directed by Catherine Hardwicke, who helmed the first "Twilight" film. The 2011 film, produced by Leonardo DiCaprio and starring "Mama Mia" actor Amanda Seyfried as main character Valerie, is inspired by the fairy tale of "Little Red Riding Hood," though with a supernatural twist that mirrors the love triangle between Bella, Edward, and Jacob in "New Moon" and "Eclipse." Billy Burke, who plays Bella's father Charlie in the "Twilight" series, also appears in "Red Riding Hood" as Valerie's father Cesaire, further linking the movies together in setting and story."
"Red Riding Hood" features a forbidden love story between Valerie and Peter (Shiloh Fernandez), who strive to be together and plan to elope despite Valerie's betrothal to Henry (Max Irons), and the expectations of her family. Mystery drives the narrative throughout the movie as Valerie and the villagers of Daggerhorn try to uncover the identity of the werewolf plaguing their home with the aid of local witch hunter Father Solomon (Gary Oldman). "Red Riding Hood" is a seductive supernatural tale with a leading heroine who shines in the spotlight, and a forbidden romance that equals Edward and Bella's epic love.
The Host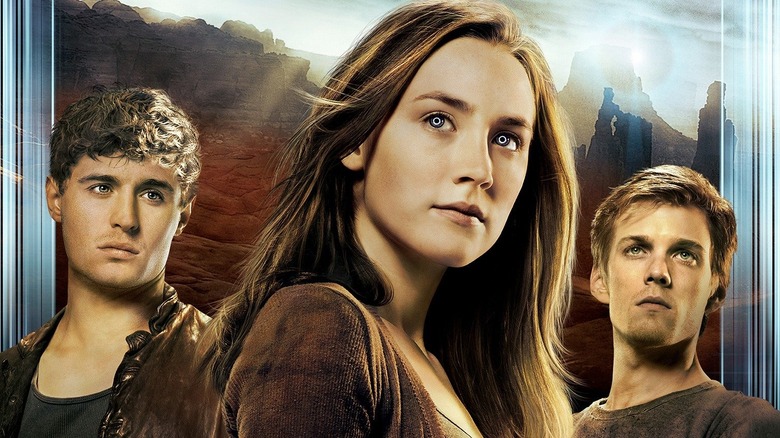 Open Road Films
"Twilight" author Stephanie Meyer debuted her sci-fi romance novel "The Host" in 2008, which was then adapted as a film and released in 2013. Many familiar themes and plot points are carried over from the "Twilight" series, including a paranormal romance that overcomes the odds. In "The Host," humanity faces an extraterrestrial threat when a parasitic alien species known as Souls invade Earth to take possession of human bodies, who they deem unworthy of life because of their violent tendencies. Surviving human Melanie Stryder (Saoirse Ronan) is captured and infused with a Soul known as Wanderer ... but Melanie isn't letting go without a fight. Melanie and Wanderer compete for control of her body, though soon begin to find common ground as they interact with and learn from each other.
Wanderer (aka Wanda) and Melanie become friends, leading to their escape and reunion with the surviving humans, including Melanie's brother, Jamie (Chandler Canterbury), and her boyfriend Jared (Max Irons). To complicate matters, Wanderer begins to fall in love with Ian O'Shea (Jake Abel), another human survivor hiding from Seeker (Diane Kruger) and the rest of the Souls. "The Host" contains all of the emotion and romance fans loved in "Twilight," though set in the sci-fi genre as opposed to supernatural fiction. Like Bella and Edward, Wanda, Ian, Melanie, and Jared have to defy a powerful threat to be together, and their romance brings together two warring factions in a quest for peace.
Remember Me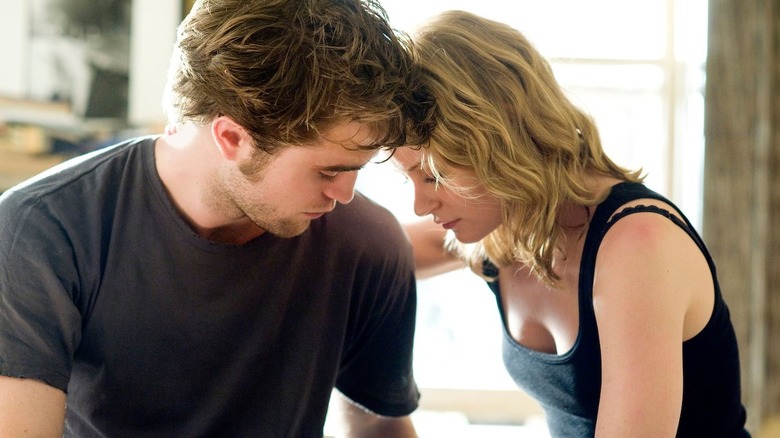 Summit Entertainment
For fans of "Twilight" who can't get enough of Robert Pattinson, "Remember Me" is a perfect choice for movie night that features the Edward Cullen actor front and center. This 2010 romantic drama stars Pattinson as Tyler Hawkins, an NYU bookstore worker who has a strained relationship with his father, struggling to keep his family together following the death of his brother. After he is arrested by Sgt. Neil Craig (Chris Cooper), Tyler is dared by his friend Aidan (Tate Ellington) to seduce the sergeant's daughter Ally (Emilie de Ravin). Tyler and Ally's relationship gets off to a rocky start, but the couple gradually fall in love throughout the film as they open up and help each other heal from past trauma.
Fans of Bella and Edward will likely enjoy the coming-of-age love story in "Remember Me," and its gut-punching ending is sure to have viewers shedding a tear or two. Pattinson brings all of his emotional intensity as Edward to the role of Tyler. The supernatural shenanigans of "Twilight" remain in Forks, but even without vampires and werewolves, "Remember Me" still has its share of trials and tribulations that push Tyler towards Ally and help reconcile his family while challenging the boundaries of love, loss, and grief.
Underworld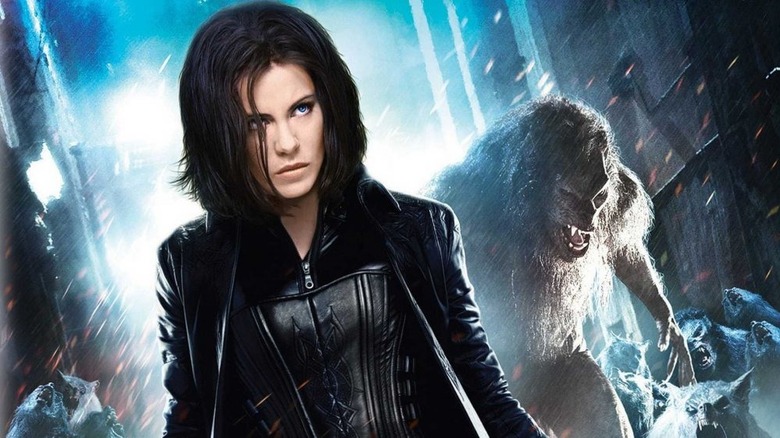 Screen Gems
Vampire fans will likely love "Underworld," released in 2003 and starring Kate Beckinsale as leather-clad, Lycan-hunting vampire Selene. The vampires and werewolves (aka Lycans) of "Underworld" are a far cry from their "Twilight" counterparts. In the "Underworld" series, vampires have hunted Lycans for centuries in a bloody war led by Victor (Bill Nighy). The gothic aesthetic of "Underworld" also sets it apart from "Twilight," along with its focus on horror and action rather than romance. That's not to say there isn't romance, however. Like "Twilight," the narrative of the first "Underworld" is driven by a forbidden love story, between vampire Selene and a human named Michael Corvin (Scott Speedman). After being attacked by Lycans, Michael is bitten by their leader, Lucien (played by Michael Sheen, who stars as Aro in the "Twilight" series). Selene fights against her attraction to Michael at first, but ultimately makes a last stand against the people who betrayed her as the war reaches a climax.
Selene's romance with Michael is an important factor throughout the following films, including 2006's "Underworld: Evolution" and 2012's "Underworld: Awakening." "Underworld: Rise Of The Lycans," the third franchise installment, released in 2009, focuses on Lucien's origins, his forbidden romance with Viktor's daughter Sonja (Rhona Mitra), and the beginning of the war between vampires and werewolves. "Twilight" fans who enjoyed the Cullen family's clash with the werewolf pack in "Breaking Dawn: Part One" will likely enjoy the extensive mythology and lore that the "Underworld" franchise has to offer.
Beastly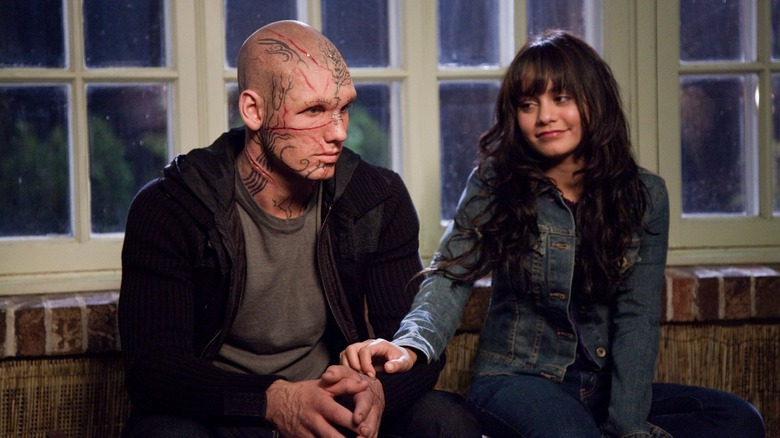 CBS Films
2011's "Beastly" is a modern retelling of the fairytale "Beauty and the Beast" that also captures the against-all-odds romantic essence of "Twilight." Alex Pettyfer stars as Kyle, a vain and arrogant high school student who makes the mistake of crossing Kendra (Mary-Kate Olsen). Kyle bullies Kendra, oblivious to her true identity as a witch. In revenge, Kendra curses Kyle and transforms him into a scarred and shaven version of his former self, resulting in Kyle being sent away by his father and isolated from the life he once led. Everything changes for Kyle when he falls in love with Lindy (Vanessa Hudgens), a fellow student with a troubled family. Though he is reluctant to face her because of his appearance, Kyle reaches out to Lindy and convinces her father to let her move in with him, and the two bond as Kyle slowly emerges from the shadows.
The story is familiar to anyone who has watched "Beauty and the Beast," with its modern setting providing a fresh take on the classic story. Like Bella and Edward, Kyle and Lindy are two opposites drawn to each other in an otherworldly love story that explores romance and adolescence with imaginative flair. Kyle and Edward both go to great lengths for the women they love, culminating with a happy ending fit for a fairy tale.
The Perks of Being a Wallflower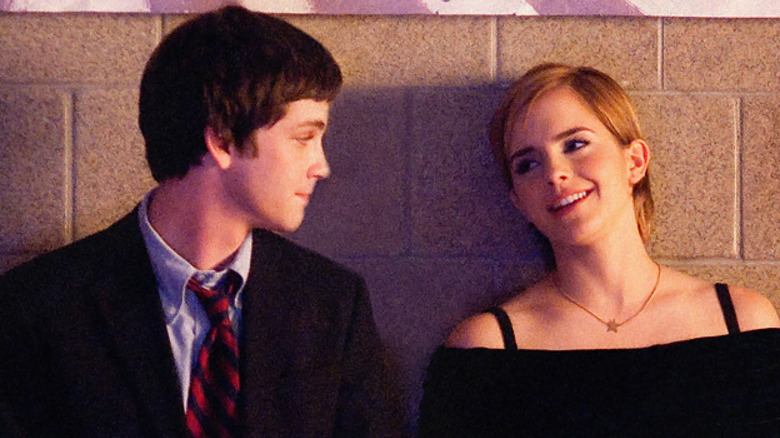 Summit Entertainment
Based on Stephen Chobsky's 1999 novel, "The Perks of Being a Wallflower" is a must-see coming-of-age movie for fans of "Twilight's" adolescent cast of characters. Set in 1991, the story opens on Charlie Kelmeckis (Logan Lerman), a freshman with a history of depression, trying to navigate the social waters of high school while struggling with his mental health. Charlie is apprehensive about starting school initially, though everything changes for him when he meets bubbly senior Sam ("Harry Potter" star Emma Watson) and her stepbrother Patrick ("Justice League" star Ezra Miller). Together with his friends, Charlie shares new experiences that coax him from his shell, learning that life can be an adventure as he goes through its plentiful ups and downs.
"The Perks of Being a Wallflower" differs from "Twilight" with its less direct focus on romance, but Charlie's relationship with Sam remains one of the highlights of the movie. Charlie develops feelings for Sam after she and Patrick adopt him into their friendship group, and the two share emotional moments that rival Bella and Edward's intense love story. If you enjoyed Bella's progression from awkward high school student to headstrong adult, as well as her relationship with Edward, then "The Perks of Being a Wallflower" is definitely worth watching.
Bram Stoker's Dracula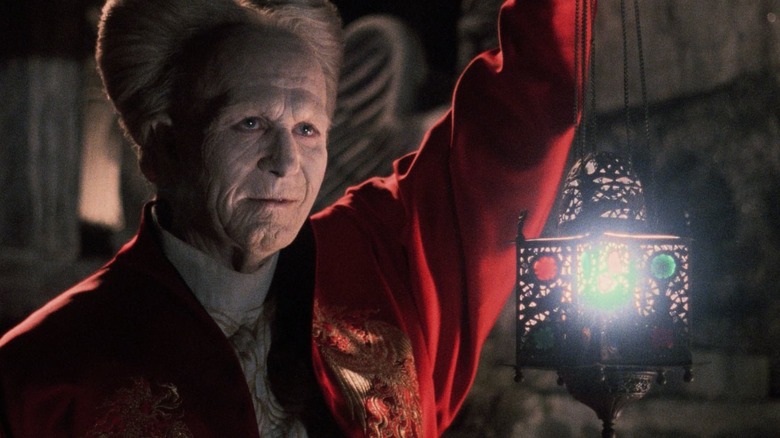 Columbia Pictures
Along with the 1922 silent horror film "Nosferatu," "Bram Stoker's Dracula" presents an archetype of the vampire film genre that has gone on to influence nearly all future installments. The gothic horror film, released in 1992 and directed by Francis Ford Coppola, is based on Bram Stoker's 1897 novel "Dracula," and features Gary Oldman as the titular character alongside Winona Ryder, who plays leading lady and love interest Mina Murray. "Bram Stoker's Dracula" begins when Mina's fiancé, Jonathan Harker (Keanu Reeves), travels to Transylvania to meet the mysterious Count Dracula. Harker soon comes to realize that all is not as it seems with the Count, who becomes besotted with Mina after seeing her picture and noting her resemblance to his lost love Elisabeta (also played by Ryder). Dracula travels to London for Mina, bringing terror in his wake.
"Bram Stoker's Dracula" is darker and more gothic than "Twilight," though its central story is largely the same. Dracula falls in love with Mina, who begins to remember her previous life as Elisabeta as well as her feelings for the Count. Just as Bella becomes a vampire at the end of "Breaking Dawn: Part One" after receiving Edward's venom, Mina slowly transitions to the undead after she is bitten by Dracula, and the two share a passion that eludes sense or reason. "Bram Stoker's Dracula" sets the precedent for most modern vampire films with its forbidden supernatural love story and romanticization of the undead.
Warm Bodies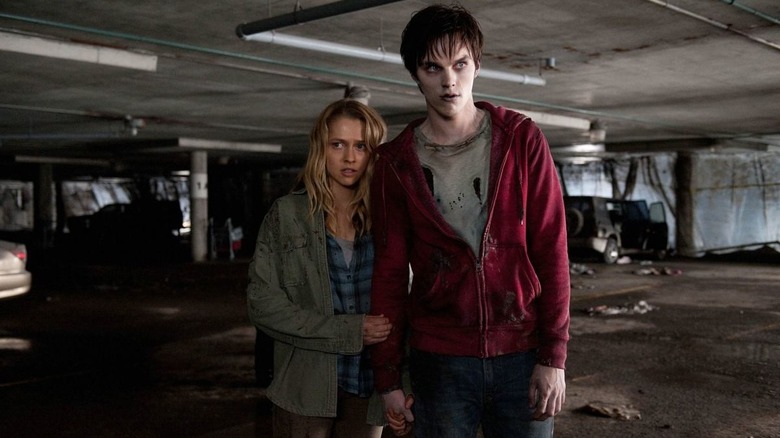 Summit Entertainment
If Bella Swan has a tough time making it work with her vampire boyfriend Edward, then it's nothing compared to what human Julie (Teresa Palmer) has to face when she falls in love with R the zombie ("X-Men" star Nicholas Hoult). "Warm Bodies," released in 2013, tells a new kind of forbidden love story, set eight years after an apocalypse devastates the world. R, along with his best friend and fellow zombie M (Rob Corddroy), spend their undead existence shuffling around an airport and snacking on any humans they find to "feel alive." Everything changes when R meets Julie, a survivor from a nearby sanctuary for humans who, along with her boyfriend Perry (Dave Franco) and a few others, is sent to retrieve medical supplies by her father, Colonel Grigio (John Malkovich). Meeting Julie (and eating her boyfriend's brains) awakens the life inside R. Slowly, the two bond over a shared love of music, with R becoming more alive the longer he's with Julie.
This zombie rom-com is every bit as comical as it is heartwarming. Based on the 2010 novel written by Isaac Marion, "Warm Bodies" shares similarities with "Twilight" regarding its inspiration. Like "Twilight," "Warm Bodies" is influenced by Shakespeare's "Romeo And Juliet," with several character names corresponding to the play: R for Romeo, Julie for Juliet, and Perry for Juliet's spurned lover Paris. Both "Twilight" and "Warm Bodies" tell a forbidden paranormal love story about young love defying seemingly insurmountable obstacles.
Let the Right One In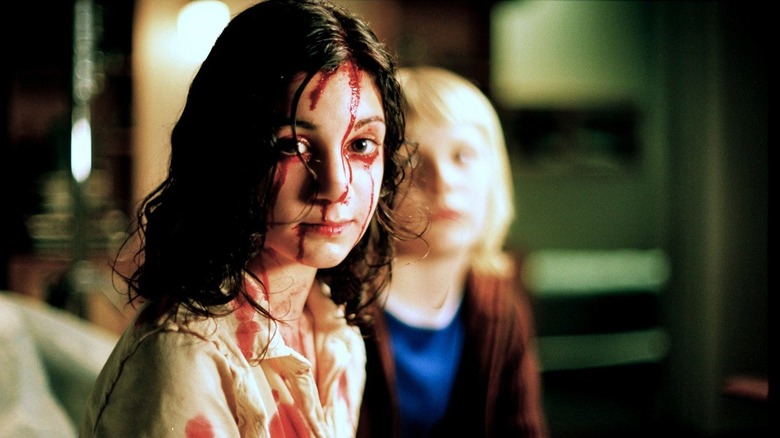 Sandrew Metronome
"Let the Right One In" is a darker vampire story with a stronger emphasis on horror and suspense, but "Twilight" fans who gravitated toward its forbidden love will likely enjoy the strangely tender friendship between 12-year-old Oskar (Kare Hedebrant) and vampire Eli (Lina Leandersson). In this 2008 Swedish film, based on the 2004 book by John Ajvide Lindqvist, Oskar is a tormented child who struggles to fit in at school, often subjected to merciless abuse at the hands of bullies which causes him to fantasize about enacting bloody, murderous revenge. His life changes when he meets new neighbor Eli; unaware she is a vampire, Oskar reaches out and the two become friends, despite Eli's initial ominous warning that they shouldn't spend time together.
Eli's thirst for blood soon causes everything to unravel, as her companion Hakan (Per Regnar) struggles to harvest enough blood to keep her sated and concealed. Despite this, Eli helps Oskar as they grow close, defending him from his classmates as the bullying escalates. "Let the Right One In" combines horror with romantic friendship for emotional impact that will resonate with viewers who loved the "Twilight" movies.
Romeo + Juliet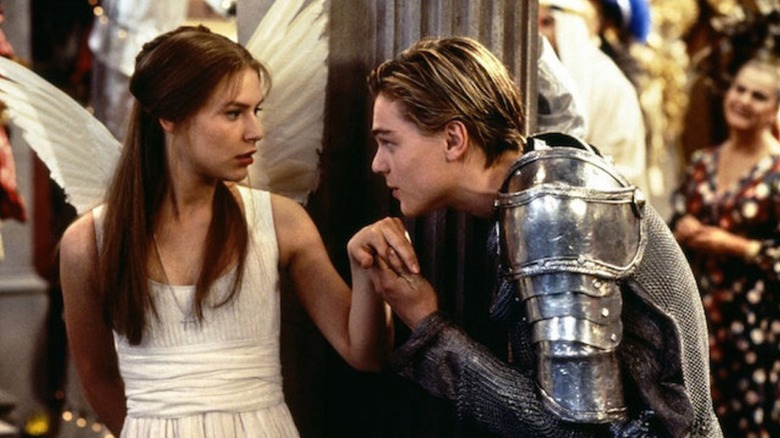 20th Century Fox
The ultimate story of star-crossed lovers, "Romeo + Juliet" is a must-see movie for fans of Bella and Edward's forbidden love in "Twilight." The Shakespeare play is referenced in "New Moon" when Edward recites a verse during class. In the books, Bella later compares her situation to "Romeo And Juliet" while thinking about Jacob and whether Juliet could have been happy with Paris. Like Isaac Marion's "Warm Bodies," the "Twilight" saga of star-crossed love is direct influenced by Shakespeare's works, which have been adapted various times for the stage and screen.
Baz Lurhmann's "Romeo + Juliet" is a bold and dazzling adaptation of the Shakespeare classic that depicts the well-known tragedy with new flair and color. The 1996 film stars Leonardo DiCaprio as Romeo and Claire Danes as Juliet, lovers from the feuding Montague and Capulet families, with a supporting cast that includes Harold Perrineau as Mercutio, John Leguizamo as Tybalt, and Paul Rudd as Dave Paris. Romeo and Juliet's relationship ends with tragedy instead of happiness, though their unwavering love and devotion resembles Edward and Bella throughout the "Twilight" series.
Interview with the Vampire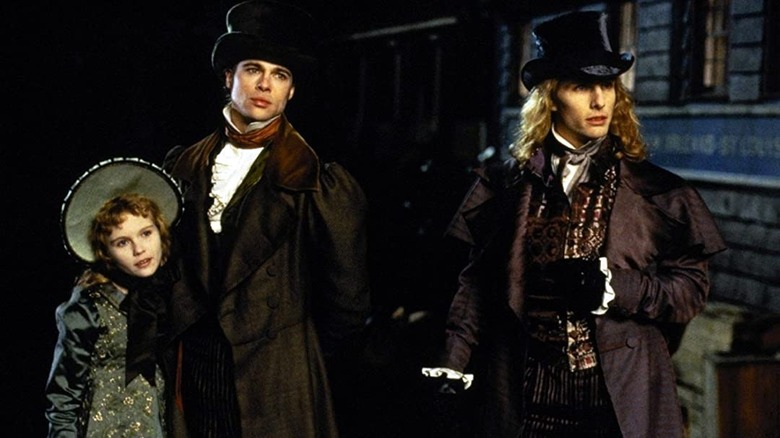 Warner Bros. Pictures
Another movie based on a book, "Interview with the Vampire" details the undead life of vampire Louis de Pointe du Lac (played by Brad Pitt) in a gothic horror story that captures the essence of Anne Rice's bestselling novel. Turned into a vampire by the vicious Lestat (Tom Cruise), Louis, like Edward Cullen, quickly comes to regret aspects of his undead existence as he fights against his nature by consuming the blood of animals. Despite their animosity, Louis stays with Lestat in New Orleans, where he encounters a young girl called Claudia (Kirsten Dunst). Unable to control his bloodlust any longer, Louis feeds on Claudia, and Lestat turns her into a vampire to keep Louis by his side.
The macabre family dynamic between Louis, Lestat, and Claudia is a darker alternative to the Cullens, who help each other refrain from drinking human blood. Lestat encourages Claudia's vampiric nature, whereas Louis cares for her in a fatherly manner and looks after her — even if it means opposing Lestat. Like the Cullens, the trio are bonded by their vampirism but with more betrayal, blood and murder, as Claudia grows to resent Lestat for turning her when she realizes she is doomed to spend eternity in the never-aging, never-changing body of a child. "Interview with the Vampire" is a darker look at what it means to live forever all alone, echoing the "Twilight" quote "when you can live forever, what do you live for?"
Beautiful Creatures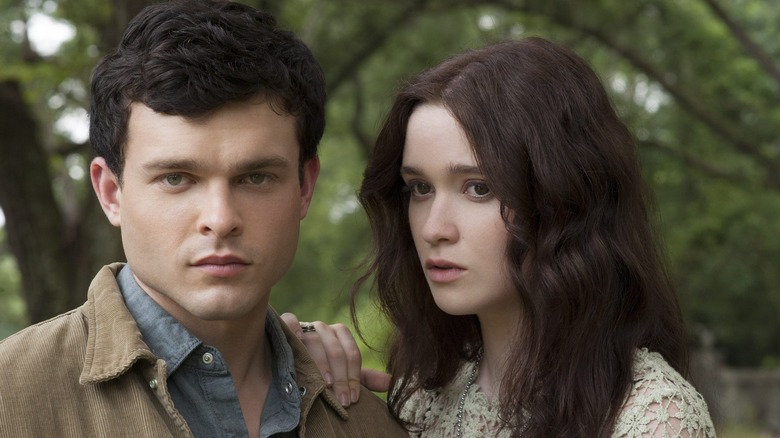 Warner Bros. Pictures
2013's "Beautiful Creatures," based on a novel by Kami Garcia and Margaret Stohl, tells another epic love story between a human and a supernatural being that combines romantic themes with an American gothic setting. Ethan Wate (Alden Ehrenreich) is a small-town boy from South Carolina who dreams of the wider world. On the first day of his junior year, Ethan meets Lena Duchannes (Alice Englert), a mysterious girl accused of being a witch who Ethan has been seeing during his dreams. Despite her family's reputation and the opinions of his classmates, Ethan is drawn to Lena, who reveals that she is a spell-caster, cursed to choose between light and dark on her sixteenth birthday.
"Beautiful Creatures" could be considered a gender-swapped version of "Twilight," as human Ethan helps guide Lena towards the light while their love is put to the test by several supernatural forces, including Lena's mother Serafine (Emma Thompson). The tone, setting, and story share similarities with the "Twilight" series, driven by a narrative that sees love conquer all. If you loved Bella and Edward, it's fair to say you'll enjoy Ethan and Lena's romance, as well as these other paranormal love stories that have redefined the genre.