KJ Apa Teases A Possible Romance For Archie And Val On Riverdale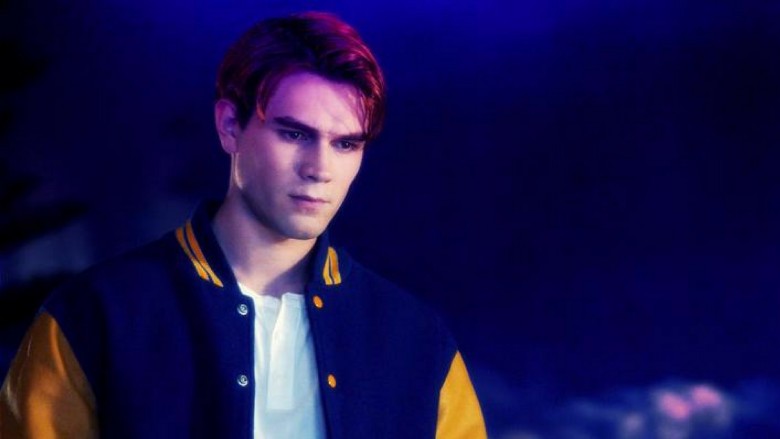 Could a relationship about more than just music be possible for Archie and Val? Riverdale star KJ Apa definitely thinks so.
In an interview with ComicBook.com, Apa talked about the evolving relationship between Archie and Val (Hayley Law). The two had their first major interaction this episode, when Archie approached Val and the other Pussycats for help with his music following Ms. Grundy's departure from Riverdale High. While his outing with Val's songwriting teacher didn't exactly go as planned, Apa says that Archie will continue to get help from Val in the future.
"Valerie is helping Archie with his music and helping him with his songwriting," Apa said. "And as soon as the Pussycats find out that she's helping him and playing with him, they're having none of it. They already don't really like Archie because of a lot of reasons. They don't think he's that good, for a start. Josie is very protective of her Pussycats and Valerie doing that does not make him happy at all."
However, despite Josie's disapproval, Apa teases that Val and Archie's relationship will continue to develop further, possibly echoing the romance between the two that has been shown at different points in the comics.
"Their relationship, although it was founded on music, it doesn't remain all about the music," he hinted.
Creator Roberto Aguirre-Sacasa dropped a similar hint in October while the show was filming, sharing a picture of Apa and Law on his Twitter page and writing, "Archie and Valerie from the Pussycats...musical collaborators...or is something else going on???"
Riverdale, The CW's dark Archie comics adaptation that we named one of our TV shows that will blow everyone away in 2017, airs on Thursdays at 9 p.m. As we wait to see whether the relationship between Archie and Val will follow a similar trajectory to the comics, see how the characters would really look if the show was being true to its source material.