How The Tooth Fairy Could Have Ended Dwayne Johnson's Acting Career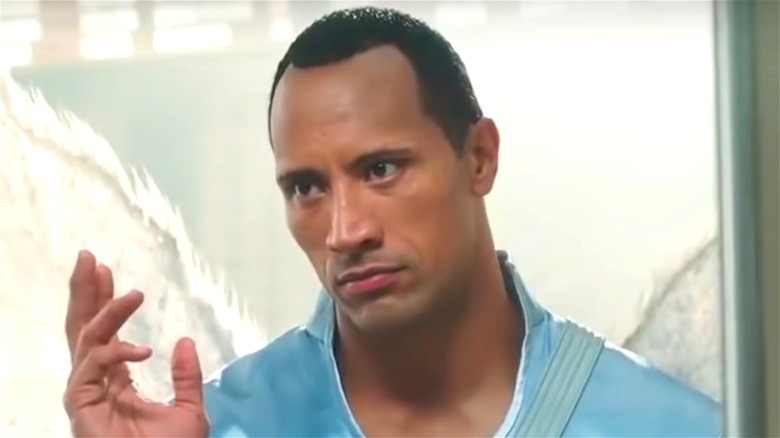 20th Century Studios
As the 1990s turned to the 2000s, change was in the air for Dwayne "The Rock" Johnson in his professional life. Since 1996, he had spent his days as a key star on the World Wrestling Federation's weekly program, Monday Night Raw, in addition to its sister show, Friday Night SmackDown, as of its 1999 premiere. With several championship titles and various accolades to his name, he decided to slowly test his mettle in a very different field of entertainment: acting. Upon anding an appearance on "That '70s Show" and a major role in "The Mummy Returns" in 1999, Johnson's experiment away from the ring was underway.
By 2003, Johnson put full-time professional wrestling behind him to focus completely on honing his skills in front of the camera. Before you know it, he was a bonafide star through his performances in titles such as "Fast Five," "G.I. Joe: Retaliation," and "Pain & Gain," kicking off his tenure atop the cinematic heap for virtually the entirety of the 2010s. Johnson's stock only continued to rise as he added the likes of "Jumanji: Welcome to the Jungle" and "Baywatch" to his filmography, also attaching himself to "Black Adam," "Jungle Cruise," and more impending blockbusters.
Looking back, all of Dwayne Johnson's silver screen success could have easily never come to pass thanks to one serious misstep: the 2010 kids comedy "Tooth Fairy." Here's how his turn as hockey player-turned tooth fairy Derek Thompson almost derailed his acting career before it could truly begin.
Tooth Fairy was nearly one flop too many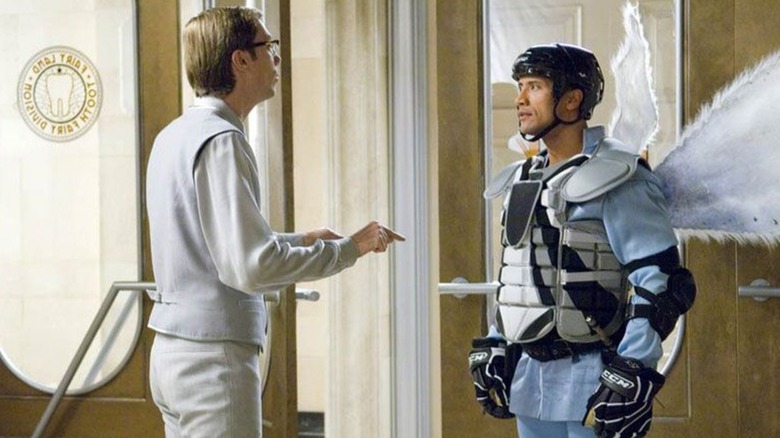 20th Century Studios
Thanks largely to Dwayne Johnson's charisma, "Tooth Fairy" made nearly $113 million on a $48 million budget. However, it takes more than solid financials to consider a movie a win in the eyes of the studio, as audience response is just as important. It currently holds a 17% rotten score on Rotten Tomatoes, accompanied by a critical consensus that claims "flat direction and a committee-written script render 'The Tooth Fairy' unacceptably dull." Common complaints levied by critics include its painfully generic presentation, excessive tooth-related puns, and the lack of enjoyment adult viewers could derive from it.
At the time the film premiered, the former WWE Champion was firing off more misses than hits. For every "The Scorpion King," there were a "Southland Tales" and a "Walking Tall" to play damage control over, but why? According to him, he was being forced to "deconstruct" himself to conform to Hollywood's standards, leaving his true strengths behind. "I had to stop going to the gym, which meant I couldn't be as big, which meant you had to distance yourself from wrestling," he told The Hollywood Reporter in 2014, noting this approach promised him more roles, even though they didn't increase his star power.
2010 and "Tooth Fairy" marked the end of Johnson's acting rut, seeing as he went on to enjoy a string of wins across 2011, 2012, 2013, and beyond by fully embracing who he is and the kinds of projects he knows he fits in. Now he's one of the most recognizable and successful actors in the world, all thanks to the professional wake-up call "Tooth Fairy" provided him. Therefore, one could easily say that it saved his career when, all things considered, it was in a prime position to end it.