The Ending Of G.I. Joe: Retaliation Explained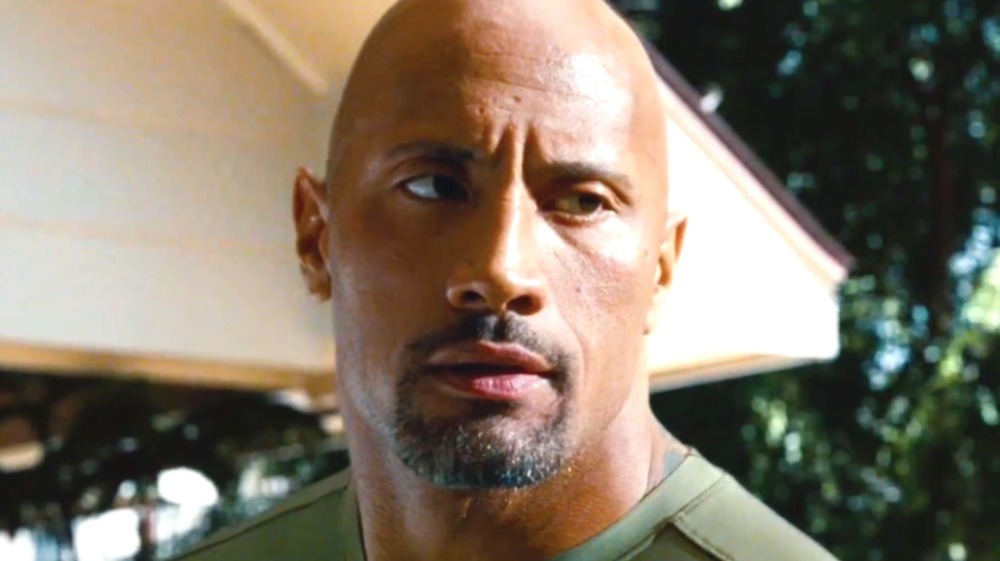 Paramount Pictures
Although 2009's G.I. Joe: The Rise of Cobra was a relatively successful action blockbuster, most of the film's main cast had no interest in reprising their roles for future installments. That meant saying goodbye to Christopher Eccleston, Sienna Miller, Joseph Gordon-Levitt and Rachel Nichols. And by killing Channing Tatum's Duke along with most of the other Joes within the opening few scenes, 2013's G.I. Joe Retaliation acted almost like a soft reboot by pushing a new hero front and center in Dwayne Johnson's Roadblock.
Retaliation's story is relatively straightforward, with Roadblock and the few remaining members of his team attempting to stop Cobra's latest plot to gain world domination through a puppet U.S. President. But for fans of the classic heroes from Hasbro's toy line, the Paramount movie manages to deliver a solid set of fleshed-out character arcs alongside the hyperactive fight scenes. Here's where some of the characters end up by the time Retaliation rolls credits, and what the future of the G.I. Joe franchise looks like in both TV and film.
Snake Eyes and Storm Shadow make peace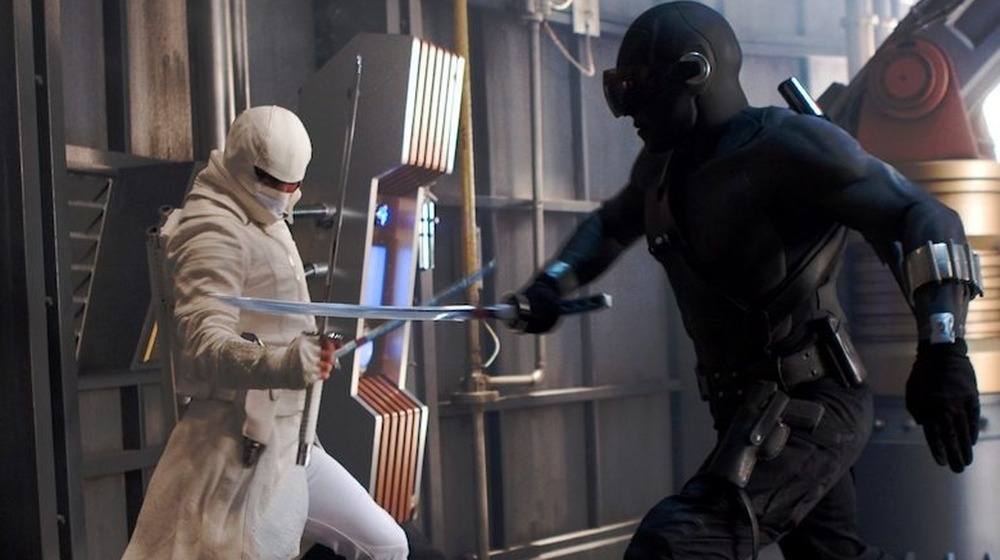 Paramount Pictures/Skydance Productions
Snake Eyes and Storm Shadow's conflict goes back to their childhood, which we briefly saw in The Rise of Cobra. Hard Master's murder is the sole reason that Snake Eyes took a vow of silence, because Hard Master was the closest thing he had to a father. He took Hard Master's death to heart because he was the only person who helped him make something of his life after Snake Eyes found himself homeless in Japan.
The entirely Snake Eyes-Storm Shadow rivalry is based around the falsehood that Storm Shadow murdered Hard Master over his fondness for Snake Eyes. Storm Shadow's stubborn and aggressive nature means he never tries to defend himself from these accusations either, adding further to the idea that he's a cold blooded murderer. As he explains it, he is lost in his anger. "It's possible to feel so much hate, you stop feeling it at all. Like a fish not knowing it's in water," he says.
On the opposite side, Snake Eyes is so determined to settle his vendetta that he pushes himself to the limit whenever facing his nemesis. So when the revelation comes that it was the Cobra villain Zartan that killed Hard Master, the strife between the two stoic warriors is instantly defused. The truth being uncovered allows the two to find peace, and the pair teaming up in a final fight against Cobra is the first step toward repairing their fractured friendship.
Roadblock's revenge is delayed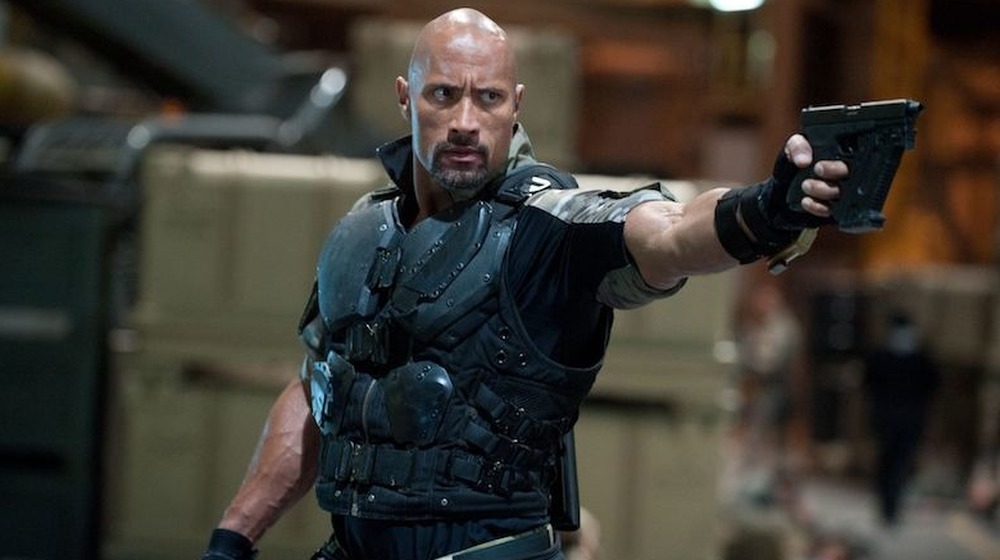 Paramount
Roadblock's entire arc is about getting justice for his fallen comrades following the devastating missile strike in the film's beginning, but it seems like his mission has only just begun with the sequel bait of Retaliation's ending. Roadblock's need for revenge is one of the main themes driving the film, though he quickly realizes that he can't make things right without his team. He has to lean on them to ensure their mission goes smoothly, doing away with his belief that he doesn't need allies.
But throwing out the rule book means calling on a surprising figure — Bruce Willis' General Joe Colton, the original G.I. Joe. The General's inclusion is a way of pushing the team forward in uncovering Zartan as the fake President, as well as giving long-time fans the classic Hasbro character in live-action, of course.
Unfortunately, Roadblock's thirst for revenge isn't quenched just because the Joes saved the day again. Cobra Commander is still out there after escaping Fort Sumter in the heat of battle. It makes sense why the filmmakers didn't let Dwayne Johnson's hero get to face off with the villain in the finale of Retaliation – clearly they were saving it for a dramatic climax in the originally planned third film. The fight would've likely ended with Roadblock shooting the villain using General Patton's gun, which Colton gives him at the end of Retaliation in appreciation for his efforts. It's a moment that leans into the overly patriotic nature of the franchise, but also serves as a reminder for Roadblock that he isn't alone in his fight, and that he has the rest of his team serving along with him.
The future of the franchise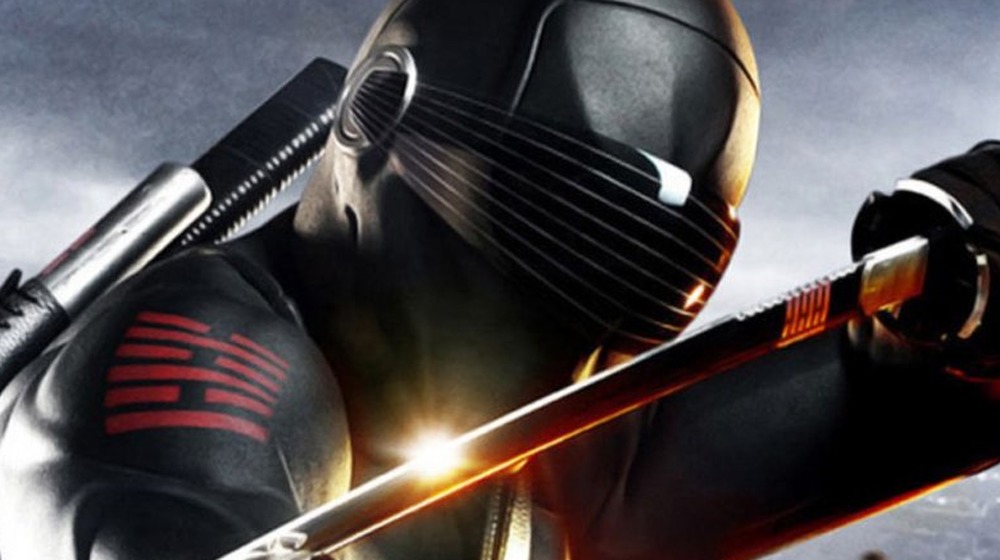 Paramount
The G.I. Joe franchise hasn't had the best luck in the eight years since Retaliation's debut. Dwayne Johnson has always maintained that he'd like to return for a third film, which was at one point titled G.I. Joe: Ever Vigilant. And there was even a plan to cross G.I. Joe over with Paramount's Transformers series. Neither Ever Vigilant or the crossover ever materialized.
But the franchise has taken a surprising new direction with a reboot from German director Peter Schwentke, which will solely focus on Snake Eyes' origin story. The prequel will see Crazy Rich Asians star Henry Golding as the titular ninja and will revolve around his conflict with Andrew Koji's Storm Shadow in Japan. Hopefully with The Raid's Iko Uwais onboard as Hard Master, Snake Eyes will have some extremely satisfying stunt work in the film as well as the emotional backstory which was only touched on in G.I. Joe: Retaliation. There's not too long to wait for the film either, as it arrives in October 2021.
There's even more military madness on the way through a live-action G.I. Joe TV series centered on Lady Jaye, who was played by Adrienne Palicki in Retaliation. But with all the recast roles in the Snake Eyes film, it makes sense that the upcoming show will also pick a new actress to bring Lady Jaye to life on the small screen. Because creator Erik Oleson has a deal with Amazon Studios, it wouldn't be surprising if the show arrives on Prime Video. That could open the door to a harder and more violent story than the one featured in the crowd-pleasing blockbuster movies.