Henry Cavill Shares An Enigmatic Teaser For The Witcher Season 2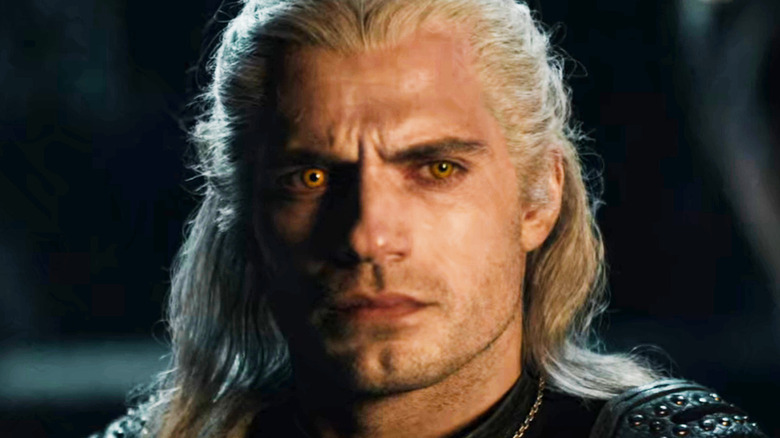 Netflix
One of Netflix's most popular fantasy TV series is "The Witcher," based on both the book series written by Polish author Andrzej Sapkowski as well as the hugely popular video game trilogy that Sapkowski's work spawned. "The Witcher" is set in the fictional land of the Continent, and tells the story of Geralt of Rivia (Henry Cavill), a magical being called a witcher who hunts monsters for a bounty. His young companion named Cirilla, or Ciri (Freya Allan), is the princess of a land called Cintra, and also has supernatural abilities. The show follows Geralt, Ciri, and Geralt's love interest Yennefer of Vengerberg (Anya Chalotra) as their individual storylines combine into one, and as they face the many mysterious entities — and evil people — on the Continent.
Season 1 of "The Witcher" earned the IP a new slew of fans, who've since been waiting patiently for news on the next season. Thankfully, "The Witcher" Season 2 is on its way — and there's even been a first-look video that managed to pump fans up even more. Recently, series star Henry Cavill shared a "Witcher" teaser on his own social media page, giving fans another (albeit confusing) look into the upcoming season.
The Witcher Season 2 teaser offers some cryptic clues
Henry Cavill posted the newest "Witcher" Season 2 teaser to his personal Instagram page, and while it doesn't give any concrete plot points away, it sure has fans excited. The fast-cut teaser features several short clips from the upcoming season, mostly featuring the White Wolf himself. There's not much in terms of dialogue apart from a few short lines — "Are you ready?", "Salvation", and "Run!" are the few chosen phrases. What could all of this mean for Geralt's future in Season 2?
If you look closely at the teaser, you'll also notice several key items from "The Witcher" franchise, including Geralt's witcher medallion, several magic witcher signs that are used to cast spells against monsters, and Geralt's iconic swords and daggers. It looks like Season 2 of "The Witcher" is sure to feature plenty of monsters and exciting battles, and we're here for it.
Be on the lookout for "The Witcher" Season 2, which is due to premiere on Netflix later this year.