How Accurate Is Netflix's Fatherhood?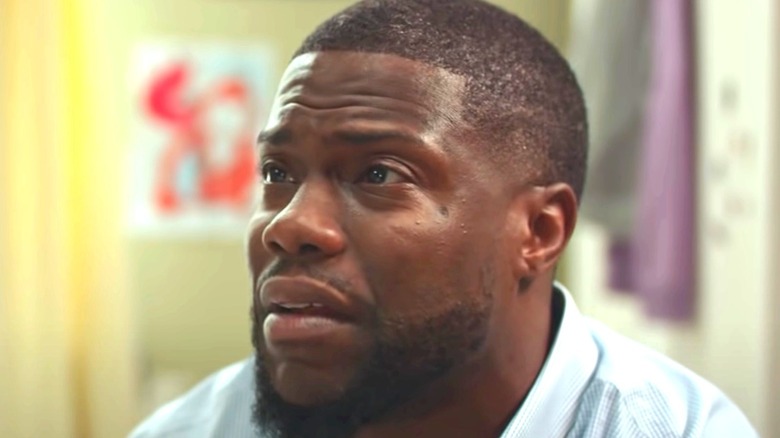 Netflix
We may receive a commission on purchases made from links.
Kevin Hart's latest film has just landed on Netflix — though it's a lot different from his usual projects. The heartbreaking comedy-drama "Fatherhood" tells the story of Matthew Logelin (Hart), a man whose wife Liz (Deborah Ayorinde) dies shortly after giving birth to their daughter. Matt embarks upon single parenthood and raises his daughter Madeline (Melody Hurd), though he's not alone — his blog on widowhood attracts national attention in the form of TV interviews, personal letters, and even donations.
Hart impressed reviewers with his more serious role. Lovia Gyarkye of The Hollywood Reporter noted: "Hart, usually known for his comedy ... embraces a more dramatic side here, and is surprisingly convincing in these moments." With subject matter as sad as "Fatherhood," it's hard to think that this story could possibly be based on a real life family — but it is. The real Matt Logelin documented his and his wife's relationship, Maddy's birth, and Liz's unexpected death on his blog that gained tons of attention. But just how accurate is "Fatherhood" to the real story?
Fatherhood is faithful to the source material
The "Fatherhood" screenplay was based on Matt Logelin's book "Two Kisses for Maddy: A Memoir of Loss and Love," which was adapted from his blog "Matt, Liz and Madeline: Life and Death, All in a 27-Hour Period." According to History vs Hollywood, "Fatherhood" is very similar to the real story of the Logelin family. Matt and Liz were high school sweethearts who married a few years after finishing college, and Liz became pregnant a couple years later. As depicted in the film, Liz did experience some complications during her pregnancy like low amniotic fluid, which required her to be put on bed rest for several weeks before she had an emergency cesarian section (via History vs Hollywood).
Also true to the story was Liz's untimely death only 27 hours after giving birth to Maddy. As reported by the Star Tribune, Liz was on her way to meet Maddy in the NICU when tragedy struck: "'Are you ready to go?' the nurse asked. Liz said yes, turned to sit in the wheelchair, and suddenly said: 'I feel light headed.' She passed out and never regained consciousness." Liz died from an undetected pulmonary embolism, and she never got to hold her daughter.
Other similarities between Matt's book and "Fatherhood" are the support Matt and Maddy got from strangers, the motherhood group Matt attended, some of the ways Matt's family reacted to Liz's death and his being a single father, and the fact that Matt eventually found love again.
There was one significant difference between Fatherhood and the true story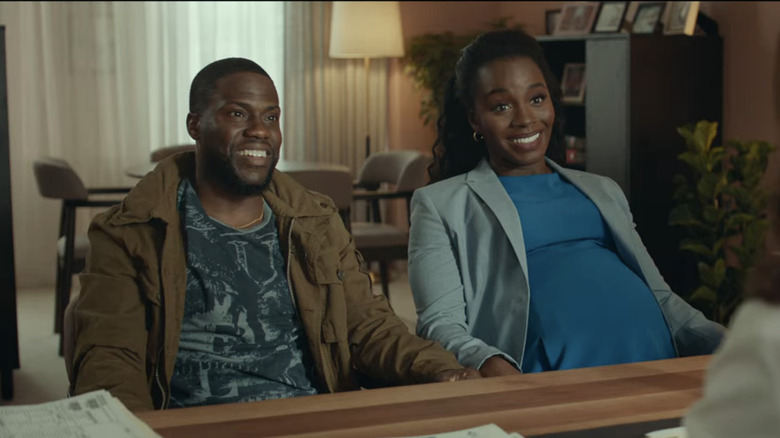 Netflix
Though the majority of "Fatherhood" stays true to the real story, there are some differences as noted by History vs Hollywood: the support group met up at a park, the character Jordan (Lil Rel Howery) doesn't seem to be based on a real person, and some of the comic elements were likely added to balance out the film. One of the most obvious differences is in the casting — the Logelin family is white in real life, though the majority of the film's stars are Black.
The decision to cast Black actors in the story originally about a white family may not seem poignant at first glance, but Aramide A. Tinubu wrote how the change actually brings up important points about the high maternal mortality rate for Black women. For NBC News, Tinubu wrote that "Despite technological and medical advances, it is still more dangerous for a Black woman — no matter her age, health or socioeconomic background — to give birth in the United States than many other places in the world, and the rate of maternal mortality in the U.S. has actually gone up in the last 20 years. While the surviving loved ones of Black women who died in childbirth have begun routinely speaking out about and leading protests against the lack of care the women experienced while giving birth, little appears to have changed. A movie like 'Fatherhood' can perhaps at least contribute to this growing awareness and these calls for change."