Lil Rel Howery Can't Get Enough Of Kevin Hart In Fatherhood - Exclusive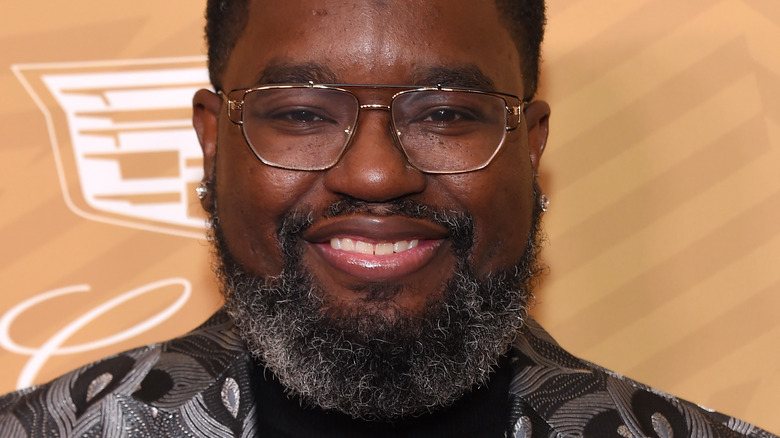 Shutterstock
Six years after the hour-long special "Kevin Hart Presents: Lil Rel Howery: RELevent" was released, comedy stars Kevin Hart and Lil Rel Howery have re-teamed for the Netflix Original movie "Fatherhood," which marks a huge departure for both performers. After all, it's not often that a comedian or actor used to cracking up audiences decides to tackle a film with serious themes, even if the project has its share of laughs.
But that's exactly what "Fatherhood" is, and Hart and Howery are all-in. In the film — which is based on a true story and is streaming exclusively on Netflix beginning on June 18 — Hart stars as Matt, a loving husband whose wife Liz (Deborah Ayorinde) dies a day after giving birth to their first child, Maddy (Melody Hurd). Devastated by the loss of Liz and feeling pressure from family about his ability to raise Maddy (Melody Hurd) alone, Matt relies on his best friends Jordan (Howery) and Oscar (Anthony Carrigan) for support as he embarks on the arduous and unpredictable path of parenthood.
In an exclusive interview with Looper to discuss "Fatherhood," Howery said he's always been taken by Hart's positivity in both the celebrated performer's work and life.
As Lil Rel Howery explained, the wonderful thing is that once you are inspired by Kevin Hart, his positive vibes never leave you. "That's Kevin. We have been friends for so long, right? We've known each other for a while, especially in the comedy world, which is why I think if you look at us on screen together, it works. It looks like, 'They've got to really know each other,'" Howery told Looper. "He's always had a huge influence on me. Kevin is giving. He produced my first hour comedy special, and I'm glad he did. He agreed to doing it and he's a giving person."
Better yet, Howery added, Hart spread his goodwill to every single person on the "Fatherhood" set.
Fatherhood's true-life origin reflects Hart's sensibilities, Howery says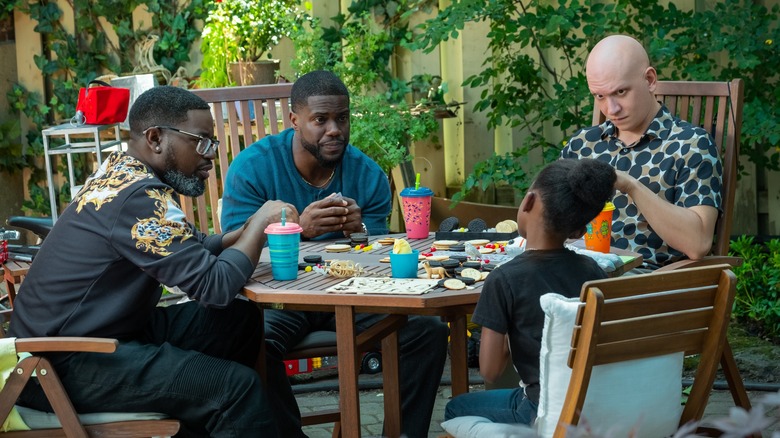 Philippe Bosse/Netflix
Based on author Matthew Logelin's bestselling book "Two Kisses for Maddy: A Memoir of Loss and Love," "Fatherhood" tells the heartbreaking true-life tale of Matt and his young daughter. The story chronicles the unwavering resolve of a man who's bound and determined to raise his girl from infancy despite the doubts of others, which Howery said reflects Hart's can-do attitude in real life.
"That's why I believe he picked this story. It's from a true story. So, I think he fell in love with the tenacity Matt had," Howery said. "To [say], 'I'm just going to do this. I'm going to be present, and I'm going to love my child. And that should be enough — and we'll figure it out from there.'"
Howery then told Looper that he hopes "Fatherhood," timed for release just before Father's Day 2021, will make people realize that fathers are capable of being strong, supportive parents, even in situations as dire as Matt's dilemmas in the film.
"Everybody automatically think dads are not a parent. [People say], 'You can't do this by yourself.' [But we say], 'Yes I can! Can I try at least? Y'all are just going to tell me what I can't do?'" Howery said with a laugh. "And that's what I love about this movie, just from a father's perspective — because I'm a dad, too — showing the vulnerability of being a parent and literally just showing the simplest thing you can do to your kids is to be present and to love them."
"Fatherhood" is available to stream exclusively on Netflix.