Why Anna Valerious From Van Helsing Looks So Familiar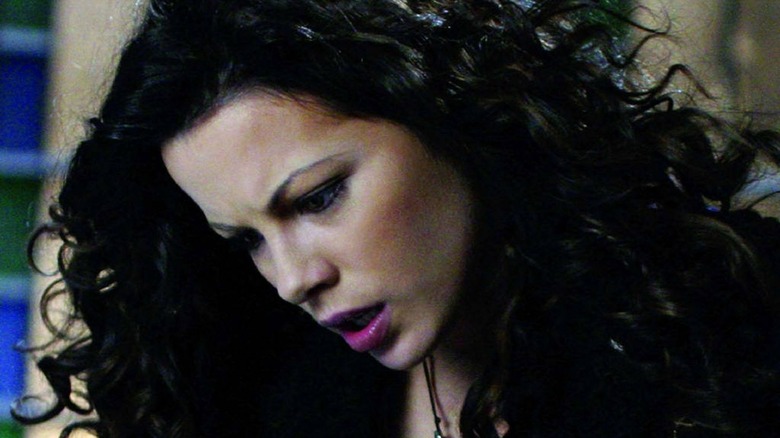 Universal pictures
In 2004's "Van Helsing," the eponymous monster hunter (played by Hugh Jackman) is dispatched to Transylvania on a mission to help Anna Valerious hunt down the infamous Count Dracula (Richard Roxburgh) and slay him once and for all. Anna is a courageous, daring woman skilled with a sword and quick with a quip who manages to hold her own against vampires, werewolves, and other assorted night terrors in the course of their mission. Anna has a personal stake in the hunt for Dracula, as her family has been denied entry into heaven by God unless the vampire lord meets his end.
Anna makes the ultimate sacrifice to stop Dracula, dying in the process but redeeming herself and her family in the eyes of God, and they ascend into heaven. Keen-eyed audience members might have found something more than a little familiar about Anna, as portrayed by actress Kate Beckinsale. Beckinsale is an actress and model, with some roles you might recognize.
Kate Beckinsale's acting beginnings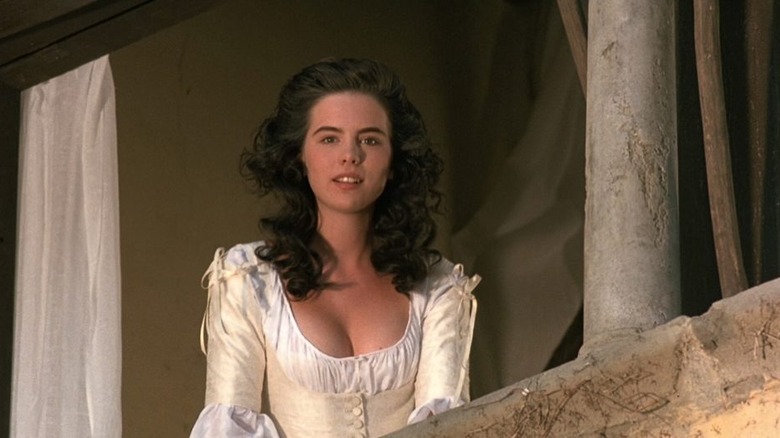 BBC Films
Beckinsale's first major credited role was in the 1991 television film "One Against the Wind" as Barbe Lindell, the daughter of Marie Lindell (Judy Davis) — a woman working for the French Red Cross in Nazi-occupied France and smuggling Allied pilots out of the country. But it was "Much Ado About Nothing," Kenneth Branagh's 1993 adaptation of Shakespeare's classic play that served as her cinematic debut. Beckinsale played Hero, the obedient and innocent daughter of Leonarto. Serving as a foil to the more outspoken Beatrice (Emma Thompson), she is described as a jewel by Claudio (Robert Sean Leonard). The two fall in love over the course of the film, and are eventually married.
Beckinsale would go on to play starring roles in films like the 1998 dramedy "The Last Days of Disco" and the 1999 drama "Brokedown Palace" opposite Claire Danes. But it would be her next major role that would make her a blockbuster star.
Kate Beckinsale was Evelyn Johnson in Pearl Harbor.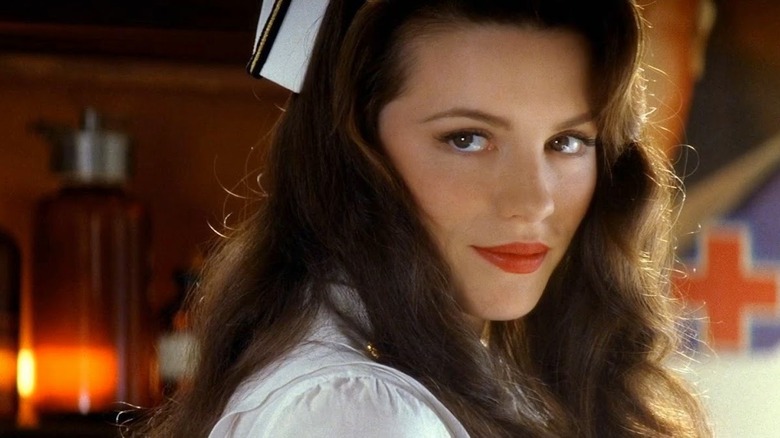 Buena Vista Pictures
In 2001's "Pearl Harbor", Beckinsale played Lieutenant Evelyn Johnson, an army nurse and the mutual love interest of pilots Rafe McCawley (Ben Affleck) and Danny Walker (Josh Harnett). Eveyln meets Rafe and Danny as they take their physicals to be part of Eagle Squadron, an elite RAF unit composed of American pilots. Rafe begins to date Evelyn and their relationship flourishes, until he informs her of his intent to go overseas and fight. When Rafe is thought killed in action, Danny and Evelyn fall in love, only to have Rafe return and be enraged at their relationship. The confrontation happens on December 7, 1941, as Japan attacks the naval base at Pearl Harbor.
While a box office hit, "Pearl Harbor" was not well-received by critics. But the film's success paved the way for Beckinsale to obtain other roles, such as "Serendipity" opposite John Cusack as a couple who strive to find one another after they met and fell in love, and the 2002 drama "Laurel Canyon" with Christian Bale. But the following year would see Beckinsale's first portrayal of an action hero, and her first foray into the undead.
Kate Beckinsale played Selene in the Underworld films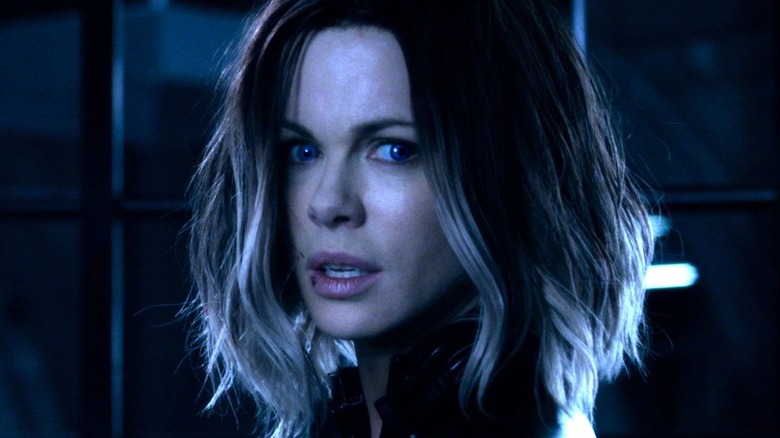 Screen Gems
2003's "Underworld" marked Beckinsale's debut as Selene, a vampire death dealer charged with hunting down and exterminating the werewolf lycans. Selene is a combat specialist, master marksman, and looks exceptional in a leather catsuit. She meets a mysterious young man named Michael (Scott Speedman), descendant of a powerful vampire clan who has the potential to become both a werewolf and a vampire — where most everyone else can only be one or the other. The two fall in love in defiance of the eons-long feud between vampires and werewolves and fight for a place in the world.
Beckinsale would play Selene in all five films in the "Underworld" franchise over the next decade and a half, cementing her place in vampire film lore. One year after the first "Underworld" movie came out, Beckinsale played Anna Valerious in "Van Helsing" — this time hunting down vampires instead of hunting for them.
Kate Beckinsale's more recent roles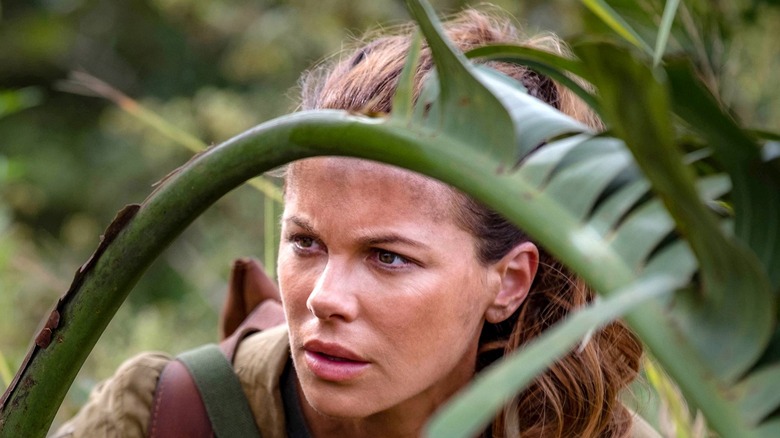 Amazon Prime
After "Van Helsing," Beckinsale portrayed Hollywood legend Ava Gardner in "The Aviator," Martin Scorsese's biopic about industrialist Howard Hughes (Leonardo DiCaprio); the 2007 thriller "Vacancy" opposite Luke Wilson, as a married couple realizing the hotel they're staying at intends to use them as the subject of a snuff film; and the 2009 suspense film "Whiteout" as U.S. Marshall Carrie Stetko, who attempts to track a killer in Antarctica before the sun sets for six months.
She also had a turn as Lori Quaid in 2012's remake of "Total Recall" with Colin Farrell. Most recently, she starred in the Amazon Prime series "The Widow" in 2019 as Georgia Wells — a woman whose husband dies under mysterious circumstances, forcing her to journey to the Congo to find the truth about what happened to him. With such an eclectic mix of drama and action in her resume, we can't wait to see what comes next from Kate Beckinsale.