Why Mr. Hyde From Van Helsing Looks So Familiar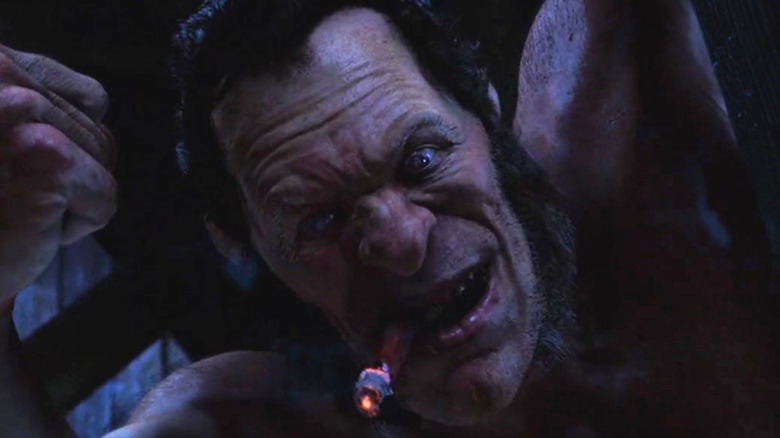 Universal Pictures
In the 2004 film "Van Helsing," we first meet the eponymous monster hunter (Hugh Jackman) in Paris, in hot pursuit of the monstrous murderer Mr. Hyde. Van Helsing has orders from his superiors to attempt to capture Hyde in order to extricate his better half, Dr. Henry Jekyll, but Hyde doesn't care for the idea. A fracas ensues in and around Notre-Dame cathedral which ultimately results in Hyde falling to his death as he reverts back to Jekyll.
Much like in "The League of Extraordinary Gentlemen," Hyde is a monstrous creature a la the Incredible Hulk, rather than the smaller Mr. Hyde of Robert Louis Stevenson's classic novella "The Strange Case of Dr. Jekyll and Mr. Hyde." Astute "Van Helsing" viewers might have found something familiar about Hyde, who is played by actor Robbie Coltrane. Coltrane is a Scottish actor, writer, and comedian renowned for many critically acclaimed performances on stage and screen. Not sure where you've seen him before? Here are a few of his most prominent roles.
Robbie Coltrane's acting beginnings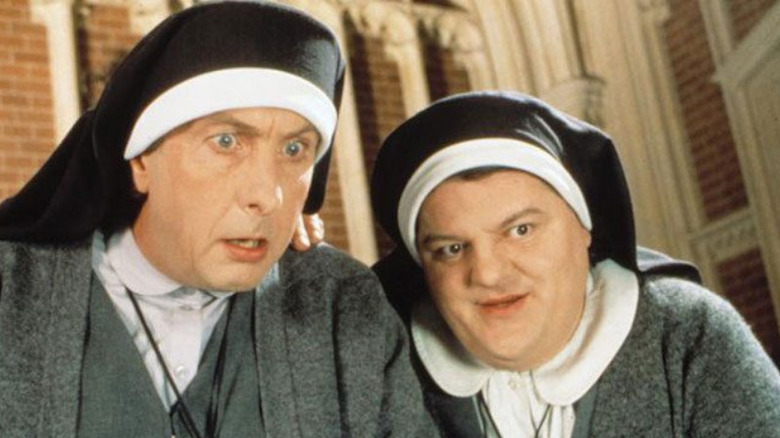 20th Century Fox
Robbie Coltrane's first major credited role was on the 1987 TV miniseries "Tutti Frutti." A cult hit from BBC Scotland, Coltrane played Danny McGlone, aka Big Jazza, a member of a rock and roll band called the Majestics. The series chronicled their reunion tour after the death of their lead singer. From there, Coltrane would appear in Rowan Atkinson's historical comedy "Blackadder the Third" as Dr. Samuel Johnson and played the Spirit of Christmas in "Black Adder's Christmas Carol" in 1988. He would also portray Shakespeare's famous reprobate Sir John Falstaff in Kenneth Branagh's 1989 adaptation of "Henry V."
But it would be 1990's "Nuns on the Run" that would boost Coltrane's profile in North America. In the film, Coltrane portrays gangster Charlie McManus, who, along with his partner Brian Hope (Eric Idle), rob their gangster boss when they determine he's making plans to have them killed off. Thanks to Brian, the getaway car doesn't have enough gas, and the pair find themselves forced to go undercover at a nunnery in order to lie low until the heat dies down. While receiving mixed reviews, the film was a commercial hit in its limited U.S. release and paved the way for later opportunities, such as playing criminal psychiatrist Dr. Eddie "Fitz" Fitzgerald on the British TV crime drama "Cracker."
Robbie Coltrane played Valentin Zukovsky in two James Bond films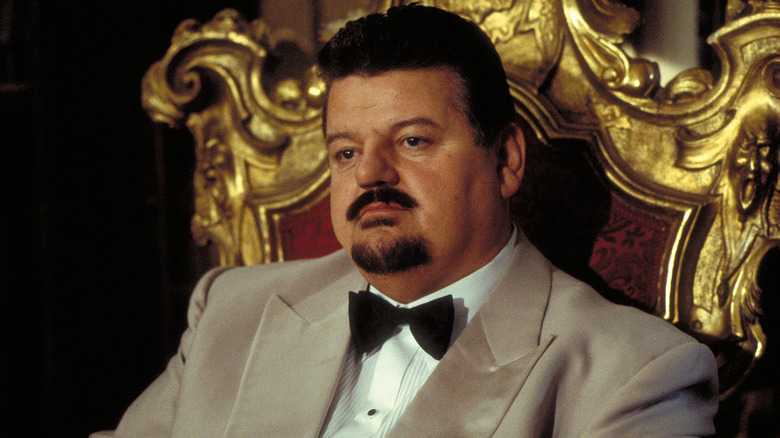 MGM
In 1995, Robbie Coltrane portrayed Valentin Zukovsky in "GoldenEye," Pierce Brosnan's debut film as 007. Zukovsky is a former KGB operative-turned-Russian gangster with a penchant for a luxurious lifestyle. By the time James Bond meets up with him in the film, Zukovsky has left the KGB behind for a place in the Russian mafia. Bond needs information about the mysterious Janus from Zukovsky, but the exchange is complicated by the fact that Bond left him with a limp after shooting him in the knee — on top of stealing both his car and his woman. Needless to say, Bond isn't Zukovsky's favorite person. 
He appears once more in 1999's "The World Is Not Enough," where he holds court in a luxurious casino in Baku. He's shot during an attempt to rescue Bond, their enmity having smoothed into something akin to friendship.
Robbie Coltrane is Hagrid from Harry Potter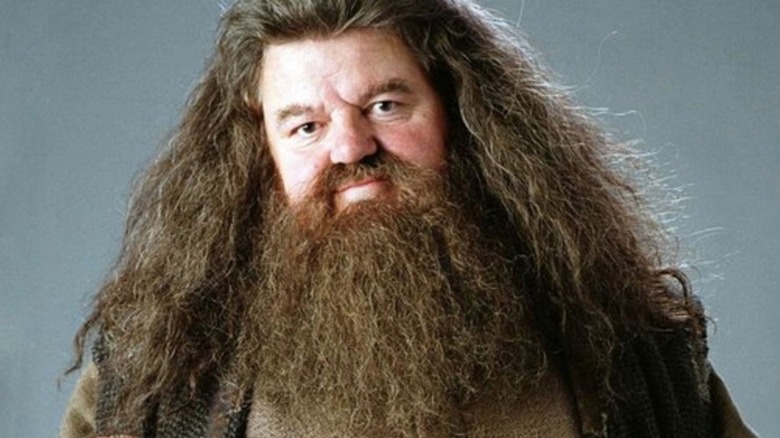 Warner Bros.
In 2001, Robbie Coltrane made his debut as Hogwarts' most famous gamekeeper Rubeus Hagrid in the film adaptation of J.K. Rowling's "Harry Potter and the Sorcerer's Stone." Coltrane would go on to portray the gentle giant for the course of the "Harry Potter" films all the way through to the two-part finale "Harry Potter and the Deathly Hallows," giving life to the simple but kindhearted man who acted as protector and mentor to Harry Potter, Hermione Granger, and Ron Weasley during their adventures at Hogwarts. The Hogwarts Keeper of Keys, gamekeeper, groundskeeper, and eventual professor of magical creatures would be a staunch ally to the heroes of the Order of the Phoenix.
Coltrane has also appeared in films such as "Ocean's Twelve" in 2004, as well as television projects such as the 2013 version of "Yes, Prime Minister" and 2019's "Urban Myths" as Orson Welles. With such an impressive plethora of roles, we're eager to see what's next for this acting legend.