The Truth About Kane Lim From Bling Empire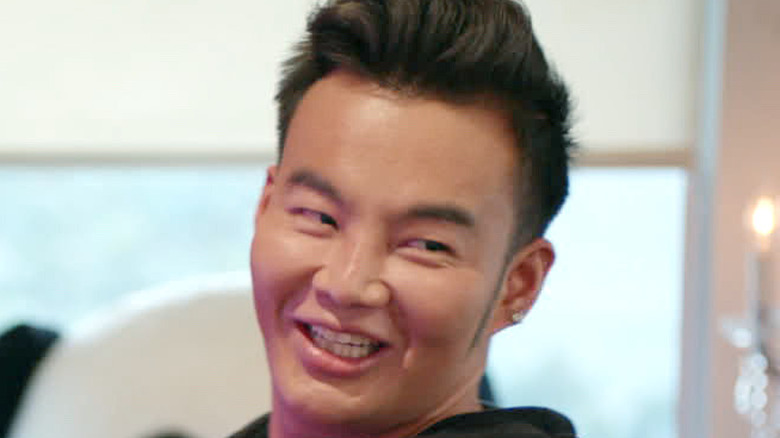 Netflix
Netflix's reality series "Bling Empire" is filled with extremely rich cast members, but Kane Lim definitely seems to enjoy his lavish lifestyle the most. The 31-year-old Singaporean is more than happy to show off his glitzy habits throughout Season 1, even saying at one point, "Just going shopping, it's the best therapy." 
Despite his expensive habits, Kane proves himself to be a loyal friend who's always there when his posse needs him — even if he causes a little mischief along the way. We saw this when he helped initiate newcomer Kevin Kreider into Los Angeles' wealthy Asian socialite scene, and later traveled all the way to Charleston, South Carolina to help his friend Kim Lee reconnect with her estranged father.
Even before "Bling Empire" returns for Season 2, Kane's infectious personality is bound to leave viewers wanting to learn a little more about him. Let's break down everything to know about the Netflix star.
Kane grew up in a wealthy Singaporean family
Kane has been well-acquainted with luxury from a young age. His parents made their fortune through industries like real estate, shipping, and oil. As Kevin noted in the first episode of "Bling Empire," Kane owns many of the fancy shopping malls in Southeast Asia.
However, Kane argues he had a relatively ordinary childhood compared to other wealthy children in Singapore. "My father would never pamper [my siblings and I] when I was young," he told Voyage LA in 2019. "He would [take me to] the nearest public bus stop and tell me to take a public bus to school. He never provided chauffeurs for us or the luxuries in life, but just the necessities such as the best education, food, and travel."
Kane first moved to the United States around nine years ago to attend university, and hopefully expand the business "from the East to the West."
These days, he's an investor and dabbles in real estate
By the time Kane arrived in the United States, he had already started a fruitful career as an investor after his dad gave him a "small loan" as a teenager. Kane quickly paid him back, making his first million dollars before his 20th birthday and cementing his family's legacy as a wealthy Singaporean family to watch. He currently runs a Los Angeles investment firm — which covers industries like wellness, renewable energy, and real estate — and is reportedly the director of K-ix Capital, another investment business.
As part of his work, Kane is a commercial real estate mogul who sells exclusive, super-expensive Los Angeles properties. Those lots include the nearly $2.7 million home he shared on his Instagram last fall.
Of course, Kane also has major Instagram influencer vibes. He's racked up over 540,000 followers as of June 2021, frequently posting about his fashion taste.
"I have used my social media presence mainly to connect with individuals who enjoy fashion, but more importantly I have used this platform to raise awareness for charities that I support," Kane told Voyage LA. He's repeatedly posted about the non-profit organization Miracles for Kids, which helps families of children with life-threatening illnesses.
Viewers will have to wait and see what lavish gossip Kane stirs up in "Bling Empire" Season 2, but for now, the socialite is thriving.