The Mob Ring That Found Its Way Onto Pawn Stars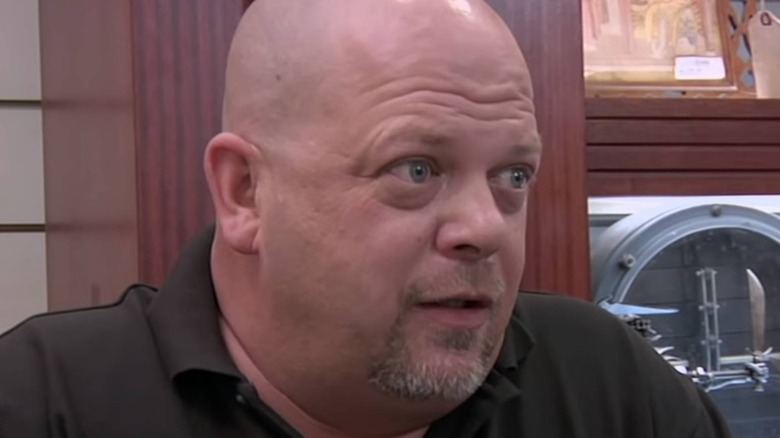 History
Las Vegas and the Mafia have ties that go back over a century ago. Believe it or not, Nevada outlawed gambling in 1910, but the mob kept the practice going through hidden casinos and speakeasies (via History). Of course, politicians legalized the practice in 1931, but organized crime already had firm operations throughout the area, especially with Sin City itself. The Italian Mafia's influence in the city has certainly diminished, but there are still a ton of engaging stories out there of criminals running what was essentially a civilized Wild West.
As such, Mafia memorabilia is a hot commodity in the area, which is good news for the Gold & Silver Pawn Shop featured on History's "Pawn Stars." The guys always love checking out items with ties to old Las Vegas. In Season 5's "Ring Around the Rockne," a seller comes in with something he claims to be one of the most significant pieces in Mafia history — a ring that used to belong to Charles "Lucky" Luciano.
Considered by many to be the father of organized crime in the United States, Luciano left a violent, bloody legacy. Naturally, when a man walks in claiming he has a ring that Luciano wore, the guys express intrigue. The seller wants at least $100,000 for the piece, which may not have been out of the question if he could've proven a connection.
The seller has no way to authenticate the ring
History
When talking six figures, the "Pawn Stars" cast always wants to get a second opinion, and they have their trusty experts to lend a hand. For this piece, Rick Harrison calls in Jonathan Ullman, who at the time was the executive director of The Mob Museum of Las Vegas. He displays definite interest in the item, but the seller can't prove that it belonged to Luciano. It's clear he doesn't want to incriminate anyone in possession of the ring, and when talking about how his mother came by it, all he'll say is that she provided services to the Mafia. 
Everything could be on the up-and-up (relatively speaking), but without any concrete evidence, there's no way for Ullman to say that the ring 100% belonged to Luciano at one point. The "Pawn Stars" crew isn't in the business to make haphazard purchases, so they ultimately pass on buying the item.
The guys have proven they don't mind buying items related to crimes, but sellers need the paperwork above all else. On a separate episode, a man walks in with a piece of a bill that was part of D.B. Cooper's haul in 1971. Even though it's just a fragment of a bill, Rick doesn't mind paying as much as $1,600 to get his hands on it. We suppose it makes sense the Mafia wouldn't be as litigious when it comes to tracking the history of their regalia.