The First Reactions To Black Widow Are In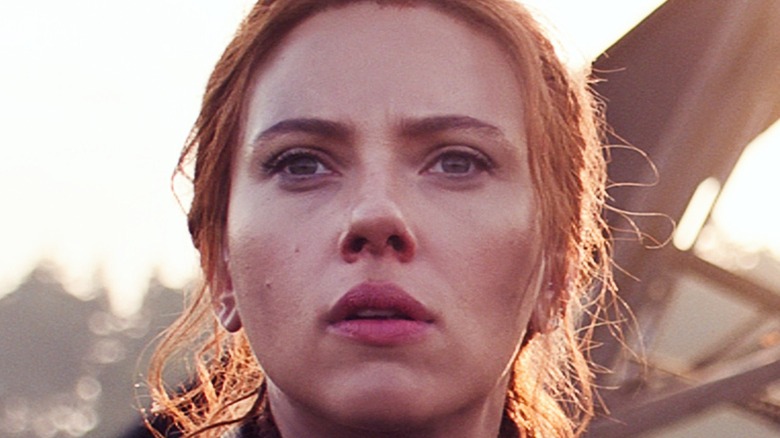 Marvel Studios/Disney+
The much-anticipated new Marvel movie "Black Widow" isn't due in theaters and on Disney+ Premier Access until July 9, 2021, after several delays that pushed it from its original release date of May 1, 2020. Fans have been waiting a long time for a movie about this character, which started life as a Lionsgate project in 2004 but was scrapped in 2006, when the rights reverted back to Marvel (via CBR). Natasha Romanov was then incorporated into the movie "Iron Man 2" in 2010, and as viewers know, she became an integral part of the Avengers. But as the Marvel Cinematic Universe took shape over the course of the past decade, moviegoers started to grumble about the short shrift Black Widow was getting, with no stand-alone film of her own to take her out of her supporting-character status. 
Talk about a "Black Widow" movie was being bandied about as early as 2010 (via SuperHeroHype), but it wasn't until 2018 that it seemed any progress was being made with the hiring of a writer — even though the film hadn't actually been greenlit yet (via Variety). Now, 11 years after Natasha's first appearance in the superhero franchise as the third original Avenger that viewers get to meet, she's finally got that starring turn as the Russian superspy "Avengers" fans have come to know and love. 
And it looks like fans are, after all this time, going to get the "Black Widow" they deserve. First reactions are starting to come in from people who've actually seen the movie, even though it's not due out for another few weeks. And they're good.
Critics love the action and the characters but wish Natasha's story had come sooner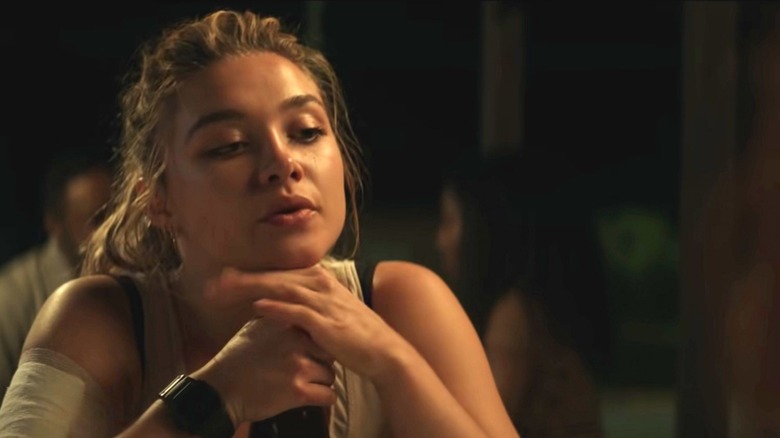 Marvel Studios/Disney+
Many of the social media posts from people who've seen the movie are praising both the characters and the acting, although they're not revealing much yet because the review embargo for the film extends to June 29, according to Beyond the Trailer's Grace Rudolph, who called the movie "very raw." She praised Florence Pugh's character Yelena Belova and said that "the action scenes are excellent." 
Collider's Steve Weintraub noted on Twitter, "While entire cast was great both @Florence_Pugh and @DavidKHarbour hit home-runs with their performances. No way audiences don't want more of both characters. ... Also the action is non-stop in 'Black Widow' and so well done." Pugh also got kudos from Insider's Jason Guerrasio, who called the film "The Moment Florence Pugh Took Over The World."
Along with the action, which Inverse's Eric Francisco describes as "brutal; this is the first MCU film I've seen where stunts look like it hurts," people are praising the level of dialogue, especially in the first half. IndieWire's Kate Erbland called it "intimate and talky."
Some, however, are lamenting that this film came so late, dampening its emotional impact in the wake of the fact that Black Widow's death came in "Avengers: Endgame," with so much less fanfare than she ought to have had. "Though smaller in scale, it leaves an impact w/ impressive action set pieces, a strong and compassionate introspective story, and humorous spy family dynamics. Wish we got this sooner," said GeeksofDoom's Michael Lee.
Jenna Busch echoed the sentiment in stronger terms. She posted, "I loved 'Black Widow' so much...and it makes me angry. ScarJo deserved this film long ago. I loved everyone in it, but it bothers me so much that Marvel waited so long." After praising Pugh and the fight scenes, she added, "I just HATE that we had to wait for this until after Endgame. It's hard to separate my feelings about it from my thoughts on this film."
Overall, critics think fans will really love Black Widow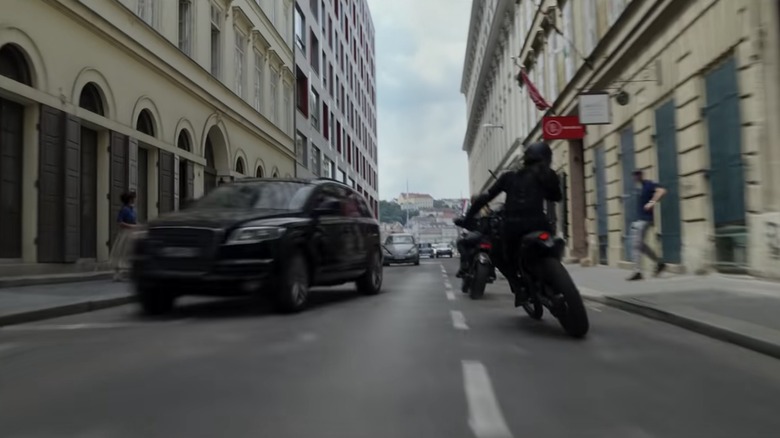 Marvel Studios/Disney+
Collider's Perri Nemiroff, however, countered the "Endgame" argument by saying, "Was kinda worried about watching this story unfold knowing what's to come in 'Endgame,' that it might diminish the stakes, but that wasn't the case. In fact, this is the kind of prequel story that feels bound to enhance other installments of the MCU."
Among those who couldn't stop raving about the film, Eric Davis from Fandango and Rotten Tomatoes posted, "'Black Widow' is a tense, action-packed spy thriller that truly completes Natasha's story in a visceral & emotional way. Florence Pugh CRUSHES it & is an instant MCU icon. This is like the MCU's Bond movie w/ shades of 'Mission: Impossible' & 'Thelma & Louise.'" He also said, "If this is Scarlett's final performance as Natasha, it's a great way to go out."
Although some felt (like Digital Spy) that the action dragged, and others thought the timing was off, other enthusiastic kudos praised the film from beginning to end. Critic Brandon Davis said, "Start to finish, the movie is great. Excellent surprises, emotional character moments, bad-ass action, and Scarlett Johansson finally gets to pour everything into the role." Joel Meares of Rotten Tomatoes was one of the critics comparing the movie to "The Americans," calling it "A true ensemble piece that mixes awesome hand-to-hand combat with reflections on family, free will, [and] finding your place." Variety's Courtney Howard proclaimed it "an exhilarating shot of adrenaline" with "multi-layered thematic resonance."
Of course, Looper has its own opinion, thanks to critic Tim Lammers, and it's as positive as the rest. He said, "Marvel's 'Black Widow' has it all — intense action, great FX, lots of laughs, engaging story & dysfunctional family-like drama! @theblackwidow is a big winner for the #MCU!"
Time to get hyped!