These Are The Most Expensive Cars In The Fast And Furious Franchise
With the upcoming "F9," the "Fast and Furious" franchise has managed to elevate itself to new levels. It's hard to believe that the series has grown from a grounded street racing film into a big-budget action blockbuster that isn't even afraid to put a car in space. It's a franchise that adapts well to change and goes bigger with each installment. Yet, while the stunts may have become more complex and intense over the series' impressive run, "Fast and Furious" has always held onto a few crucial ideas since the first film. For one, the close family bond is central to the franchise. And two, the cars are still some of the series' biggest stars.
From the cavalcade of drift tuners "Tokyo Drift" features to the trademark muscle cars Dom Toretto (Vin Diesel) usually sports, the "Fast And Furious" franchise showcases some of the most impressive vehicles in the world. But some of the films' most amazing cars are also the franchise's most expensive.
Fast and Furious' most expensive cars are worth millions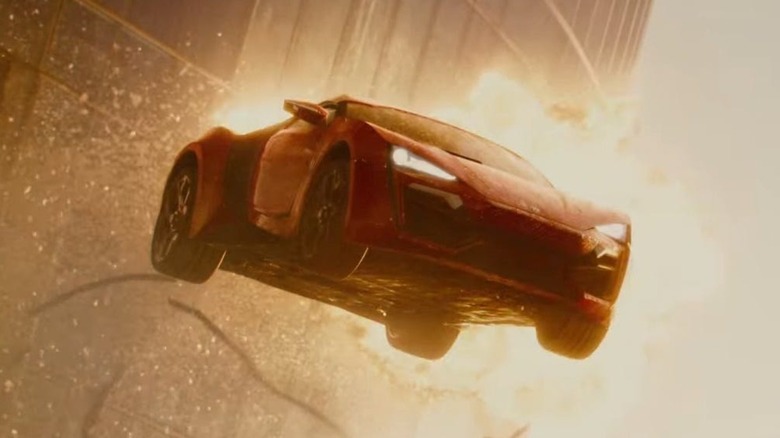 Universal Pictures
The franchise's most expensive cars throughout its history certainly break the bank for most of us. Their four most costly vehicles easily go over the million-dollar mark. 
Let's start with Tej Parker's (Chris 'Ludacris' Bridges) Ferrari FXX in "Fast and Furious 6." According to Robb Report, an actual Ferrari FXX could cost up to $2.6 million, depending on the specific model. Still, per HotCars, since it was discovered that the Ferrari FXX in the film was actually a kit-car clone, the price tag would have been cheaper. Meanwhile, the Bugatti Veyron driven by Roman Pearce (Tyreese Gibson) in the Abu Dhabi scene of "Furious 7" would have been a definite $1.9 million (via Luxe Digital). 
The pair of sleek Koenigsegg CCXRs Roman and Tej shine together in during the ending of "Fast Five" drive up the price tag further. These sleek Swedish vehicles can start at $2.3 million thanks to how rare they are becoming as they change owners and, in some unfortunate cases, become wrecked (via The Drive). 
Even then, the franchise's most expensive car so far is the Lykan Hypersport featured in "Furious 7." According to the manufacturer W Motors, the vehicle boasts several spectacular features such as going 0 to 62 mph in 2.9 seconds, scissor doors, and jewel-encrusted headlights. The car costs a staggering $3.4 million, making its starring role of being shot at and crashing through three skyscrapers in the film probably one of the most expensive stunts based on car value alone.