The Unexpected Obstacle The Stars Of Luca Faced While Filming - Exclusive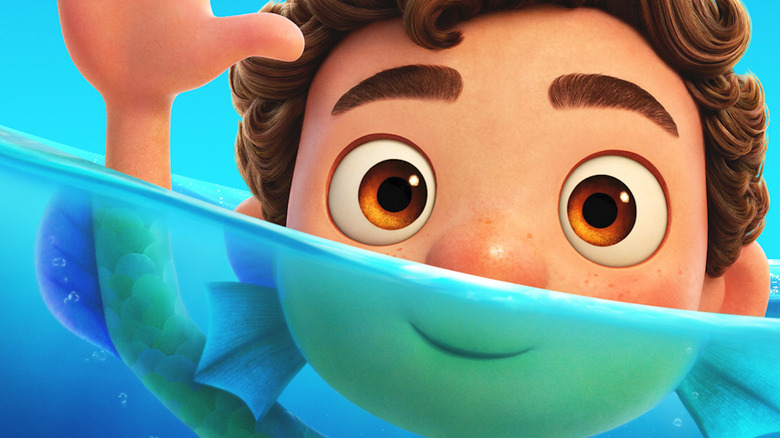 Disney/Pixar
The animated, Italy-set coming-of-age film "Luca" has the unusual distinction of being the first Disney-Pixar film to be made almost entirely at the cast and crew's homes due to the COVID-19 pandemic. "Luca" follows the title character as he embarks on a summer adventure with newfound friend Alberto as they explore a small town in the Italian Riviera. But underneath their carefree exterior they are hiding a secret — they are really shape-shifting sea monsters.
Directed by Enrico Casarosa and produced by Andrea Warren, "Luca" stars Jacob Tremblay as Luca, Jack Dylan Grazer as Alberto, Maya Rudolph as Luca's mother Daniela, and Jim Gaffigan as father Lorenzo. Each of these cast and crew members faced their own set of challenges while filming. In general, animated movies are created differently than live-action films, as the stars don't always have to be in the same room together to record their lines. But "Luca" was particularly isolating for the cast — not only did they record separately, they never even met. 
"It's pretty amazing," said Gaffigan of his scenes with Rudolph. "'Luca' was all done during the pandemic, and it was all done virtually. We never did a session together. There was discussion of the possibility of it, but with the magic of editing, yeah, we were never even on the same phone line or recording session."
They weren't the only ones.
Some of the Luca cast never met, despite feeling a great 'camaraderie'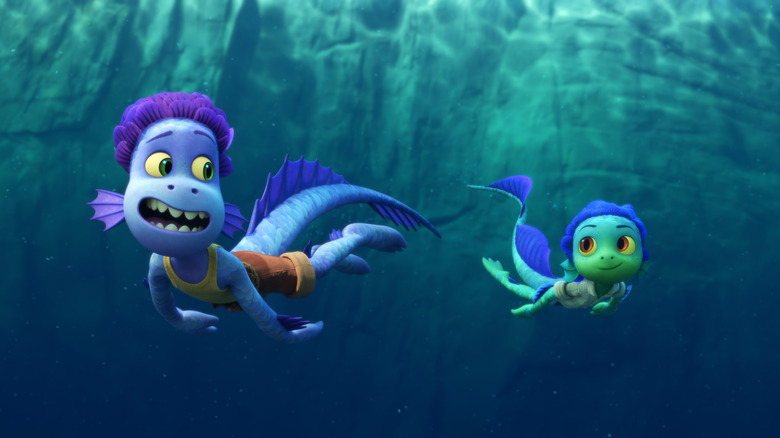 Disney/Pixar
The same goes for leads Jacob Tremblay and Jack Dylan Grazer, whose on-screen chemistry is what really makes "Luca" work. "You know something, we had never met in person till today," Grazer said the day of their exclusive interview with Looper. "The first time we ever really communicated is because of these press junkets, so we did a meeting on Zoom to get to know each other before we started this press stuff."
But that didn't stop either of the young pros from giving their best performance. "It's pretty funny," said Tremblay, "because our chemistry in the movie just seems so good, and we had never met each other. It's cool to see how it was pieced together. I think they did an amazing job, and Jack did an amazing job playing Alberto too."
But not meeting his co-star wasn't the only obstacle Grazer faced during production. His home studio, where he recorded all his lines for "Luca," was set up in his mother's closet."We always talk about Jack recording his whole performance, from the first session to the last one, in the closet," said Casarosa. "He had blankets up, and very often we would have to remind him to not lean on the hangers of his mother's skirts. So that is something we remember fondly, as like, 'Oh my gosh, what a way to make this work!' I felt for him, they were long hours in there."
Beyond that, there were other "hiccups" along the way, according to Warren. 
Working remotely created other challenges for the cast and crew of "Luca"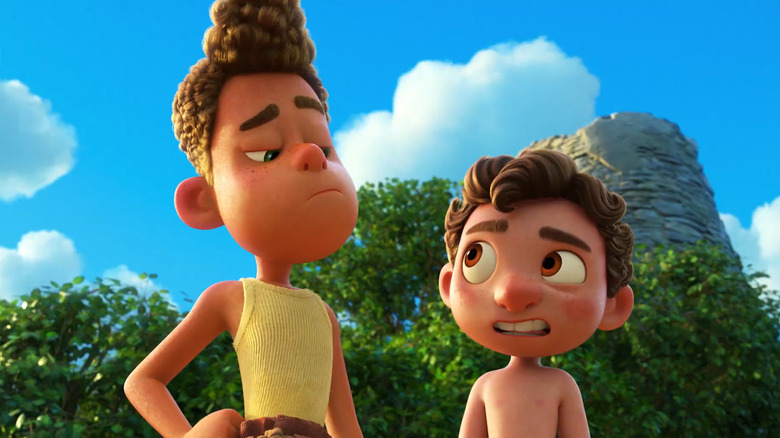 "Everything was just more complicated and communication took longer," said "Luca" producer Andrea Warren. "I mean, there were some tricky moments because the actors had to be their own technicians, so sometimes we would be doing a performance and think, 'That was wonderful!' And then the actor would say, 'Oh shoot, I forgot to hit the [record] button!' And you're like "No!" So there were a lot of challenges along the way."
But in the end, a wonderful film was made and the cast and crew have memories that will last a lifetime. "We wish we had didn't have that distance, but because of the craziness we were all going through, it created a lot of camaraderie," said Casarosa. "I was really surprised and happy that we still felt this wonderful team coming together, going through this slightly crazy time, but making the movie pulled us together. We were able to still find this wonderful connection, so there were a lot of silver linings."
"Luca" is available to stream on Disney+.