The Classic Horror Thriller That Took Only 18 Days To Film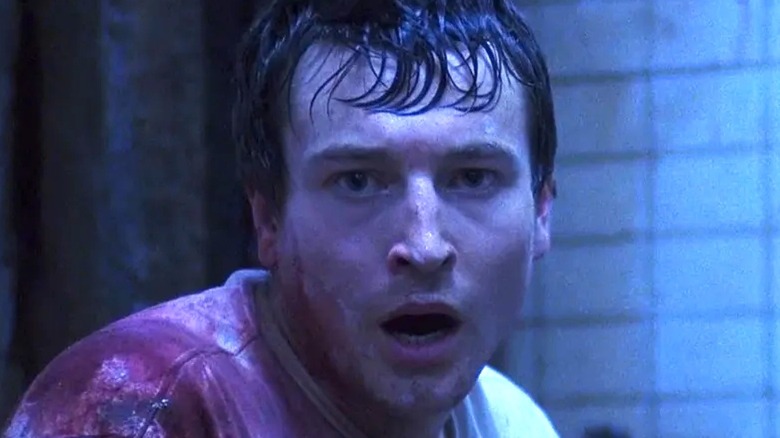 Lions Gate Films
Perhaps more than most genres, horror movies seem uniquely suited to excel in the face of extreme budgetary restrictions. That's probably a good thing — because horror movies are so hit-or-miss at the box office, studios only rarely fund a big budget creeper. This compels creators — who know they'll never have much of a budget to play with — to not only keep their stories taut and focused, but also pushes them to innovate in regard to the horrific sights that such movies are known for.
Said approach has served the genre well too, with no-budget shockers like "The Texas Chainsaw Massacre," "Halloween," "The Blair Witch Project," and "Paranormal Activity" delivering previously unknown thrills and chills unto the horror-loving masses while also hitting big at the box office. In doing so, they proved money isn't everything when it comes to getting your bloodletting kicks. In fact, it seems the only real constraint that budgetary issues had on those legendary films was restricting their shooting schedules, as each was completed in far less time than your typical feature film.
They're not the only no-budget marvels to kick through production in speedy fashion, though. And it may surprise you to learn one of the all-time horror classics miraculously hacksawed its way through production in a mere 18 days before eventually setting the box office ablaze.     
Believe it or not, Saw needed just over two weeks to shoot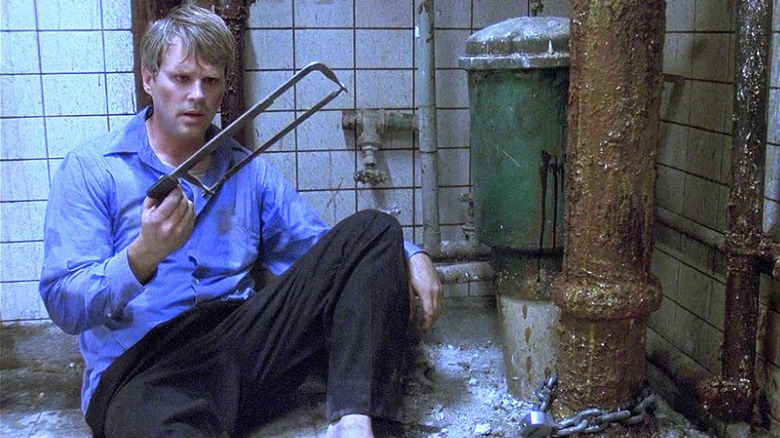 Lions Gate Films
That film was 2004's "Saw," which would go on to launch one of the most grueling, and lucrative horror franchises the big screen has ever seen. 
"Saw" was, of course, directed by future "Conjuring"-verse mastermind James Wan, and written by "The Invisible Man" helmer Leigh Whannell, who starred alongside Cary Elwes. As the story goes (via The AV Club), the pair couldn't get "Saw" made in their home country of Australia, so they jetted off to Hollywood to try their luck there. The move paid off when, as Wan mentioned in that AV Club interview, Twisted Pictures fronted a very modest sum to get "Saw" made. "It wasn't until recently that I found out that we shot Saw for about $700,000. And we shot it in 18 days. Here I was thinking, 'Ah, I finally get the chance to make a big Hollywood film. It's gonna have bigger financing behind it, and it wouldn't be such a struggle.'"
The miniscule budget and protracted shooting schedule for "Saw" made for more of a struggle than Wan anticipated. But he and Whannell did themselves a big favor by building their film around a minimal cast, and essentially utilizing just a single location. As it was, they were able to quickly get the film's sets built in a Los Angeles warehouse, and get their film in the proverbial can in no time flat. And given the way "Saw" came out, one has to believe it shouldn't have happened any other way.