The Teddy Bear Pitcher That Sold For A Surprising Amount On Pawn Stars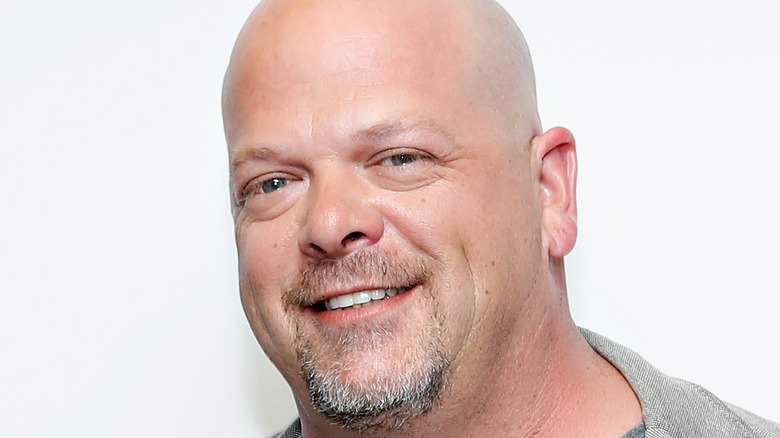 Cindy Ord/Getty Images
While some historical items on "Pawn Stars" can only be described as creepy, the Roosevelt Bears pitcher that seller Sondra brings into the shop for Rick Harrison to evaluate on the Season 13 episode "All Pawns on Deck" is definitely charming. The Buffalo Pottery Company released its Roosevelt Bears line early on in the company's history, in the early 1900s. The line would ultimately be one of the most popular in the company's century-long history, making pitchers like Sondra's pretty valuable.
Sondra's pitcher, in particular, is covered in various scenes of bears preparing to see Theodore Roosevelt. It's pretty colorful — which the seller says was rare for the time — and in very good condition, except for some light crazing of the glaze. This shouldn't matter too much, as this piece is an antique for display, not daily use. But why is the pitcher covered in anthropomorphic bears, and how much did it sell for?
The tale of Teddy's Bears
Well, the story goes that about a year into Theodore Roosevelt's first term as president (after the assassination of William McKinley), he went on a hunting trip near Onward, Mississippi, in 1902 (via the United States National Parks Service). Other members of his party were able to locate bears to hunt, but Roosevelt wasn't having any luck. The new president's assistants tied a bear to a tree to give him an easy shot, but he refused to shoot the bear — pride probably had something to do with it. 
The story came out in the form of a political cartoon, drawn by Clifford Berryman and published in The Washington Post on November 16, 1902. From there, the tale of Roosevelt's compassion for that bear became firmly established in American folklore, especially with the invention of "Teddy's Bears" by Morris and Rose Michtom, a husband-and-wife duo of candy sellers and stuffed toy makers.
With her pitcher situated in American history, owner Sondra tells the camera that she wants to sell her beloved antique for $2,500 to help pay for the expenses of living in her motor home full time. She tells Rick Harrison that she got the pitcher at an antique show, where she paid $2,500 for it — although she has seen them go for $4,000. Rick says he's only seen them go for $2,000, but Sondra retorts that it's based on condition, and Rick agrees. With this back-and-forth out of the way, the two begin the real negotiations.
Rick Harrison purchases the Teddy Bear pitcher
Apparently confident in the authenticity of the Roosevelt Bears pitcher, Rick decides not to call in one of the many experts that appear on "Pawn Stars" to evaluate it. This is a risky move because not all presidential memorabilia does well in the shop — as Rick learned in Season 11 when a seller came in asking for $2,500 for a signed Richard Nixon biography that turned out to be worth only one-tenth of that valuation.
He counters Sondra's asking price of $2,500 with $1,200, which she promptly rejects. The seller says she'll take $1,500 for the antique pitcher, but Rick isn't budging much and counters with $1,300. But neither will Sondra, who counters with $1,400. Finally, after some contemplation and a heavy sigh, Rick agrees to purchase the Roosevelt Bears pitcher for $1,400, and the two go into the back to sign paperwork. What a surprising amount for some old pottery with cracks in its glaze!