The Guillermo Del Toro Fantasy Series Everyone's Glued To On Netflix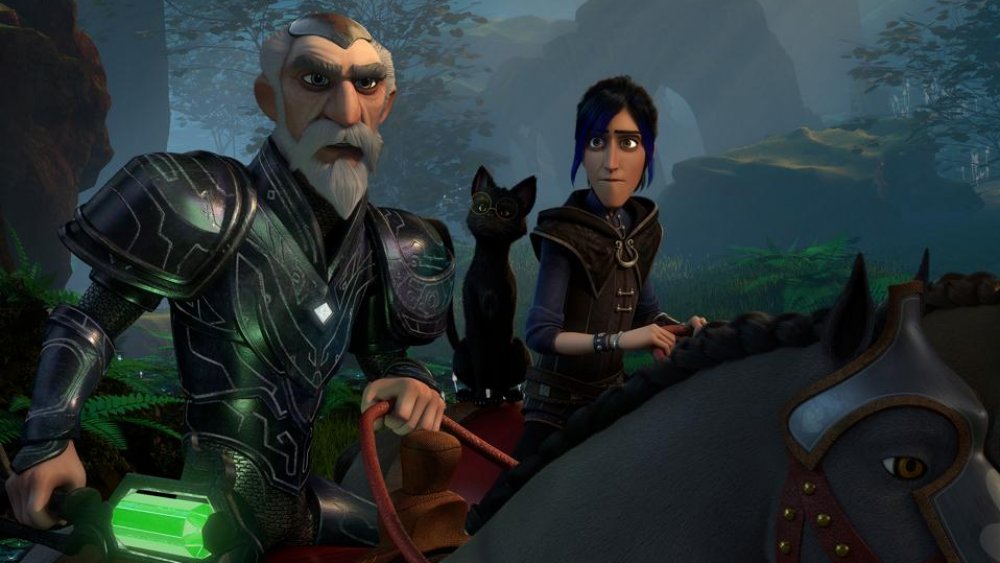 Netflix
Guillermo del Toro hasn't released a film since 2017's Best Picture-winning romantic fantasy The Shape of Water, but that doesn't mean his fans can't get their peepers on new stories from cinema's current maestro of the macabre. 
In fact, folks who've been keeping an eye on Netflix have no doubt discovered a bounty of del Toro-tinged tales in recent years. While they're decidedly more family-friendly than much of his work, there's still loads of gothic-tinged magical madness to find within the one of them: The Tales of Arcadia saga. 
It began in 2016 with the series Trollhunters, about an average kid in town of Arcadia who unexpectedly becomes the defender of both human- and trollkind, battling all manner of evil-doing creatures along the way. Trollhunters ended in 2018, and was quickly followed with Del Toro's 3Below, which found teenaged extraterrestrial royalty seeking refuge in Arcadia, and finding much more going on in the seemingly sleepy town than they expected. 
All's been quiet on the Tales of Arcadia front since 3Below dropped its final season in the Summer of 2019, but Del Toro and crew have finally returned to Arcadia for a shiny new chapter in their ongoing epic, and it has already claimed a spot in Netflix's vaunted Top 10 list of most-watched series. It's called Wizards: Tales of Arcadia, and it finds characters from both prior Arcadia series joining Merlin's apprentice (and Arcadia coffee-slinger) Douxie on a time-tripping journey thorough magical tales past and present in hopes of preventing a patently bleak future for the world.
Possessed of wicked intellect and epic narrative scope, and fueled by awe-inspiring animation, Wizards is a most welcome addition to the Tases of Arcadia saga, and should more than sate the fantastical appetites of both kids and their Guillermo del Toro-loving parents.   
There's more Tales of Arcadia madness to come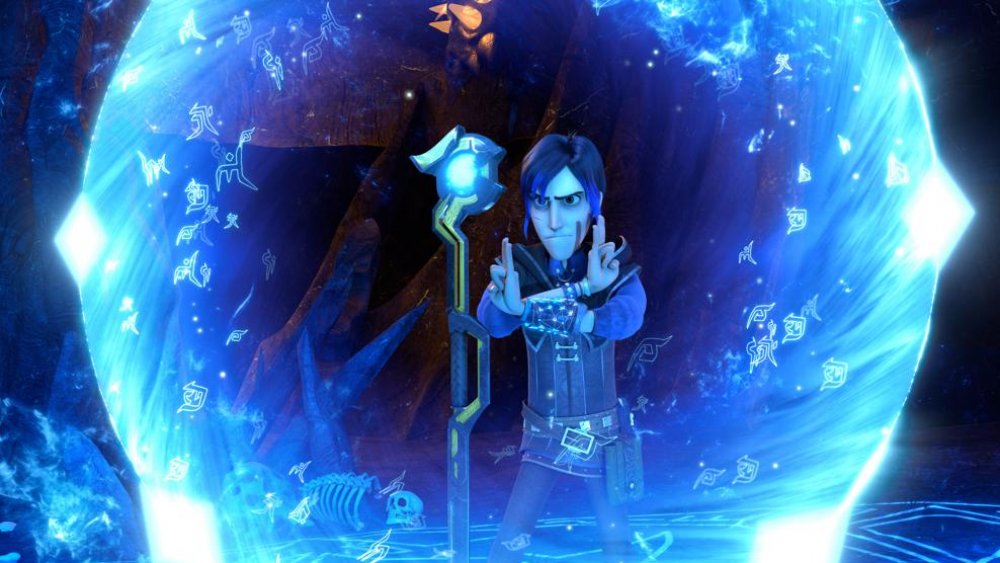 Netflix
If you've been following Guillermo del Toro's Tales of Arcadia saga since the early days, you probably know Wizards was initially tapped as a trilogy-capping chapter to the series. Wizards certainly serves as a sort of ending to certain Arcadia storylines, but fans who've already completed their binge have no doubt registered that the series' final moments more than leave the door open for more. 
Don't worry, del Toro and his collaborators are not going to leave you dangling with Wizards' not-quite-a-cliffhanger of an ending, because more Tales of Arcadia madness is coming. As reported by Collider, del Toro made that announcement the same day Wizards made its Netflix debut, and surprised many with the news that not only will the next chapter of the saga be a feature film, but that said movie was always his endgame for the animated series.
"We outlined a vast trilogy of interconnecting mythology and characters that we always hoped could culminate with a massive 'all-stars' reunion," del Toro said. "DreamWorks Animation and Netflix both shared the very ambitious notion of doing the three series, interwoven and then finishing off with a bigger, epic-sized feature film to top it all off."
While we don't know all the details surrounding the Tales of Arcadia cinematic event, we do know it will be titled Trollhunters: Rise of the Titans. We also know it will expand on the series' continued crossing-over of narratives, and find key players from all walks of the Arcadia saga (with voice work from Emile Hirsch, Tatiana Maslany, Steven Yeun, and more) banding together to battle Wizards' baddies The Arcane Order and protect magical realms in Arcadia and beyond.
While no official release date has been set, Rise of the Titans is slated to hit Netflix sometime in 2021, and will hopefully give the Tales of Arcadia saga the epic ending it has undeniably earned.