Trollhunters: Rise Of The Titans Netflix - What We Know So Far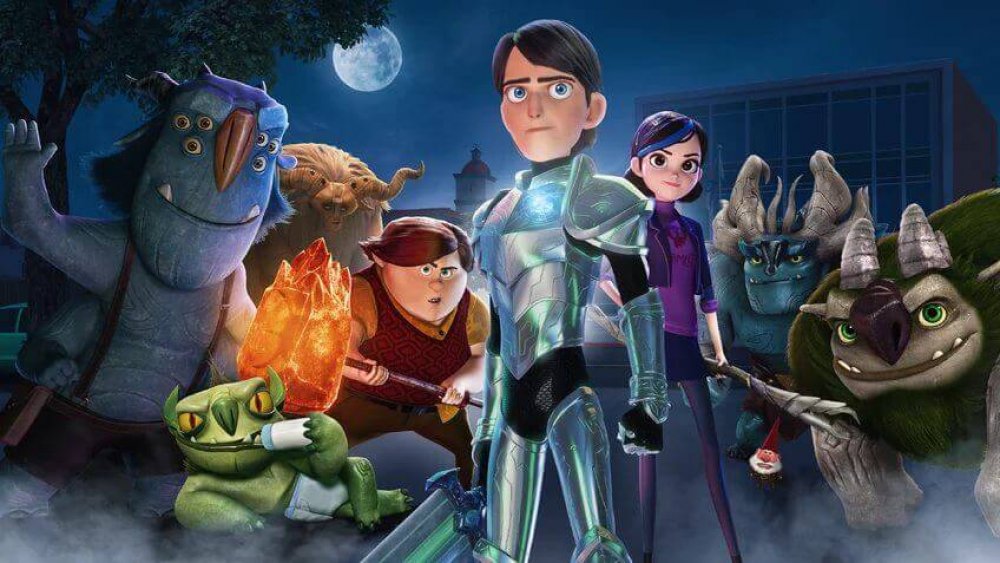 Netflix
Something big is coming to Arcadia, and it seem the only way Guillermo del Toro can tell the story to come is in an epic Netflix crossover event.
That event will come in animated form, and find heroes and villains from Netflix and Dreamworks Animation's del Toro-produced Tales of Arcadia trilogy banding together to ward off an ultimate evil. If you're unfamiliar with the Tales of Arcadia series, it's set within the cozy confines of the tiny titular town, which has served as ground zero for all manner of mythological adventures since the original Trollhunters series hit the streaming platform back in 2016. 
Trollhunters aired 53 fantastical episodes on Netflix over its mostly brilliant three-season run, and passed the baton to the equally enchanting, world-expanding alien fable 3Below in 2018. The second and final season of 3Below hit Netflix in the summer of 2019, and while the series didn't make quite as much noise as its predecessor, it proved no less a magical journey through the beguiling underbelly of Arcadia. With the arrival of Wizards, Del Toro's envisioned animated trilogy is complete, and (as reported by Collider) he's finally unveiled the ultimate endgame for his Tales of Arcadia saga.
"Team Trollhunters committed, about a decade ago, to try and push the boundaries of 3D CGI animation made for TV," del Toro says. "We outlined a vast trilogy of interconnecting mythology and characters that we always hoped could culminate with a massive 'all-stars' reunion. DreamWorks Animation and Netflix both shared the very ambitious notion of doing the three series, interwoven and then finishing off with a bigger, epic-sized feature film to top it all off."
Now that del Toro's vision is officially a go, fans of the Tales of Arcadia universe are getting pumped to see how the maestro brings his worlds fully together. Here's every we know so far about Trollhunters: Rise of the Titans.   
When will Trollhunters: Rise of the Titans arrive on Netflix?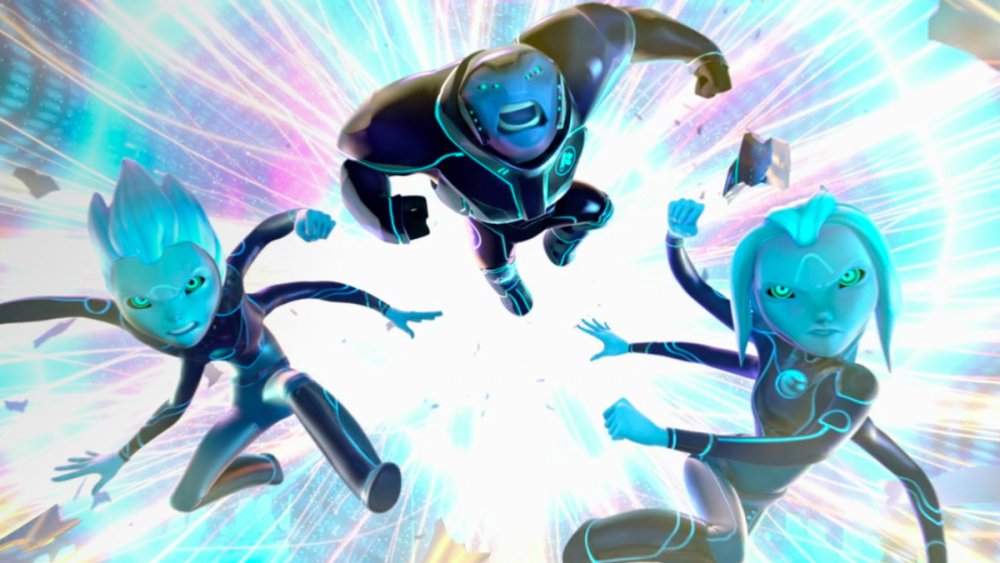 Netflix
Perhaps more important than how Guillermo del Toro and his creative team bring their Tales of Arcadia narratives together is when that momentous movie event will happen. As mentioned, the third part of the Tales of Arcadia trilogy has only just arrived on Netflix. As such, it's reasonable enough to imagine both Netflix and del Toro will want to give the new series a chance to breathe on its own, even if there are several familiar Tales of Arcadia characters among the Wizards cast.
Either way, one would rightfully assume that means it's going to be a little while before they unleash the crossover madness of Trollhunters: Rise of the Titans. One would be 100% correct in that assumption, as Netflix and Del Toro have officially announced the mammoth Tales of Arcadia crossover flick will not hit the platform until sometime in 2021. A proper release date has not yet been set. 
As torturous as that wait will seem to both adult and child fans of the family-friendly series, the good news is that animation is one of the few outlets in Hollywood the production of which hasn't been entirely shut down over pandemic concerns, since much of the work can be done remotely. As such, there's little reason to think Rise of the Titans won't be ready in time for its 2021 release, so go ahead and stay pumped, and maybe take the time in between to revisit every other Tales of Arcadia story ahead of the big day.  
Who will be in Trollhunters: Rise of the Titans?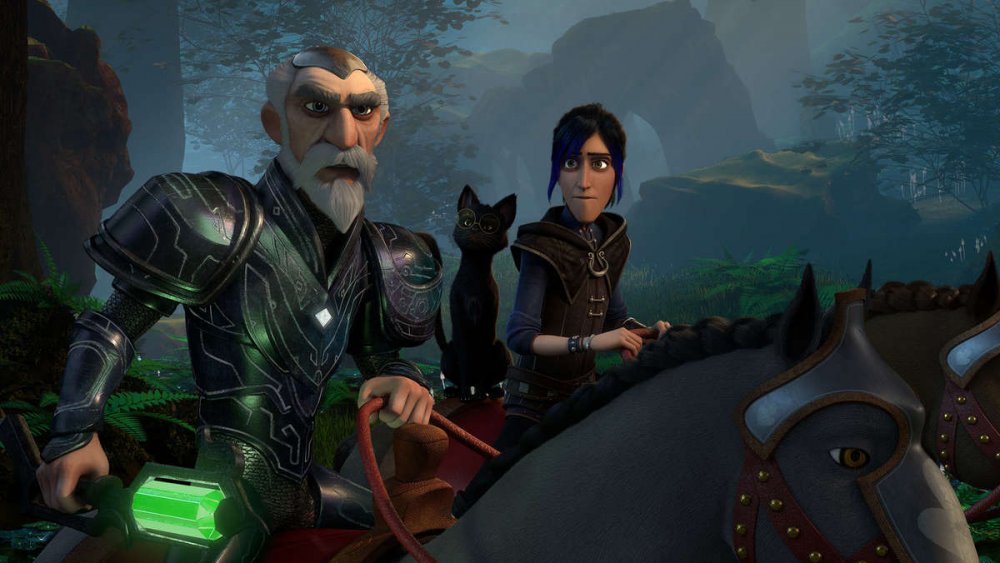 Netflix
Now that we more or less know when Trollhunters: Rise of the Titans will be arriving on Netflix, the question becomes whose voices will be featured among the movie's cast. When Rise of the Titans finally arrives in the land of streaming, it will do so as the culmination of nearly five years of storytelling over three separate series. Taking that into account, it's safe to surmise that the cast for the crossover event will be as big as the film itself, with good guys and bad guys from all over Arcadia and beyond joining the adventure.
That being the case, the call sheet for Trollhunters: Rise of the Titans is certain to read as who's who of both Tales of Arcadia lore and primetime Hollywood talent, with the likes of Emile Hirsch (Once Upon a Time in Hollywood), Tatiana Maslany (Perry Mason), Steven Yeun (The Walking Dead), Kelsey Grammar (Frasier), Lexi Medrano (all three Arcadia series), Charlie Saxton (Betas), Alfred Molina (Spider Man 2), and Nick Offerman (Devs, Parks and Recreation) all set to reprise their roles from the Arcadia trilogy. So, too, are Diego Luna (Rogue One: A Star Wars Story), Nick Frost (Shaun of the Dead), Cole Sand (Masters of Sex), Colin O'Donoghue (Once Upon a Time), Cheryl Hines (Curb Your Enthusiasm), and several more Arcadia regulars.  
While that may not quite be a Marvel Cinematic Universe-level roster of talent, del Toro and Co. have still assembled an incredible voice cast to bring their mythical tale to vivid life, and it'll be an utter delight to hear them all trading lines in Rise of the Titans.
What will Trollhunters: Rise of the Titans be about?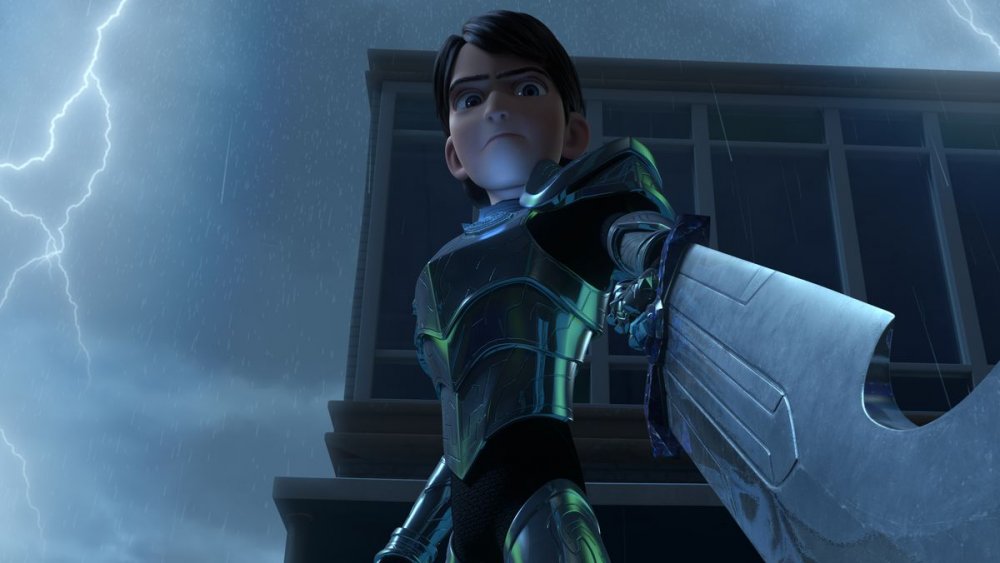 Netflix
As for what exactly Trollhunters: Rise of the Titans will be about, the particulars of the film aren't entirely known just yet. What we can tell you is that, while the upcoming film will be a full-on Tales of Arcadia-fest in terms of the characters currently set to weave their own magic into the story, that "all-star reunion" Guillermo del Toro teased in his press release actually begins in the newly-dropped Wizards, with Jim, Claire, Toby, Blinky, and the many of the original Trollhunters cast featuring heavily in the narrative. 
Without spoiling anything, we can also say that Wizards itself is fairly grandiose in scope, and ends with an absolutely massive cliffhanger that sure to play a major part in the magical madness to come. 
That being said, outside of the fact that characters from every Tales of Arcadia story will be banding together to face down a coming evil, we do know that evil will come in the shape of the nefarious Arcane Order, who have plans to seize control of all the magic shared between humans, trolls, wizards, and extraterrestrial royalty alike. So even if we don't know the Arcane Order's exact plans, they'll no doubt be looking to use that magic toward some devious, Earth-enslaving end.
As it is, the Tales of Arcadia saga has become a first-rate bit of world- and mythology-building in the hands of del Toro and his creative team, and we're genuinely excited to see how that crew brings their mythic tale to a suitably epic close.