The Thrilling Drama Hidden Gem You Can Find On Netflix
Netflix has no shortage of exciting thrillers to enjoy. Whether you're looking for a spy chase, a heist, or something a bit more supernatural, the streaming giant is likely home to something you'll like. There are even more exciting films to watch, too, when you explore the world of foreign cinema. When accepting his Oscar for "Parasite," the first ever foreign-language Best Picture winner, director Bong Joon Ho said "Once you overcome the 1-inch-tall barrier of subtitles, you will be introduced to so many more amazing films" (via Chicago Tribune). We couldn't agree more. 
"Time Share" or "Tiempo Compartido" is a 2018 Mexican film. It tells the story of Pedro (Luis Gerado Méndez), who is on vacation at a luxury resort with his family. Much to his dismay, they soon finds that the hotel overbooked, and must share their accommodations with the wife and son of a hotel custodian, Andres (Miguel Rodarte). Soon, Pedro and Andres realize that despite their initial differences, they must come together to rescue their families from the hotel's sinister, mysterious plan to take their loved ones away. 
Time Share is a visually appealing psychological thriller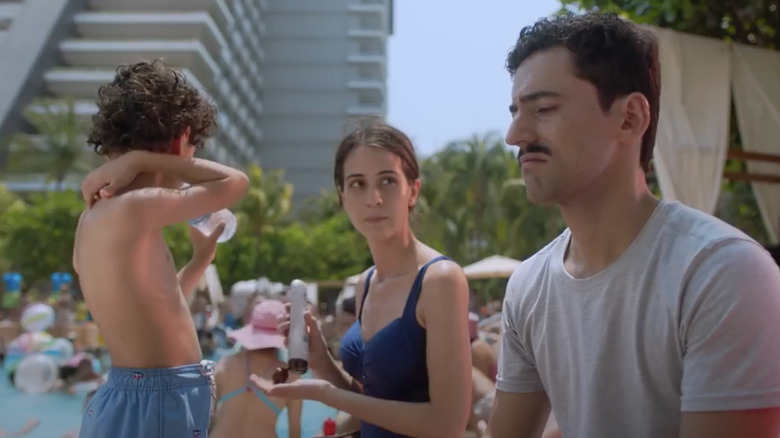 Netflix/Youtube
A picturesque family vacation turned menacing is an incredibly enticing film plot, bolstered even more by the performances of the actors in "Time Share." Though Luis Gerardo Méndez and Miguel Rodarte may not be well-known to American audiences, both have built deep resumes in Mexican film and television. Additionally, "Time Share" also stars RJ Mitte, best known to audiences as Walter White, Jr. on "Breaking Bad," though in "Time Share," he's the one playing the mysterious, calculating character. The film has been lauded by critics, holding an 86% approval rating on Rotten Tomatoes. Variety's Guy Lodge praises the film's mystery, saying, "The surface of 'Time Share' may be liberally splashed with chlorinated blues and violent magentas, but the heart ticking beneath Mexican writer-director Sebastián Hofmann's sleekly insidious sophomore feature is as black as burnt steak, and all the more alluring for it." 
"Time Share" made its debut at the 2018 Sundance Film Festival, where it won the World Cinema Dramatic Special Jury Award for Screenwriting. It later hit Mexican theaters in August 2018, and now, international audiences can enjoy the film on Netflix. If you're looking for a visually appealing, tantalizing, psychological thriller, "Time Share" is next great Netflix watch.