Horror Movie Hidden Gems On Netflix You Need To Watch At Least Once
This content was paid for by Netflix and created by Looper.
There's nothing quite like a chilling screen tale to help you beat the summer heat. Because even in the warmest weather, a good cinematic scare can still give you as much gooseflesh as a snowstorm.
Throughout the month of July, Netflix is bringing some new slasher action to the streaming scene with the "Fear Street" trilogy — three films that blend together centuries of scares in R.L. Stine's haunted little town of Shadyside for one thrilling tale. It's got masked killers, a fabled witch, a gnarly curse, and a group of teens who dare to discover the truth behind it all. In other words, there's plenty to love about "Fear Street."
And there are plenty of other scary movie options available to stream as well, from twisty thrillers to eerie sci-fi stories to films that will make you question your own reality. So, to help guide your spooky movie marathon, here's a look at some of the best horror gems on Netflix that you need to watch at least once.
His House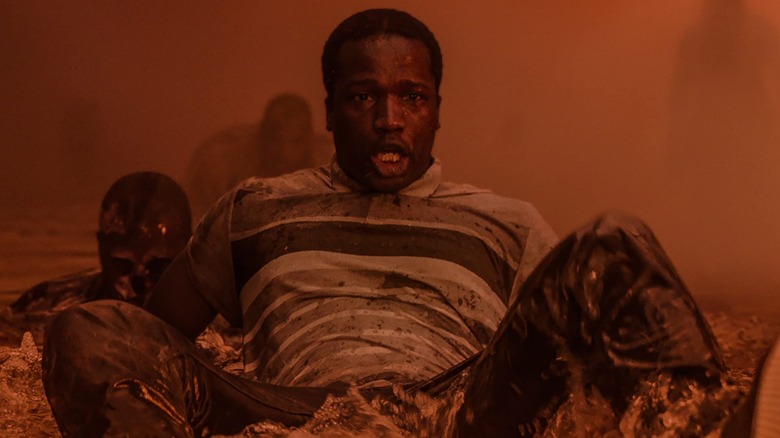 Netflix
The haunted house genre gets some fresh lifeblood in 2020's "His House." The film follows a couple from war-torn Sudan who make a perilous journey across the seas to seek refuge in England. After they're accepted into the country's asylum program and placed in a rundown government home, they become determined to embrace the hard-won chance they've gotten to start a new life together in this place.
But that sense of relief doesn't last for long, especially once they realize that they're not the only ones living in the house. In fact, there are sinister spirits that surround them at every turn, and though they've both faced evil before, they've never dealt with anything quite like this. The couple will have to face the demons of the world — and in their own hearts — if they ever hope to make their new house a home. With stunningly creepy visuals and richly developed characters, "His House" will crawl right under your skin and stay there.
The Killing of a Sacred Deer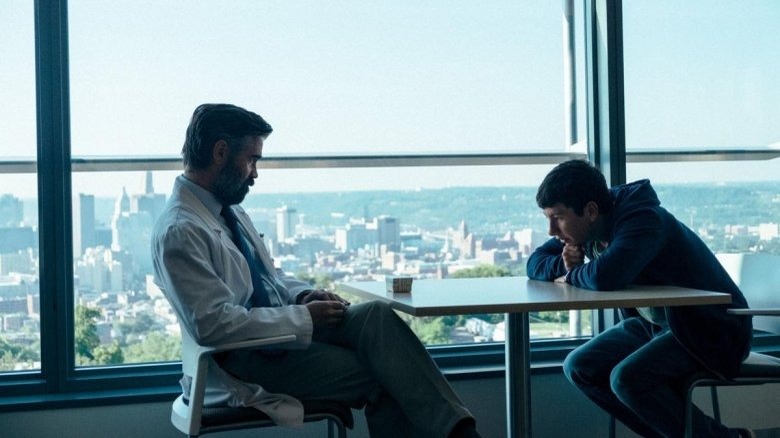 A24
It doesn't take any jump scares or boogeymen for "The Killing of a Sacred Deer" to frighten the daylights out of you. Yorgos Lanthimos' celebrated 2017 thriller brings an ancient Greek tragedy into the 21st century, following a celebrated cardiologist who's forced to confront a terrible part of his past once his family begins to suffer the consequences of his misdeeds.
In the film, Dr. Steven Murphy (Colin Farrell) befriends a teen named Martin Lang (Barry Keoghan), whose late father was Steven's patient ... until his untimely death. At first, Steven attempts to strike up a fatherly relationship with Martin, offering him companionship, gifts, and even a relationship with his beloved wife, Anna (Nicole Kidman), and children, Kim (Raffey Cassidy) and Bob (Sunny Suljic). However, Martin's presence in Steven's life becomes much more menacing once his true intentions are revealed. Martin is no mustache-twirling villain, of course, but his droll, matter-of-fact demeanor and the quiet, methodical way in which he ingratiates himself into Steven's life is unnerving to behold.
In the Tall Grass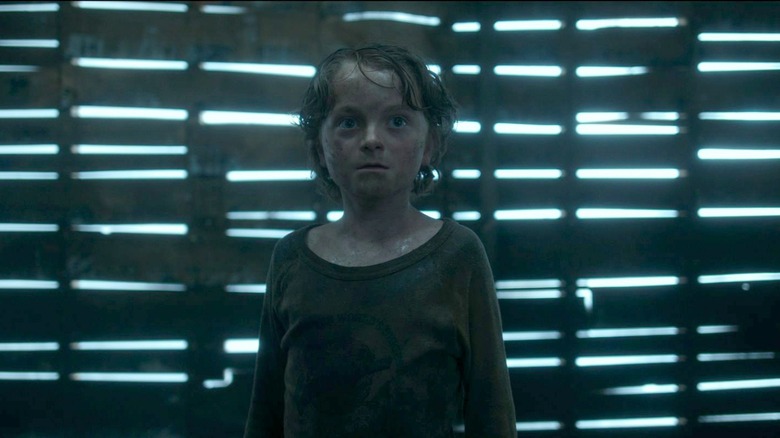 Netflix
Ordinarily, you might not expect a simple field of overgrowth to become the stuff of nightmares, but in Vincenzo Natali's adaptation of Stephen King and Joe Hill's 2019 novella, "In the Tall Grass," the fury of nature is next-level. 
The film follows a brother and sister who pause their cross-country trip and step into a patch of grasslands after hearing a young boy calling out for help. Little do they know, things aren't what they seem in this bit of roadside wilderness. But it doesn't take them very long to figure that out the hard way — especially after realizing they're being moved further and further apart at impossible speed.
Not only do time and space seem to operate differently in this field, but our heroes are unable to find each other or a way out. Plus, the two uncover some true horrors hiding in the brush that leave them questioning their reality ... and whether they'll ever make it out of the grass alive. With an increasingly eerie atmosphere and a mind-bending plot twist, "In the Tall Grass" is a terrifying trip from the king of horror.
Unfriended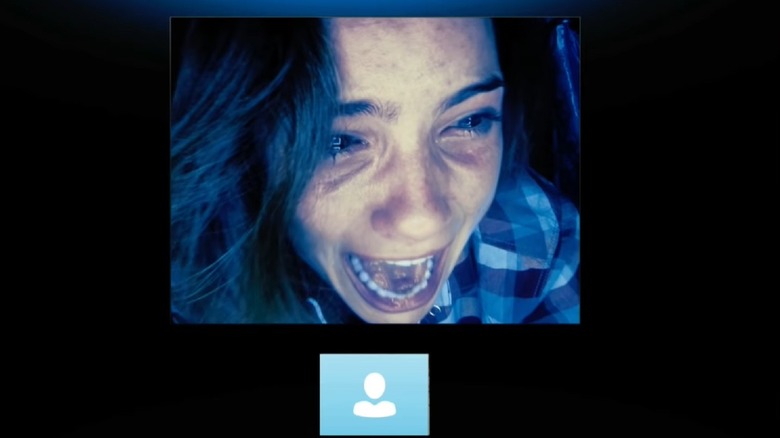 Universal Pictures
Group video chats may be more commonplace than ever right now, but when "Unfriended" first dropped in 2014, it was still a relatively novel concept. So the film was ahead of its time when it turned a friendly internet meeting into a terrifying vengeance tour. 
In the film, a high school girl dies by suicide after a humiliating video uploaded by one of her classmates goes viral. A year later, as a group of friends link up online to chat about their plans for prom night, they discover that there's a mysterious guest in the chat who can't be blocked, and that's when things really begin to spin out of control.
As they try to identify the intruder, the teens are confronted with their darkest deeds — including their roles in their late friend's death — before they are themselves subjected to a series of horrors that play out on each other's screens. With its uniquely 21st-century premise and creepy creative camera work, "Unfriended" is a thriller for the digital age.
If you or anyone you know is having suicidal thoughts, please call the National Suicide Prevention Lifeline​ at​ 1-800-273-TALK (8255)​.
No Escape Room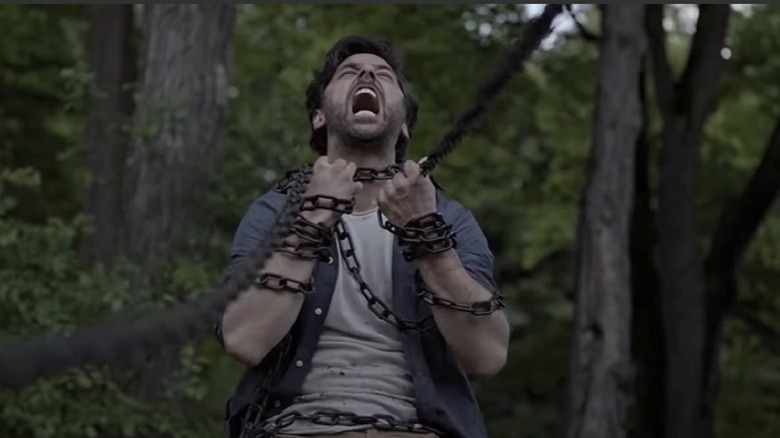 MarVista Entertainment
If you've ever stepped foot in a well-designed escape room, you might be familiar with the eerie sense of dread that sets in when you realize you've just allowed yourself to be locked away with total strangers and a mysterious host. But if you haven't gotten to experience that spine-tingling sense of discomfort before, well, the 2018 film "No Escape Room" might just do the trick.
The film features a father-daughter duo on a mini-road trip that leaves them stranded in a small town. As they wait for the repairs to be completed, they decide to spend the day visiting a local escape room, and it doesn't take long for the game to become anything but fun for the pair and their fellow players. With its alarming setting, paranormal bent, and terrifying twists, "No Escape Room" will definitely leave you questioning whether you ever want to try out a new escape room ever again.
Before I Wake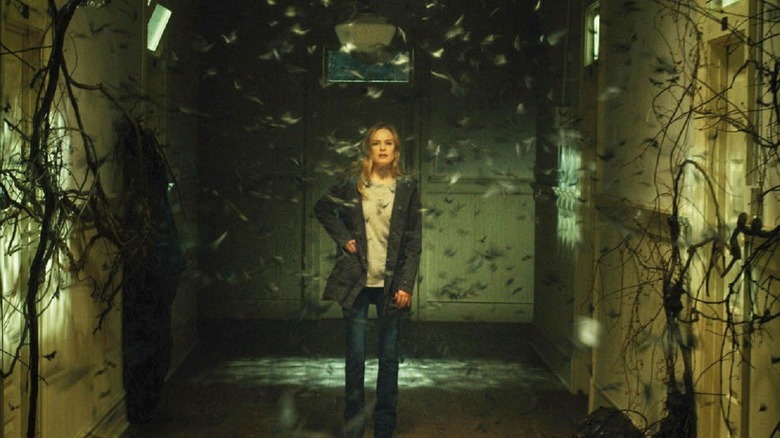 Netflix
Visionary horror director Mike Flanagan brought the concept of a living nightmare to new levels in 2016's "Before I Wake." The movie centers on a pair of young grieving parents (portrayed by Kate Bosworth and Thomas Jane) who decide to foster an orphaned boy after losing their own beloved son in a drowning accident. The couple immediately discovers that the child they've taken in, Cody (Jacob Tremblay), is a very special kid — for better and for worse.
See, Cody's dreams become a reality, and at first, this brings a great deal of joy to his new mom and dad. Shortly after he's moved in, they find their house brimming with Cody's favorite butterflies, and they even get to see a very comforting vision of their lost son. But Cody's dreams aren't always so pleasant. His nightmares become just as real too, bringing dangers untold to the waking realm. What results is a thrilling and terrifying adventure through the surreal wanderings of a unique boy's mind, along with the struggle of two parents trying to get past their own loss to help Cody and themselves survive his gift.
Truth or Dare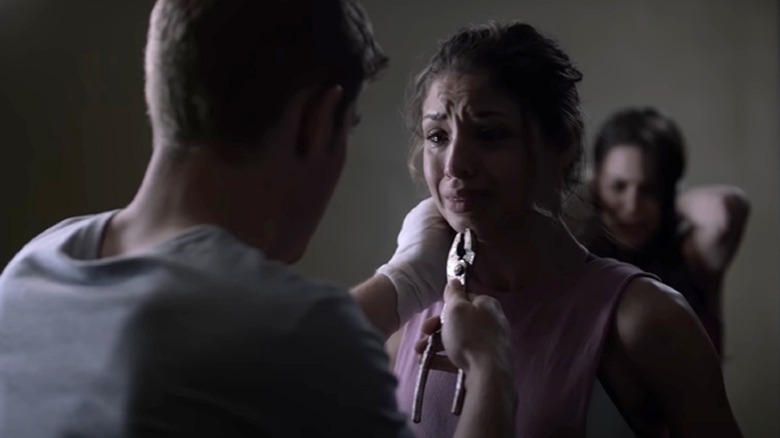 Cinetel Films
Halloween is meant to be a spooky occasion, but it's even scarier when spent inside a haunted house that forces its visitors to play a very wicked game. In the 2017 film "Truth or Dare," a group of eight friends decide to spend their holiday evening at a mansion that was once the site of some grisly deaths. Back in 1983, seven teens visited this place to play Truth or Dare, and all but one lost their lives in sickening ways.
At first, our modern-day heroes think they're in for a night of fun, but once the games really begin, they realize precisely why this building has such a sinister history. With nowhere to run from the horrors of the house, one by one, they must complete some painful tasks to finish the gruesome game if they hope to make it out alive. And along the way, the dares reveal some terrible truths about each of these characters. Be sure to check out this hidden horror gem ... if you dare.
Circle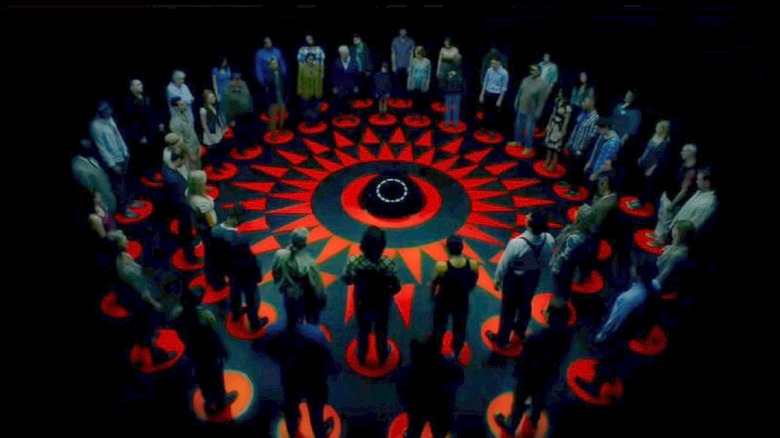 FilmBuff
Popularity contests might usually be reserved for high school superlatives and political elections, but in the 2015 sci-fi horror "Circle," winning over a crowd is a matter of life or death. The film picks up with 50 people trapped in a room where they can't move off their respective markers or even touch one another without activating a lethal laser system. And what's worse is that every two minutes, a person is summarily executed by the machine at the center of them all, and the power to decide who's next on the chopping block is literally within their own hands.
As the bodies start to stack up, the people inside the circle have to use their wits to determine what exactly is happening to them and whether it's even possible to stop this cruel massacre in motion. If not, they'll have to use the precious few seconds between each slaughter to size one another up and determine which of them most deserves a chance to live. On top of its tight and terrifying framework, "Circle" also offers some intriguing commentary on social factions, deception, and the choices that are made about a person's individual value.
Await Further Instructions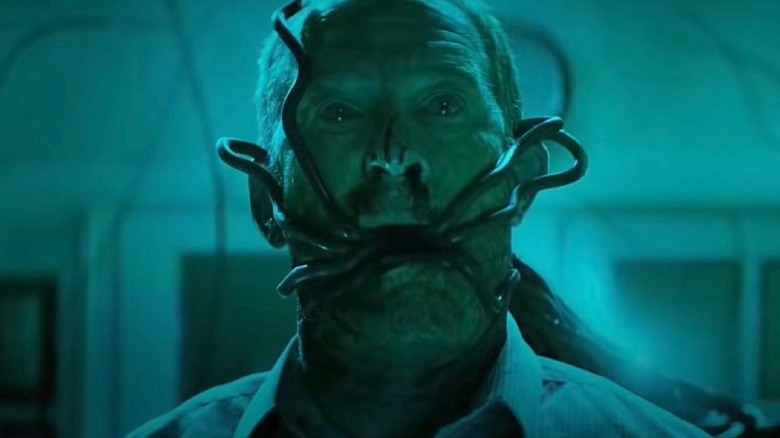 Shudder Films
Bringing a new girlfriend home to meet the family for the holidays can often be an uncomfortable event, but that's especially true when said family is already exceptionally dysfunctional, full of prejudices and, oh, the house becomes surrounded by a mysterious metallic substance that won't let anyone out.
In 2018's "Await Further Instructions," the Milgrams reunite for Christmas, but it's hardly a merry affair. Right from the start, the situation is tense, as very few members of the family are willing to show some cheer to their new guest — or even each other, for that matter. But they're unexpectedly forced to stay together when they wake up to find every door and window has been sealed shut by an impenetrable material, and their only means of communication with the outside is a television screen that instructs them to await further instructions. 
Not knowing whether they're being sheltered from an attack or being attacked themselves, the family's already tense dynamic spirals out of control, and the messages they receive from the screen are increasingly alarming and dangerous. As they race to uncover the secret of their isolation, the Milgram family will also face horrors of their own making, which gives audiences one claustrophobic thrill that also unfolds right there on the TV screen.
The Block Island Sound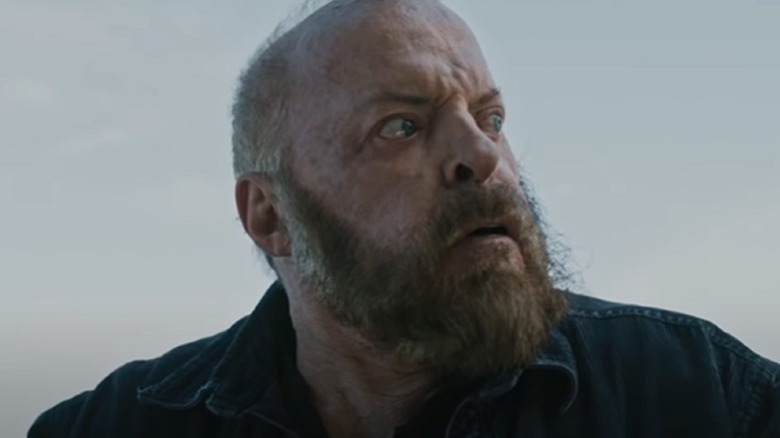 Netflix
It's never a good sign when your small island town is suddenly plagued with tons of dead fish washing ashore and birds falling from the sky en masse, and it's even worse when one of the locals seems to be suffering from a sudden onset of rampant memory loss and dangerous hallucinations. 
In the 2020 sci-fi thriller "The Block Island Sound," the titular locale becomes afflicted with natural blights, and there's one family in particular that seems to be bearing the brunt of the human consequences of the disaster at hand. After the patriarch of the family suffers from mental collapse and then disappears into the sea, his adult children must uncover the secrets of his unraveling, just as another seems to be sinking into the same affliction ... if they can handle the truth, that is. If you're looking for a film that's dripping with dread, "The Block Island Sound" is a must-see.
The Bar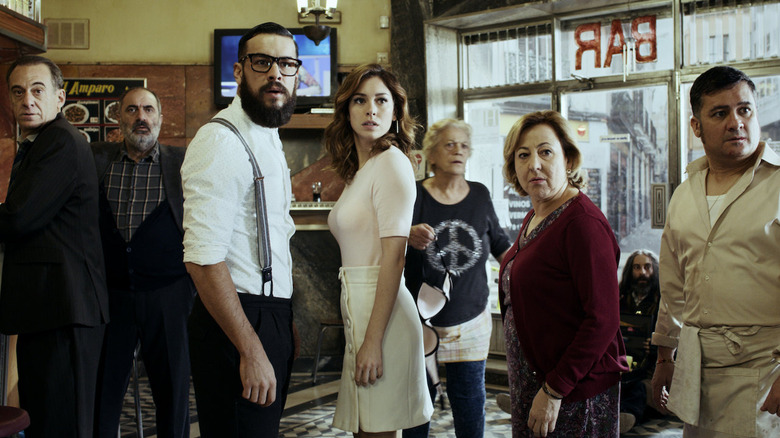 Netflix
Putting a group of strangers together in tight quarters during a high-stress situation ... what could possibly go wrong? That's what the 2017 Spanish-language thriller "The Bar" intends to — and indeed does — find out. 
The film begins with an eclectic group of people wandering into a crowded Madrid bar during breakfast time just as the world outside seemingly collapses in chaos. It starts when one patron leaves the locale and is immediately stricken down by an unseen force. Soon, the streets are completely empty, and everyone inside the bar realizes that there will be no easy exit for any of them. 
It doesn't take long for the blame game to begin, and factions emerge among the group as they struggle to understand the reason for the circumstance — and how they might possibly get out of their perilous position. Not only is this intense thriller a fun film to watch, but it'll definitely leave its audience playing the "what if" game right along with the characters after it's all said and done.
I Am the Pretty Thing That Lives in the House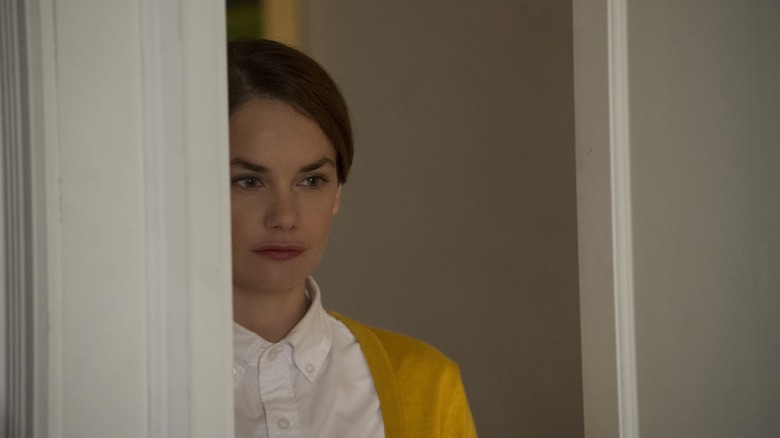 Netflix
Being a best-selling horror novelist requires a lot of imagination, but for Iris Blum (Paula Prentiss) in 2016's "I Am the Pretty Thing That Lives in the House," inspiration doesn't have to come from afar. The film, written and directed by Oz Perkins, picks up at the twilight of the successful author's life, when a young woman named Lily Saylor (Ruth Wilson) is hired to help care for her at her Massachusetts mansion. But in addition to being the abode of a well-renowned writer, the home has quite a history that slowly presents itself to Lily over the course of her stay.
After strange things begin happening at Iris' home, Lily starts to realize that there's a dark connection between this place and one of Iris' most beloved books. But can she get to the bottom of this harrowing ghost story before it's too late? Queue up "I Am the Pretty Thing That Lives in the House" to find out.
Berlin Syndrome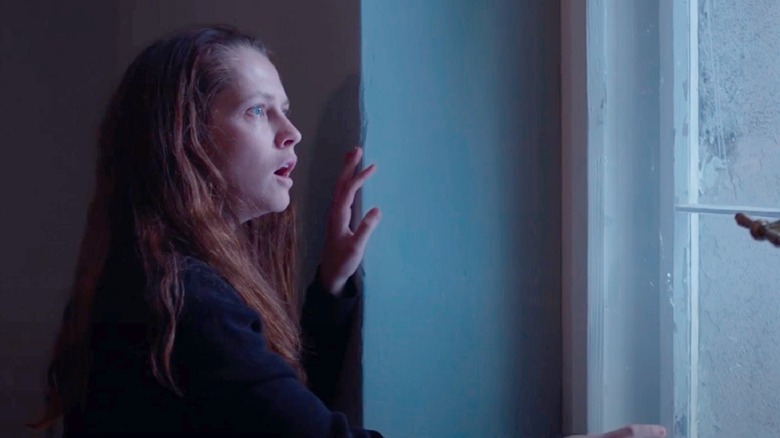 eOne
It might sound like a dream come true to meet a handsome European stranger while backpacking through Berlin, but for Clare Havel (Teresa Palmer), one night of romance turns into an endless stint of horror after her lover, Andi (Max Riemelt), decides to extend her visit with him indefinitely without her permission.
Turns out, Andi planned ahead before luring Clare back to his isolated apartment. Not only is he far removed from any neighbors who might hear her screams, but he's also got unbreakable glass on his windows and a door latch that works to keep her imprisoned for however long he wants. But even though Andi is a teacher by trade, it's Clare who will have to wise up and outsmart her captor using the limited tools at her disposal if she ever wants to run free again. With shrewd cast performances, psychological terrors, and some majorly unexpected twists, "Berlin Syndrome" is a truly tense watch.
Girl on the Third Floor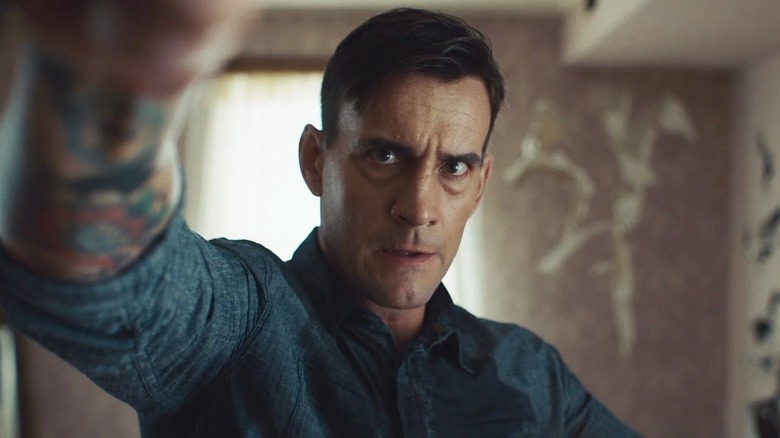 Dark Sky Films
Renovating an old home is always a bit of a headache, but in "Girl on the Third Floor," the experience is downright nightmarish. The film centers on a troubled man named Don (C.M. Punk), who sets out to upgrade an old manor in the suburbs in hopes of starting a new life with his wife and unborn baby. But not only is he ill-equipped to handle the many serious structural issues the house has, he's also completely unprepared for the unexpected company he gets while working on the place.
As Don discovers that there's much more wrong with this vintage home than just some dated wallpaper and fritzy wiring, his own inner defects begin coming to light, and he'll have to face the consequences of his poor decisions in some terrifying new ways. This is more than your typical haunted house pic. "Girl on the Third Floor" will leave you guessing about what's in store for Don's growing family right until the bitter end.
Sweetheart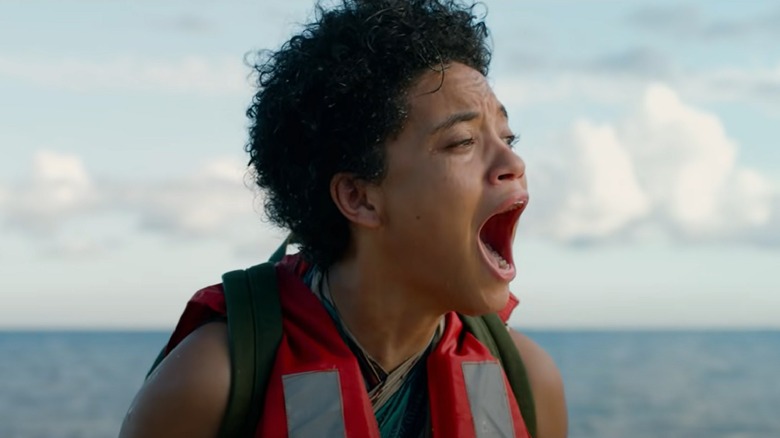 Universal Pictures
Don't let the title of this film fool you. This 2019 survival thriller is anything but warm and fuzzy. "Sweetheart" follows a young woman named Jennifer (Kiersey Clemons), who finds herself stranded on a remote island after a storm has capsized her boat. And unfortunately for Jenn, that's the high point of her misadventures at sea.
Soon, Jenn discovers that she's definitely not alone on this island after a horrifying monster decides to crawl out of its ocean lair and pay her a little visit at night. Jenn is resourceful enough to create shelter and fire to protect herself from the elements, but it's not just dehydration and sun exposure that can threaten her life here — and the skulls and bones that are scattered around the beach are proof enough of that. With an immaculate pace and a blood-curdling new sea monster that'll make you think twice about that beach trip, "Sweetheart" is the perfect thriller for the summer season.
The Platform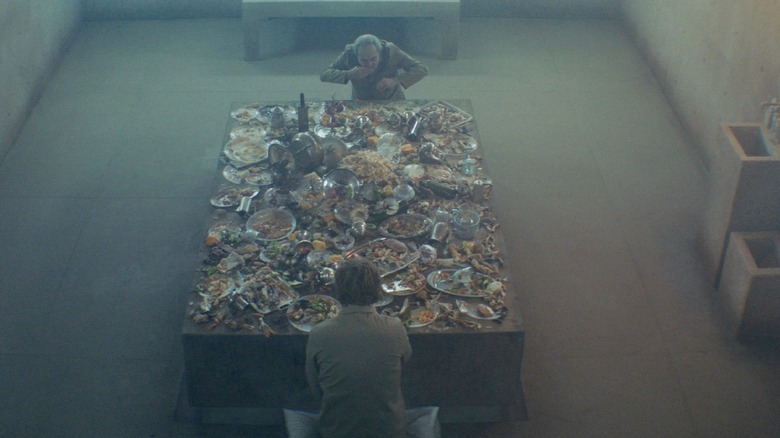 Netflix
The horrors of hunger in a hierarchical civilization have never been clearer than in "The Platform." The 2019 Spanish thriller sees its protagonist, Goreng (Iván Massagué), volunteering to participate in a social science experiment that involves him living alongside a cellmate in a prison-like tower. He learns that each day, a single platform of food is lowered from floor to floor for just a brief period of time. The higher up you are in the structure, the bigger the bounty to choose from. But if you're unlucky enough to be placed in a lower level, well, the offerings may be scarce or even non-existent, leading to eventual madness and starvation.
During his first month at the pit, Goreng and his cellmate, Trimagasi (Zorion Eguileor), are placed high enough to get their fill from the leftovers that reach their level, and the two pass their time between meals by getting to know one another. But things take a terrible turn when they wake up on a much lower level where the platform arrives with nothing left each day. From there, the stakes of this torturous system only get worse, as Goreng finds out the hard way what terrors people are truly capable of in a situation of crisis. "The Platform" is not for those with weak stomachs, but it's the kind of movie that sticks with you long after the credits roll — especially during meal times.