The Breaking Bad Scene That Was The Hardest For Bryan Cranston To Film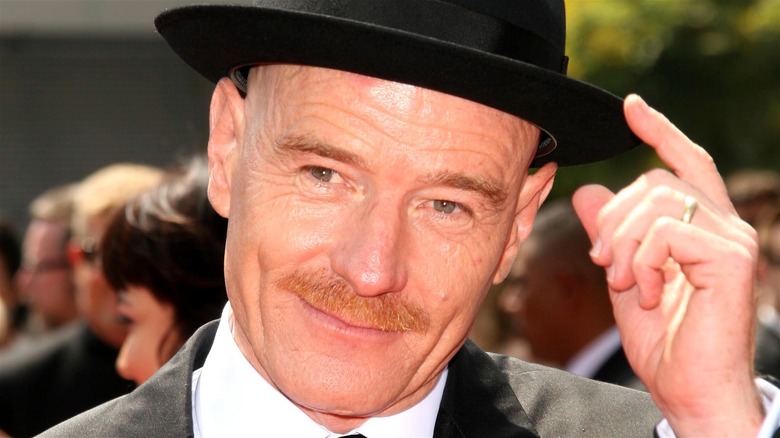 Shutterstock
During his journey to becoming a drug kingpin in "Breaking Bad," Walter White (Bryan Cranston) obviously had to do some pretty violent things to keep ahead of the competition, as well as staying alive. Even in the first season when he was still balancing his normal career as a high school science teacher, Walter wasn't afraid to get his hands dirty when it came to covering his tracks. One of the most memorable moments came very early on in Season 1 Episode 2, "Cat's in the Bag." Walter and Jesse Pinkman (Aaron Paul) dissolved the body of Emilio Koyama (John Koyama) in a bathtub after killing him with a chemical explosion to stop the criminal and his partner Krazy-8 (Maximino Arciniega) from executing them both.
Obviously, dissolving a dead body with acid in a ceramic bathtub didn't exactly go to plan – and Emilio's bloody, liquified remains eventually fell through the ceiling, causing an even bigger mess. Although it was a grisly moment that proved the series could get brutal if it wanted to, it's not the most shocking scene in the series. Heisenberg himself, Bryan Cranston, revealed the surprising reason why he struggled with a particular scene during production.
The Season 2 episode Phoenix had an emotionally difficult scene for Cranston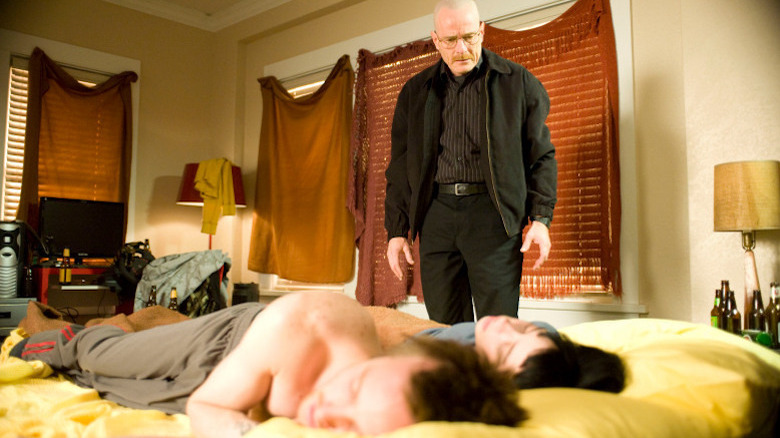 AMC
During Season 2, Jesse had started up a relationship with ex-junkie Jane Margolis (Krysten Ritter) and they both relapsed into using heroin, which very quickly took over their lives. And when Walt visited their house to try and talk to Jesse, he found the pair unconscious – accidentally knocking Jane onto her back where she choked on her vomit. And although Walt could've helped, he just watches and lets her die because he knows she could cause trouble for his business. It just shows how far off the deep end he's gone, even by the end of Season 2.
But when speaking at the Tribeca Talks event in 2018 (via Indiewire) "Breaking Bad" star Bryan Cranston explained that in the original script draft, Walt purposefully pushed Jane onto her back: "She starts to cough and she's on her side, and Walt looks at her and pushes her shoulder so she's on her back — essentially killing her." The scene was changed because "They [AMC] thought that would turn [Walt] too soon."
The actor went on to say that Krysten Ritter's performance affected him so much because he couldn't help but see his own daughter in the scene: "In a split second her face lost all characteristics, and out of that came the face of my real daughter choking to death." That horror clearly came through in his performance because Walt starts crying when he realizes what he's actually done. It's one of the most tragic scenes in the whole show.