Amanda Brugel Teases The Epic Season 4 Finale Of The Handmaid's Tale - Exclusive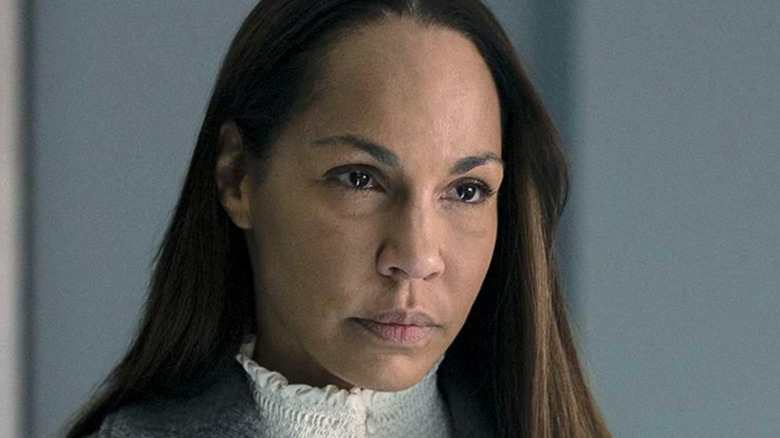 Hulu
When the dystopian feminist series "The Handmaid's Tale" debuted on Hulu in 2017, bringing a new level of prestige to the streaming service's original content, it completely wowed audiences. Actress Amanda Brugel was there at the start of it all as Rita Blue, a Martha — a domestic servant who tends to the home of a Commander and their family — who later earns her freedom.
Looper recently spoke to Amanda Brugel in an exclusive interview, during which she dished on the "Handmaid's Tale" Season 4 finale, where she'd love to see her character go in Season 5, and which scene was the most powerful moment of her career. 
On how fans will react to the highly-anticipated Season 4 finale, Brugel said, "Girl! I said from the beginning, I don't know how people are going to react. And that's not me teasing [and saying], 'I don't know.' I genuinely don't know how people are going to react because it is so crazy to me."
While Brugel thinks most people will respond positively to the finale, she's not sure how everyone will take it. "I do think people will like it, but I do think that there are some people that are ... it's going to take them a minute to be able to process what they have just witnessed," she elaborated. "And so I think fans that have watched and been loyal and been patient for the last four years will be very happy to have sort of that [same] crescendo that you get in Season 4, Episode 10 — but yeah, I think there's going to be polarized responses."
Finding a tether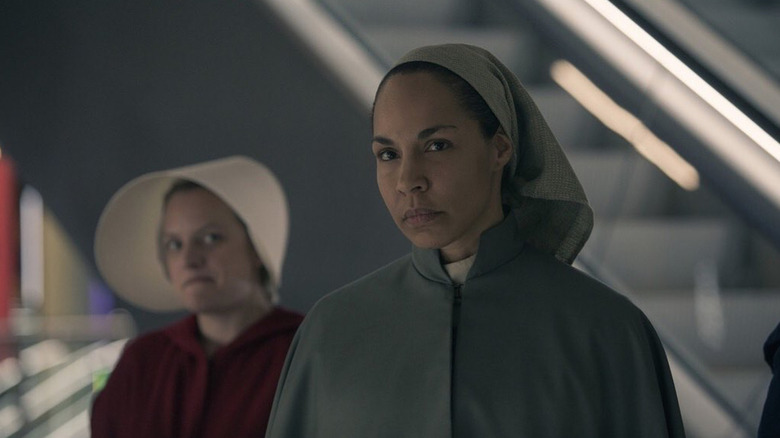 Hulu
With "The Handmaid's Tale" Season 4 mainly in the rearview mirror, fans are already looking forward to Season 5. While many have their own theories on what may be coming their way, Amanda Brugel is full of ideas for Rita's journey.
"In Season 5, I'm hoping that she's finally able to accept her freedom and become a little more modern. With that being said, I hope she sort of shakes some of the Gilead vernacular. I hope she starts to dress real cute and just really embraces her newfound freedom," Brugel said. "And I hope at least we find a family member or a friend or something from her past that can help her move forward in the future."
Noting how untethered Rita is, Brugel wants her character to find some connections in the upcoming season. "She's one of the characters that has no link to anything. There are other characters that have had previous children or marriages. We know nothing about her, and she's sort of this floating, mysterious being. So I'd like to find an anchor for her in Season 5," Brugel noted.
Free at last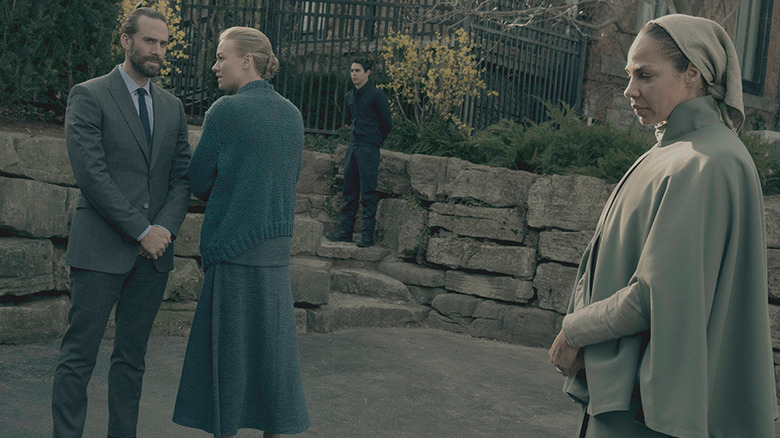 Hulu
"The Handmaid's Tale" has featured many powerful scenes, but Rita's escape to freedom is one of most impactful — even for Brugel herself. On filming those scenes, Brugel recalled, "I was scared. If I'm going to be honest, I was scared that I wasn't going to be able to do it justice, so I did a massive amount of research on refugees, particularly Syrian refugees."
Speaking about her own heritage, she added, "I'm Canadian, and I live in Canada still. We had a massive influx of Syrian refugees a few years ago. I just wanted to be able to do it properly without overacting or over-arching or adding something that someone might watch and think that it doesn't happen."
The moment wasn't just moving for Brugel — it was also life-changing. "There's a scene where all of us are marching through the woods, and doing it was single-handedly the best moment I've ever had in my career because we actually had to do that," she recalled. "We had to be in the woods at four o'clock in the morning with the 96-year-old background performers. And we did it again and again and again — and I kept thinking about how many women have gone through this [in real life]. It was incredibly moving and something I will never forget. It is burned into me. I will never forget it. It was a gift."
Fans can watch the Season 4 finale of "The Handmaid's Tale" at 12 AM ET on June 16 on Hulu. Amanda Brugel fans can also check out her incredible new thriller, "Flashback," starring Dylan O'Brien, which is streaming now on video-on-demand platforms.